Back to top
The Last Report on the Miracles at Little No Horse: A Novel (Paperback)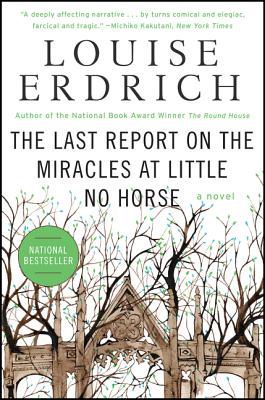 $17.99

Usually Ships in 1-5 Days
Description
---
A New York Times Notable Book
"Stunning. . . a moving meditation. . . infused with mystery and wonder." —Atlanta Journal-Constitution
In a masterwork that both deepens and enlarges the world of her previous novels, acclaimed author Louise Erdrich captures the essence of a time and the spirit of a woman who felt compelled by her beliefs to serve her people as a priest. The Last Report on the Miracles at Little No Horse deals with miracles, crises of faith, struggles with good and evil, temptation, and the corrosive and redemptive power of secrecy.
For more than a half century, Father Damien Modeste has served his beloved Native American tribe, the Ojibwe, on the remote reservation of Little No Horse. Now, nearing the end of his life, Father Damien dreads the discovery of his physical identity, for he is a woman who has lived as a man. To further complicate his quiet existence, a troubled colleague comes to the reservation to investigate the life of the perplexing, possibly false saint Sister Leopolda. Father Damien alone knows the strange truth of Leopolda's piety, but these facts are bound up in his own secret. He is faced with the most difficult decision: Should he tell all and risk everything . . . or manufacture a protective history for Leopolda, though he believes her wonder-working is motivated solely by evil?
The Last Report on the Miracles at Little No Horse is a work of an avid heart, a writer's writer, and a storytelling genius.
About the Author
---
Louise Erdrich, a member of the Turtle Mountain Band of Chippewa, is the author of many novels as well as volumes of poetry, children's books, and a memoir of early motherhood. Her novel The Round House won the National Book Award for Fiction. Love Medicine and LaRose received the National Book Critics Circle Award for Fiction. Erdrich lives in Minnesota with her daughters and is the owner of Birchbark Books, a small independent bookstore. Her most recent book, The Night Watchman, won the Pulitzer Prize. A ghost lives in her creaky old house.
Praise For…
---
"Funny, engrossing and revelatory." — Wall Street Journal
"Stunning …a moving meditation … infused with mystery and wonder." — Atlanta Journal-Constitution
"Nothing less than dazzling." — USA Today
"A deeply affecting narrative . . . by turns comical and elegiac, farcical, and tragic." — Michiko Kakutani, New York Times
"Spellbinding…profoundly moving." — Elle
"You will be dazzled by the poetry of her language and her lighteninglike illuminations of the human condition." — Minneapolis St. Paul Magazine
"A magnificent storyteller … delivering musical prose charged by powerful metaphors." — St. Paul Star-Tribune
"Bold and imaginative." — Milwaukee Journal Sentinel