Back to top
The Second Husband: A Novel (Paperback)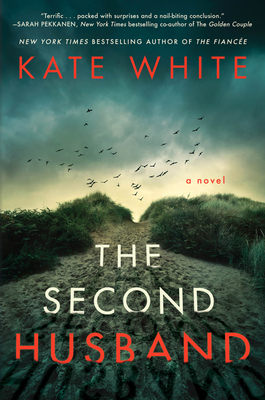 $16.99

Usually Ships in 1-5 Days
Description
---
A woman's seemingly perfect second marriage is rocked by a discovery about the death of her first husband in this twisty psychological thriller from Kate White, the New York Times bestselling author whom Entertainment Weekly called "impossible to outwit." 
After losing her husband, Derrick, in what appears to have been a random street crime, thirtysomething Emma has built a new life with widower Tom, who is kind, handsome, driven, and successful. Emma is finally able to feel safe again, both in her relationship with Tom and in the home they've made together on the Connecticut shore.
Then one day a homicide detective shows up at Emma and Tom's door asking questions. Though Emma had been cleared of her husband's murder, it appears that law enforcement is taking another look at her and the case. 
What do they know? Are they on the right track this time? And most importantly, will the renewed investigation ruin Emma's chances of a happy life? 
With twists and turns all the way to the last page, this fast-paced, expertly plotted novel will have you asking that age-old question: how well do you really know the ones you love?
About the Author
---
Kate White is the New York Times best-selling author of nine standalone psychological thrillers, including Between Two Strangers, The Second Husband, and The Fiancée, as well as eight Bailey Weggins mysteries, including Such a Perfect Wife, which was nominated for an International Thriller Writers Award. The former editor-in-chief of Cosmopolitan magazine, Kate is also the editor of The Mystery Writers of America Cookbook. She has been published in over thirty countries worldwide. 
Praise For…
---
"Immersive, spellbinding thriller about a woman questioning everything—including her husband. In Kate White's perfectly plotted novel, it's impossible to predict what will happen next." — Samantha Downing, internationally bestselling author of My Lovely Wife
"Intricately plotted and suspenseful. THE SECOND HUSBAND is a terrific book, packed with surprises and a nail-biting conclusion." — Sarah Pekkanen, New York Times bestselling co-author of The Golden Couple
"THE SECOND HUSBAND is suspense at its most addictive. The pages turn in a blur. You won't put this one down." — Michele Campbell, internationally bestselling author of It's Always the Husband
"Kate White continues to build her fan base with another page turner, the perfect read for the beach, the mountains, and everywhere in between. Besides an intriguing mystery, White creates interesting characters that may remind us, for better or worse, of family and friends in our own lives. . . . There are many twists and turns." — Woman About Town
"This thoroughly involving psychological thriller promises a startling conclusion and delivers it." — Booklist
"White establishes a pervasive uneasy tone, ending chapters with cliffhangers and small revelations that propel this domestic suspense tale to an intense penultimate scene." — Library Journal
Praise for THE FIANCÉE: "A tense, simmering, fast-paced mystery, Kate White's latest captivating thriller explores the secrets that lurk just under the surface of a picture-perfect façade. I raced through this story about a close-knit family's annual gathering at an idyllic estate that quickly turns deadly. THE FIANCÉE kept me guessing until the very end, never sure who to trust—or where the danger was hiding."  — Megan Miranda
"Kate White's newest thriller The Fiancée is a perfect poolside or beach read, as this psychological thriller has everything a great summer read needs! Told in an almost locked-room style, as we are secluded at a wealthy family's sprawling estate, this mystery looks at what appears to be a picture-perfect family. . . . the constant threatening feeling in the air propels this psychological thriller to a truly surprising climax." — Nerd Daily
"A twisty family drama."  — Library Journal
"A skillfully constructed page-turner. . . .Expert pacing, characters readers can love to hate, and an intelligent heroine make this a winner. White consistently entertains." — Publishers Weekly
"Kate White's THE FIANCÉE is exactly what we all need right now: a fast-paced, perfectly woven murder mystery, with a hearty dash of family drama. This one must not be missed!" — Aimee Molloy