Back to top
The Leftover Woman: A Novel (Hardcover)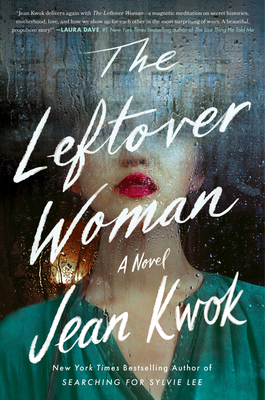 $30.00

Usually Ships in 1-5 Days
Description
---
A Most Anticipated Book by The New York Times • Elle • Good Morning America • TIME • People • New York Post • PopSugar • Goodreads • LibraryReads • and many more! 
An evocative family drama and a riveting mystery about the ferocious pull of motherhood for two very different women—from the New York Times bestselling author of Searching for Sylvie Lee and Girl in Translation. 
"Intriguing. . . Kwok is a skilled writer of suspenseful family drama. . . . We root for Jasmine and Rebecca as they face impossible choices and emerge stronger for all the battles they've fought, always resisting becoming the 'leftover' women." —Leigh Haber, New York Times Book Review 
Jasmine Yang arrives in New York City from her rural Chinese village without money or family support, fleeing a controlling husband, on a desperate search for the daughter who was taken from her at birth—another female casualty of China's controversial One Child Policy. But with her husband on her trail, the clock is ticking, and she's forced to make increasingly risky decisions if she ever hopes to be reunited with her daughter.
Meanwhile, publishing executive Rebecca Whitney seems to have it all: a prestigious family name and the wealth that comes with it, a high-powered career, a beautiful home, a handsome husband, and an adopted Chinese daughter she adores. She's even hired a nanny to help her balance the demands of being a working wife and mother. But when an industry scandal threatens to jeopardize not only Rebecca's job but her marriage, this perfect world begins to crumble and her role in her own family is called into question.
The Leftover Woman finds these two unforgettable women on a shocking collision course. Twisting and suspenseful and surprisingly poignant, it's a profound exploration of identity and belonging, motherhood and family. It is a story of two women in a divided city—separated by severe economic and cultural differences yet bound by a deep emotional connection to a child.
"A magnetic meditation on secret histories, motherhood, love, and how we show up for each other in the most surprising of ways. A beautiful, propulsive story!" — Laura Dave, #1 New York Times bestselling author of The Last Thing He Told Me
"A heart-tugging exploration of love, belonging, and the meaning of family." — Ruth Ware, #1 New York Times bestselling author of The It Girl
About the Author
---
Jean Kwok is the New York Times and internationally bestselling author of Girl in Translation and Mambo in Chinatown. Her work has been published in twenty countries and is taught in universities, colleges, and high schools across the world. She has been selected for numerous honors, including the American Library Association Alex Award, the Chinese American Librarians Association Best Book Award and the Sunday Times EFG Short Story Award international shortlist. She received her bachelor's degree from Harvard University and earned an MFA from Columbia University. She is fluent in Chinese, Dutch, and English, and divides her time between the Netherlands and New York City
Praise For…
---
"A heart-wrenching examination of transracial adoption and its influence in the lives of a Chinese American child and the two mothers who love her. . . . The resulting intersection of their lives makes this book not only a suspenseful read, but also an introspective journey into the bonds of family, country, class, and race." — Elle Magazine, Best Books of the Year
"Anyone looking for an of-the-moment page-turner of a novel need look no further."  — Bethanne Patrick, NPR
"Secrets and lies propel Jean Kwok's new novel. . . there are several clever twists."  — Alice Stephens, The Washington Post
"Jean Kwok weaves a riveting drama about motherhood and belonging." — Time
"The lives of two women — a privileged book editor and a Chinese immigrant navigating Manhattan's underworld — collide in this emotion-packed thriller." — People
"A propulsive and engrossing narrative." — The Guardian
"Kwok brings her signature lyrical prose to the novel, while suspense simmers in the background… Highly recommended." — Library Journal (starred review)
"Kwok brings her signature lyrical prose to the novel, while suspense simmers in the background." — Booklist (starred review)
"Fans of Little Fires Everywhere will love this evocative and emotional novel from NYT bestselling author Jean Kwok."  — Betches.com, "Best Books of the Year" 
"This poignant mystery sparks fascinating questions about motherhood, class, and identity."  — Real Simple
"Kwok has woven an impeccably plotted domestic thriller that culminates in a profoundly satisfying ending, and I must insist that everyone pick this one up." — Crimereads
"[The Leftover Woman]. . . has the heart and heft of literary fiction and the couldn't-put-this-down-even-if-tried engine of a thriller." — The Skimm
"Kwok hooks readers with an emotionally gripping story of two mothers willing to risk everything to protect what they love, skillfully balancing perspectives to a riveting climax." — LibraryReads
"At once a hugely atmospheric and suspenseful mystery and a compelling exploration of motherhood and belonging that packs a profound emotional punch. I couldn't stop thinking about this book long after I'd read the final page." — Lucy Foley, #1 New York Times bestselling author of The Guest List and The Paris Apartment
"A heart-tugging exploration of love, belonging and the meaning of family." — Ruth Ware, #1 New York Times bestselling author of The It Girl
"Jean Kwok delivers again with The Leftover Woman—a magnetic meditation on secret histories, motherhood, love, and how we show up for each other in the most surprising of ways. A beautiful, propulsive story!"  — Laura Dave, #1 New York Times bestselling author of The Last Thing He Told Me
"The Leftover Woman is an unforgettable, beautifully written page-turner that's about so many things at once: a courageous woman fighting to escape an abusive husband, a mother's love and sacrifice, and how culture and language dramatically change the lens through which we are seen and evaluated by others. Jean Kwok uses an intricately layered plot to ensnare and mesmerize us with fierce, complex characters. I absolutely adored this novel, from its tantalizing first pages to the poignant ending." — Angie Kim, New York Times bestselling author of Happiness Falls
"A haunting, emotionally powerful story about motherhood, family, oppression, immigration, and power. Kwok is an impressive talent whose books resonate with deeply felt emotion and expertly crafted plotting." — Karin Slaughter, New York Times bestselling author of Pieces of Her and the Will Trent series
"Jean Kwok has done it again. Her newest novel will make your heart race as it follows two determined women: one whose choices have been limited, and one who has the world at her feet. Jean's heroines cross languages, borders, and cultures to collide in a confrontation that leaves blood on their hands. As gorgeous as it is thrilling, The Leftover Woman tells a story of identity, ambition, and love that makes us look again at who we are and who we're forced to be. It asks us: How far would you go to get what you want?" — Julia Phillips, bestselling author of Disappearing Earth
"What a page-turner! The Leftover Woman asks aching questions about family and love even as it hop-scotches across cultures and classes, bringing both tragedy and hope. A marvelous read." — Gish Jen, award-winning author of The Resisters 
"An utterly riveting novel about two very different mothers, The Leftover Woman is not only an absolutely propulsive thriller but also a profound exploration of poverty and privilege, oppression and escape, desire and the self. This spellbinding narrative of immigration and hidden identity proves in so many ways that love has no boundaries." — Lan Samantha Chang, author of The Family Chao 
The Leftover Woman is a gripping, emotional story of women forced to make impossible (sometimes life-and-death) decisions. Driven by love and self-determination, Jasmine and Rebecca present fierce representations of motherhood rife with vivid struggles and triumphs that lodged right in my heart. Jean Kwok once again delivers suspense and passion within a character-driven framework that readers can't help but lose themselves in. The Leftover Woman is one of the best and brightest books of the year! — Thao Thai, author of Banyan Moon