Back to top
The Path to Paradise: A Francis Ford Coppola Story (Hardcover)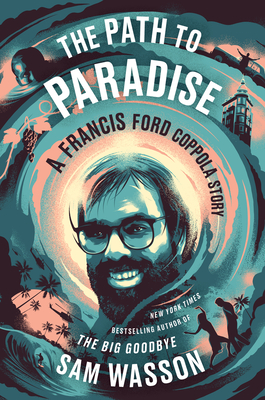 $32.99

Usually Ships in 1-5 Days
Description
---
The New York Times bestselling author of Fifth Avenue, Five A.M. and The Big Goodbye returns with the definitive account of Academy Award-winning director Francis Ford Coppola's decades-long dream to reinvent American filmmaking, if not the entire world, through his production company American Zoetrope.
 Francis Ford Coppola is one of the great American dreamers, and his most magnificent dream is American Zoetrope, the production company he founded in San Francisco years before his gargantuan success, when he was only thirty. Through Zoetrope's experimental, communal utopia, Coppola attempted to reimagine the entire pursuit of moviemaking. Now, more than fifty years later, despite myriad setbacks, the visionary filmmaker's dream persists, most notably in the production of his decades in the making film and the culmination of his utopian ideals, Megalopolis.
Granted total and unprecedented access to Coppola's archives, conducting hundreds of interviews with the artist and those who have worked closely with him, Sam Wasson weaves together an extraordinary portrait. Here is Coppola, charming, brilliant, given to seeing life and art in terms of family and community, but also plagued by restlessness, recklessness and a desire to operate perpetually at the extremes.
As Wasson makes clear, the story of Zoetrope is also the story of Coppola's wife, Eleanor Coppola, and their children, and of personal lives inseparable from artistic passion. It is a story that charts the divergent paths of Coppola and his co-founder and onetime apprentice, George Lucas, and of their very different visions of art and commerce. And it is a story inextricably bound up in the making of one of the greatest, quixotic masterpieces ever attempted, Apocalypse Now, and of what Coppola found in the jungles of the Philippines when he walked the razor's edge. That story, already the stuff of legend, has never been fully told, until this extraordinary book.
About the Author
---
Sam Wasson is the author of six previous books on Hollywood including the New York Times bestsellers Fifth Avenue, Five A.M.: Audrey Hepburn, Breakfast at Tiffany's, and the Dawn of the Modern American Woman and The Big Goodbye: Chinatown and the Last Days of Hollywood, and Fosse, the basis for the limited series "Fosse/Verdon." With Jeanine Basinger, he is co-author of Hollywood: The Oral History. He lives in Los Angeles.
Praise For…
---
"Sam Wasson's supremely entertaining new book, The Path to Paradise, tracks the ups and downs, ins and outs, of a remarkable career . . . . A marvel of unshowy reportage." — New York Times
"Wasson's account will hold immense appeal for any film buff interested in the era, as will the cast of Mr. Coppola's peers, proteges and adversaries ranging from John Milius to Steven Spielberg and Michael Cimino. The already thick lore around the absolutely berserk production of Mr. Coppola's Apocalypse Now gets an additional layer, but equally fascinating is the exploration of ambitious failures like 1981's One From the Heart and big-budget flops like 1984's The Cotton Club." — Wall Street Journal
"The Path to Paradise puts you there, and shows how Coppola got so close to the sun . . . . Wasson captures the extreme ups and downs with a combination of precision and imagination, often bringing an appropriately gonzo tone to the story." — Los Angeles Times
"Before now, writing a biography of Francis Ford Coppola has been like aiming at a moving target . . . . Wasson . . . has deftly judged the moment . . . . The effect is like movie cross-cutting, vivid with changing event and contrast . . . . That Coppola saw further than others into the future of film is argued persuasively." — The Financial Times
"Mouthwatering . . . . A sizzlingly vivid and ­compulsive new book . . . . Wasson has a great journalist's eye for telling details and a great stylist's ear, washing the reader along on a torrent of prose that mirrors Coppola's own unfailing energy. Gorgeous turns of phrase abound."
— The Daily Telegraph
"A bold new book . . . . Wasson's one of the best at writing about the lives of artists." — CBS Saturday Morning
"Sam Wasson tells the story of a true dreamer and the price he has paid for his greatest dreams." — Boston Globe
"Enthralling . . . . A complex portrait of an artist whose unwillingness to compromise cost him dearly. Movie buffs won't want to miss this." — Publishers Weekly (starred review)
"A vivid biography of filmmaker Francis Ford Coppola and his production company, American Zoetrope . . . . A memorable portrait of an artist who has changed the cinematic landscape and whose work will endure." — Kirkus Reviews (starred review)
"Of all that has been written about Francis Ford Coppola, this book most accurately captures the film director's chaotic life . . . . Wasson has written a string of successful books about the entertainment business [...] but this one might be his best so far. Rich in detail, it's full of surprises and revelations, and impeccably researched and documented. For fans of books about moviemaking in general, and Francis Ford Coppola in particular, this is required reading." — Booklist (starred review)
"This new book by Sam Wasson (who already proved himself one of the great modern chroniclers of the New Hollywood era with the Chinatown making-of story The Big Goodbye) chronicles the road to heaven Coppola trod after descending to Hell with Apocalypse Now. The Vietnam War epic is already the subject of much reporting, but Wasson boasts unprecedented access to Coppola's personal archive—as well as a first-hand look at the making of a movie we can't wait to see." — Entertainment Weekly
"A gripping new book . . . vividly chronicling how the director leveraged his two great movies into an assembly line of cinema." — Deadline
"Richly detailed." — Library Journal
"Wasson creates a portrait of one man's vast artistic ambition—one that (to this reader, anyway) portrays Coppola as a kind of precursor to the tech moguls who would take San Francisco as their base of operations decades after Coppola did so . . . . An insightful book that takes stock of Coppola's importance to film history and creates a vibrant portrait of a restless artist constantly on the move." — InsideHook