Back to top
The Duchess Effect: A Novel (Paperback)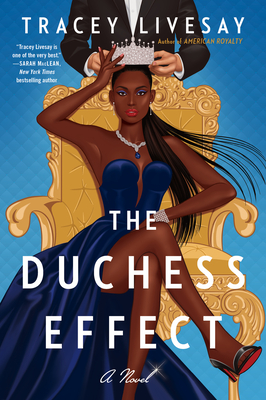 $18.99

Usually Ships in 1-5 Days
Description
---
Tracey Livesay returns in this seriously sexy sequel to American Royalty, following Duchess and Prince Jameson as they strive to turn their romance into a relationship, beneath the relentless glare of the spotlight.
Against all odds, sexy American rapper, Danielle "Duchess" Nelson and brilliant reclusive royal Prince Jameson have fallen in love! They've decided to take their relationship public and find a way to make their two worlds coexist. On their terms.
Unfortunately, falling in love was the easy part. 
Jameson and Dani's love story has made them the most popular royals since Prince John, but that popularity comes with a price. Dani looks forward to signing the deal with a major cosmetics company that will make her skin care line, Mela-Skin, a force in the industry, and finally grant her the control over her life she's craved since childhood. But the company wants to take advantage of their fame and involve Jameson in Mela-Skin's marketing campaign. Dani is outraged! Her company has nothing to do with Jameson.
After stepping up for the royal family, Jameson yearns to retreat back into academia. But he's fired when his university raises concerns about his newfound notoriety. And suddenly the queen, initially against the relationship, backtracks, seeking their cooperation when the family is embroiled in yet another scandal. This isn't the quiet life Jameson was hoping for.
Dani and Jameson truly love each other. But under the scrutiny of the international spotlight, when the doubts, compromises, and secrets begin to take their toll, will their love be enough?
About the Author
---
A former criminal defense attorney, TRACEY LIVESAY finds crafting believable happily ever afters slightly more challenging than protecting our constitutional rights, but she's never regretted following her heart instead of her law degree. She has been featured in Entertainment Weekly, the Washington Post, and CBS This Morning. Tracey lives in Virginia with her husband-who she met on the very first day of law school--and their three children.
Praise For…
---
"Tracey Livesay delivers an authentic, sexy royal romance that we all desperately needed. An instant chart-topper."   — Nisha Sharma, award-winning author, on American Royalty
"Tracey Livesay gets better and better. With American Royalty, Livesay delivers a scandalous, absolutely swoon-worthy romance that injects a straight shot of joy right into readers' hearts. With a superstar heroine who knows her worth and isn't afraid to speak it, and a hero who falls crown-over-heels for her, just as he should, American Royalty is everything a royal romance should be…a sharp, sexy, romantic ride culminating in one of the finest happily ever afters I've ever read. Tracey Livesay is one of the very best."  — Sarah MacLean, New York Times bestselling author
"American Royalty is an epic romance that captivated me from the first page to the very last sentence. It's sexy, swoony, and heartfelt, and I didn't want it to end. I promise you: Dani and Jameson are going to knock your socks off!"   — Mia Sosa, USA Today bestselling author of The Worst Best Man
"Livesay gives us a love story that is as deliciously swoony and scorching hot, as it is firmly grounded in the world we live in. Resonant, romantic and with swag for days...Duchess is the heroine I've been waiting for since I read my first romance in middle school."  — Adriana Herrera, USA Today bestselling author, on American Royalty
"American Royalty by Tracey Livesay is one of the most anticipated novels of 2022 for a good reason: It's a sexy royal romance with just the right amount of social commentary."   — PopSugar