Back to top
The Witch of Maracoor: A Novel (Another Day #3) (Hardcover)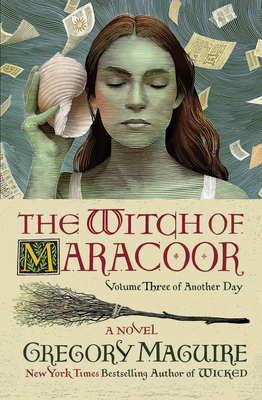 $30.00

Usually Ships in 1-5 Days
Description
---
The multimillion-copy bestselling story of Wicked comes full circle in The Witch of Maracoor, the final installment of Gregory Maguire's Another Day series
Following a confrontation with her reclusive great-grandfather, the onetime Wizard of Oz, Rainary Ko, the granddaughter of Oz's Wicked Witch of the West, has re-upped in a mission to settle a few scores and right a wrong or two. Her memory and her passions reviving, Rain turns her gaze back to her native Oz. While the Grimmerie, which she had cast into the sea, retains its arcane power over her, the lover she left behind in Oz proves no less haunting. Once bewitched, twice bewitching, Rain Ko must consider how to achieve a life less suffused with grief than the one she is enduring.
Traveling such a distance is not without its perils to a young person more or less alone in a strange land. And, by now, Rain has debts to repay. To make good on promises, she must insist on a layover on an island emptied of its human population by a deadly plague. Revived there by love or magic (and is there a difference?), she sustains an assault on the high seas by pirates. The accumulation of her experience awakens within her a certain nascent knowledge and power, which prepares her finally to touch down upon the far shores of Oz and address her own doubts and hesitations.
Traveling companions and arrivistes can befuddle a young witch coming into her own. In her fast-paced and stately progress, Rain may remind readers of the courage it takes to accept one's full identity, unbridled and unruly though it may be. The Witch of Maracoor delivers on the promises of its predecessors, The Brides of Maracoor and The Oracle of Maracoor, and concludes the epic tale of Rain's castaway life with nothing less than enchantment.
About the Author
---
Gregory Maguire is the New York Times bestselling author of the Wicked Years, a series that includes Wicked—the beloved classic that is the basis for the blockbuster Tony Award–winning Broadway musical of the same name—Son of a Witch, A Lion Among Men, and Out of Oz. His other adult works include the Another Day series; A Wild Winter Swan; Hiddensee; After Alice; Confessions of an Ugly Stepsister; Lost; Mirror Mirror; and. He lives with his family in New England.
Praise For…
---
"An enchanted coming-of-age tale twinged with dark magic" — Entertainment Weekly
"Fans of the Wicked saga and Maguire's rich, multifaceted world will enjoy the references, heartaches, and conclusions." — Booklist
"Rain's story—begun in The Brides of Maracoor and finished, last month, in The Witch of Maracoor—felt like a gift. . . . The series is odd and dreamy, amnesiac and inventive, and full of what Maguire calls ephrarxis, which he defines as 'nostalgia for something that had never been.'" — Tor.com
"[Maguire's] books, written from the perspective of the villain in beloved fairy tales, are captivating, full of life lessons and teach us to look at the misunderstood in a different light. … every page takes the reader on an adventure." — Newsweek
"Gregory Maguire once again has created an awe-inspiring work of fantasy that takes on the Oz stories and improves on them through expansion of new characters, places and ideas. It all makes for an engaging read and welcome time spent in a place that feels simultaneously strange and eerily familiar." — BookReporter on The Oracle of Maracoor
"A decade after she flew Out of Oz in Maguire's Wicked series, Elphaba's granddaughter crash-lands on an island inhabited by seven sacrificial virgins. The arrival of the green-skinned teen (and her talking goose) upends their enclave. An exquisitely crafted introduction to a new fantasy trilogy." — People on The Brides of Maracoor
"Wonderful attention to detail. . . . [Maguire] does excellent character work. . . . The larger world of Maracoor Abiding . . . has echoes of Greek mythology and looks to be fertile ground as a setting for more books. An expertly crafted introduction to a new series of magic and adventure." — Kirkus Reviews (starred review) on The Brides of Maracoor
"The Brides of Maracoor once again shows Maguire's rich, mesmerizing world building, full of small, frustrating human absurdities. . . . It also shows off his gift for crafting compelling characters. . . . It's an intriguing, witty start to a fantastical proposed trilogy." — Booklist on The Brides of Maracoor
"[A] complex, enticing fantasy. . . . Maguire cleverly teases out the characters' motivation and desires, turning what at first appears to be a straightforward tale into a gripping page-turner. Fans will revel in this triumphant return to the world of Wicked." — Publishers Weekly on The Brides of Maracoor