Back to top
Psych: The Story of the Human Mind (Paperback)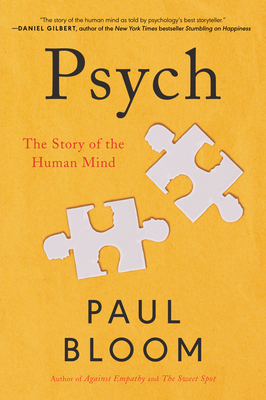 $21.99

Coming Soon - Available for Pre-Order Now
Description
---
A Next Big Idea Club Must-Read
A compelling and accessible new perspective on the modern science of psychology, based on one of Yale's most popular courses of all time
How does the brain—a three-pound wrinkly mass—give rise to intelligence and conscious experience? Was Freud right that we are all plagued by forbidden sexual desires? What is the function of emotions such as disgust, gratitude, and shame? Renowned psychologist Paul Bloom answers these questions and many more in Psych, his riveting new book about the science of the mind.
Psych is an expert and passionate guide to the most intimate aspects of our nature, serving up the equivalent of a serious university course while being funny, engaging, and full of memorable anecdotes. But Psych is much more than a comprehensive overview of the field of psychology. Bloom reveals what psychology can tell us about the most pressing moral and political issues of our time—including belief in conspiracy theories, the role of genes in explaining human differences, and the nature of prejudice and hatred.
Bloom also shows how psychology can give us practical insights into important issues—from the treatment of mental illnesses such as depression and anxiety to the best way to lead happy and fulfilling lives. Psych is an engrossing guide to the most important topic there is: it is the story of us.
About the Author
---
Paul Bloom is Professor of Psychology at the University of Toronto, and the Brooks and Suzanne Ragen Professor Emeritus of Psychology at Yale University. His research explores the psychology of morality, identity, and pleasure. Bloom is the recipient of multiple awards and honors, including, most recently, the million-dollar Klaus J. Jacobs Research Prize. He has written for scientific journals such as Nature and Science, and for the New York Times, the New Yorker, and the Atlantic Monthly. He is the author or editor of eight books, including Against Empathy, Just Babies, How Pleasure Works, Descartes' Baby, and, most recently, The Sweet Spot.
Praise For…
---
"Essential reading for anyone who has wondered why people do, feel, and think what they do. Paul Bloom is that rarest of experts—able to tell a story, make it practical, and yet faithfully capture the complexity and nuance of the latest research. I loved Psych!" — Angela Duckworth, author of New York Times bestseller Grit
"In Psych, Paul Bloom explains the deep and lasting insights from the science of the mind, sifting them from the superficial and the unreproducible. And he does it with the tough mind and gentle style that make all his books such a pleasure to read." — Steven Pinker, Johnstone Professor of Psychology at Harvard University and the author of Rationality
"Paul Bloom is the perfect guide to a topic we all need to understand better: how our minds work. Psych is a fascinating deep dive into the mysteries of human psychology. It is also a perfect testament to why understanding the puzzles of the mind can be so damn fun." — Laurie Santos, Chandrika and Ranjan Tandon Professor of Psychology at Yale University and host of The Happiness Lab podcast
"Psych will thrill readers young and old with fundamental truths about our very nature. A devoted teacher and gifted author on wide-ranging issues in moral psychology, Bloom has written a compelling story that synthesizes and integrates so much about humans' brains, minds, and behavior. This is a masterful, brilliantly composed book that leaves readers wanting to learn more about what makes us human and why that matters." — Peter Salovey, president of Yale University and Chris Argyris Professor of Psychology
"The story of the human mind as told by psychology's best storyteller. From the neuron to the neighborhood and all points between, Paul Bloom takes us on a fantastic journey—and delivers another gem of a book." — Daniel Gilbert, Edgar Pierce Professor of Psychology at Harvard University and author of New York Times bestseller Stumbling on Happiness
"For anyone with even a glancing interest in how our hearts and minds work—or a more in-depth one, for that matter—Paul Bloom's Psych is perhaps the wittiest, most captivating overview of the field of psychology to date. Bloom is edifying without being pedantic, profound without being pretentious (or, let's face it, exhausting), and authoritative while still maintaining an admirable sense of humility. Plus: his eye for the just-right anecdote or bit of fanciful trivia is impeccable. Who wouldn't want to learn about failed hamburger campaigns, novel ways to smoke out spies, or pigs that learn to do the fox trot?" — Jennifer Senior, author of New York Times bestseller All Joy and No Fun and winner of the 2022 Pulitzer Prize for Feature Writing
"Bloom offers an engaging, comprehensive, accessible introduction to the field of psychology…[Psych is an] enlightening combination of scholarly engagement and popular appeal…[Bloom] displays an impressive familiarity with the principles and key research, while writing in an enthusiastic, at times almost playful, style that's designed to engage general readers." — Shelf Awareness
"Fascinating." — AARP
"An extraordinary book that absolutely delivers on its sweeping ambitions. Every chapter here – on topics ranging from Freud to the mysteries of consciousness, from intergroup conflict to the meaning of life – feels like having the mind's complexities untangled by a witty, eloquent and deeply knowledgeable friend." — Oliver Burkeman, author of Four Thousand Weeks