Back to top
Just Eat: More Than 100 Easy and Delicious Recipes That Taste Just Like Home (Hardcover)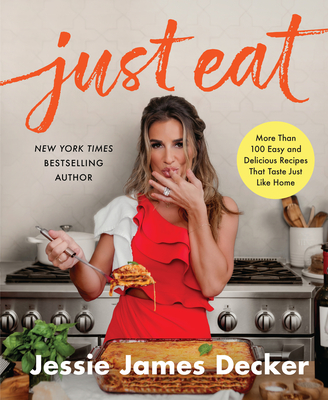 $32.50

Usually Ships in 1-5 Days
Description
---
From country music sensation and New York Times bestselling author, Jessie James Decker, comes her highly-anticipated second cookbook—a delicious new array of over 100 recipes, inspired by Jessie's family, her travels, and her home garden.
Comfort means everything to Jessie James Decker. It's in the music she makes, the time she spends with her family, and most of all, the food she cooks. In her bestselling cookbook, Just Feed Me, Jessie James Decker brought readers into her kitchen for an exclusive taste of her homey, family-friendly recipes. Now, in Just Eat, Jessie brings comfort food to the table, inviting everyone back over for dinner at the Decker's with her most personal and mouthwatering dishes yet.  
With over 100 new recipes from Jessie's comfort food staples, Just Eat is a delicious selection of the classic food that always leaves her family calling for seconds. As a home cook, Jessie knows that cooking yummy food is often easier said than done—especially when the kids are hungry. That's why Just Eat offers easy-to-follow recipes for delicious, family-friendly appetizers, meals, and desserts— from Louisiana beignets to Eric's Chicken Chili to Fried Chicken Sandwiches. Taking inspiration from her garden and her travels to the Mediterranean coast, Jessie incorporates the cuisine of Italy and Greece into her repertoire, bringing fresh, homegrown ingredients center stage in her take on classic recipes. 
Throughout the cookbook are gorgeous, four-color photos of Jessie and her family—at home, on vacation, and in the garden—as well as tips from Jessie herself about healthy recipes, food prep, and time savers. Perfect for entertaining or just hanging out with family, Jessie's newest cookbook is sure to delight, inspire, and bring everyone into the kitchen to just eat.
About the Author
---
Singer, songwriter, TV personality, fashion designer, beauty and lifestyle influencer/entrepreneur, and New York Times bestselling author, Jessie James Decker has emerged as a multi-platform juggernaut juggling fashion brands like her personally designed Kittenish line with two retail stores and growing, and popular boot line, along with her television hosting duties. Signed to Warner Music Nashville, Jessie's passion for music has made the multi-talented artist one of music's true breakout firebrands. The singer's authentic style immediately captivated listeners everywhere on her 2009 self-titled debut. She continued to keep it real with her second studio album, 2017's Southern Girl City Lights, which debuted at #1 on Billboard's Top Country Albums chart. Jessie lives with her husband, retired NFL player Eric Decker, and their three children, in Nashville, Tennessee.