Back to top
Ten Trips: The New Reality of Psychedelics (Hardcover)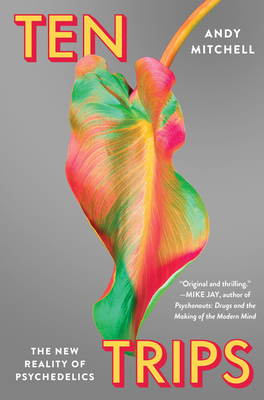 $29.99

Usually Ships in 1-5 Days
Description
---
The more we learn about psychedelics, the less we seem to understand them. . . . In this engrossing, sometimes hilarious, always dramatic chronicle, a neuropsychologist deflates the hype, explores the limitless possibilities, and reveals a much-needed perspective about psychedelics, giving us a scientist's first-person experiment with ten different compounds in ten different settings.
Once demonized and still largely illegal, psychedelic drugs are now officially a "breakthrough therapy" in treating mental illness, used to heal trauma, conquer addiction, and enhance well-being. But as Andy Mitchell reveals, this approach to psychedelics is overhyped, and most importantly, neglects what is so unusual and valuable about them: the psychedelic experience itself.
In Ten Trips, Mitchell takes ten different drugs in ten diverse locations—including a neuroimaging lab in London, the Columbian Andes, Silicon Valley and his friend's basement kitchen—to document their remarkable effects. Along the way he encounters a cast of distinctive characters: scientists and gangsters, venture capitalists and philosophers, psychonauts and shamans, musicians, monks, therapists, poets, and conmen. His experience opens a doorway to psychedelics' full potential: for healing and trauma, for ecstatic one-ness and utter terror, for transcendence and corruption, for profundity and laughter.
Mitchell argues that by removing psychedelics from their cultures and rituals, both indigenous and underground, we risk rejecting the expertise and the contexts which hold the key to understanding them—and from which their real benefits may derive. In the drive to standardize, control, and monetize the psychedelic experience, we may ultimately destroy what makes them potent: their ability to transform our whole perspective on mental health and reenchant us with the world.
A hallucinogenic experience nearly as mind-blowing as actually taking psychedelics themselves, Ten Trips is Michael Pollan's How to Change Your Mind written by Hunter S. Thompson with a PhD in neuroscience—a perception-altering odyssey that will change the way we see these substances and the world.
About the Author
---
Andy Mitchell is a neuropsychologist and therapist. He has specialised in treating patients with rare brain conditions, head injuries and epilepsy, and in the application of mindfulness for neurological patients. As a therapist he has worked with people with a range of mental health disorders. Before entering medicine, his first degree was in English Literature at Oxford University. He is originally from Leeds. 
Praise For…
---
"An original and thrilling investigation into psychedelics and the claims and narratives that currently surround them. Ten Trips is perfectly pitched for those who are looking for a deeper exploration of the psychedelic experience and its possible meanings." — Mike Jay, author of Psychonauts: Drugs and the Making of the Modern Mind
"A dazzling, timely book, as deep and poignant as it is madcap and hilarious—exactly what you'd want from a book on psychedelics. Mitchell does something rare: he takes a promising, voguish region of interest in medical neuroscience and deepens it so that the whole culture is implicated." — Professor Mark Lythgoe, director of the Centre for Advanced Biomedical Imaging, University College London
"A hair-raising hurtle of a ride into the belly of the 'psychedelic renaissance,' exposing and dissecting its perils and pitfalls, as well as the marvels and mysteries the 'medicines' can open up, all fueled by spectacular prose, and by the urgency of a desperate quest for healing of self, world and culture. Neuroscience, extractive post-colonialism, religion, therapy, addiction treatment, meditation, the contemporary wellbeing industry—all are given a thorough shaking-out, with as much brilliantly rendered trip porn as you could ever hope for." — Henry Shukman, Spiritual Director, Mountain Cloud Zen Center
"An incisive, deeply personal, and beautifully written account of the power, the uses, and the modern misuses of psychedelics. Highly recommended." — Professor Anil Seth, bestselling author of Being You: A New Science of Consciousness
"A captivating exploration of the mind's untapped potential. In this deep dive into the realms of altered consciousness, Andrew Mitchell investigates the complexities of the psychedelic renaissance. A clever, groundbreaking and often hilarious insight into the world of modern mysticism and the inner workings of the mind. A must-read for anyone interested in this important and fascinating subject." — Levison Wood, explorer and author of Walking the Himalayas
"Mitchell is a gifted writer, sprightly and light, yet profound; the nature of his inquiry—namely, the professional and corporate appropriation of hallucinogenics—is generously handled, with a healthy amount of skepticism. He has a big heart and a wide eye, and a great ear for dialogue. Mitchell is not afraid to put himself—warts and all—in the telling, to make it personal, and it is this that makes Ten Trips hum, true, and real." — Michael Taussig, anthropologist and author of Mastery of Non-Mastery in the Age of Meltdown
"Utterly compelling. Some books are in a category of their own and this is one them. Reading it is like having an out of body experience." — Mark Miodownik, author of Stuff Matters
"Beguiling, captivating, mind-expanding. It's impossible to read this book and not be tempted to replicate some of its wild, sanity-stretching forays into the peculiarities of human perception." — Stuart Ritchie, author of Science Fictions
"In Ten Trips, Andy Mitchell captures psychedelics' gonzo spirit and speaks to the psychonaut in all of us." — Katherine MacLean, author Midnight Water: A Psychedelic Memoir
"Eagle-eyed, poetic and always playful, Ten Trips is chock-full of profane illumination." — Tehseen Noorani, Faculty of Medical and Health Sciences, University of Auckland
"Mitchell's decapod of delirious drug experiences is an antidote to the hype and a rallying cry to keep psychedelics . . . psychedelic." — Josh Hardman, Psychedelic Alpha
"The psychedelic world has been waiting for this book: a sceptic's account of the allure of psychedelics." — Erika Dyck, Professor in History of Health & Social Justice, University of Saskatchewan