Back to top
Blood on Their Hands: Murder, Corruption, and the Fall of the Murdaugh Dynasty (Hardcover)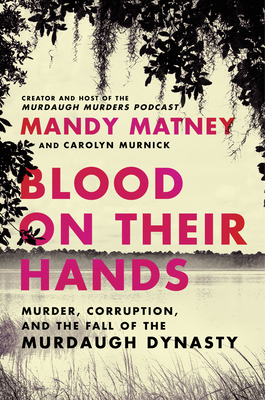 $28.99

Usually Ships in 1-5 Days
Description
---
The highly anticipated inside look at the collapse of the Murdaugh dynasty by the celebrated investigative journalist and creator of the #1 hit Murdaugh Murders Podcast, Mandy Matney.
Years before the name Alex Murdaugh was splashed across every major media outlet in America, local South Carolina journalist Mandy Matney had an instinct that something wasn't right in the Lowcountry. The powerful Murdaugh dynasty had dominated rural South Carolina for generations. No one dared to cross them.
When Mandy and her reporting partner Liz Farrell looked closer at a fatal boat crash involving the storied family's teenage son Paul, they began to uncover a web of mysteries surrounding the deaths of the Murdaughs' long-time housekeeper and a young man found slain years earlier on a backcountry road. Just as their investigations were unfolding, the brutal double murder of Maggie and Paul Murdaugh rocketed Alex Murdaugh onto the international stage.
From the newsroom to the courtroom, to the kitchen-table studio where Mandy recorded her #1 Murdaugh Murders Podcast, Blood on Their Hands is a propulsive true crime saga, an empathetic work of investigative journalism, and an excoriation of the "good old boy" systems that enabled a network of criminals.
About the Author
---
Mandy Matney is an award-winning journalist originally from Kansas who has worked for newspapers in Missouri, Illinois, and South Carolina before launching Luna Shark Productions and two chart-topping podcasts, Murdaugh Murders Podcast and Cup of Justice. Throughout her career, Matney has sought to expose the truth, wherever it leads. Matney believes in journalism that is honest, focuses on justice for victims, and holds power to account. Mandy is a KU grad with deep roots in the Sunflower State, but currently lives in South Carolina with her husband David and pup Luna.
Praise For…
---
"Matney is committed to justice in her writing, and her book is an important look at the sacrifices journalists make and the corruption they wade through in pursuit of the truth." — Booklist (starred review)
"[Matney and Murnick] write with the unshowy momentum of the best investigative reporting. The result is both an engrossing true crime saga and a galvanizing ode to boots-on-the-ground journalism." — Publishers Weekly
"[A] personable narrative filled with appealing local color . . . In a sea of Murdaugh-related media, this personal narrative stands out." — Kirkus Reviews
"Well written, full of breathless accounts of secret communications from locals . . . True-crime fans will savor this inside look." — Library Journal
"Beyond the true crime aspect, [Blood on Their Hands] is a compelling read for aspiring journalists . . . [Matney's] writing is also a testament to dogged persistence . . . The memoir underscores the importance of local journalism in keeping our public systems accountable . . . [H]er narrative points the way for others who might want to challenge power structures and strike their own path in the pursuit of truth." — Country Living
"Riveting . . . Part memoir, part true crime story, Blood on Their Hands is an up-close-and-personal narrative that will appeal to a wide variety of readers. Fans of Michelle McNamara's I'll Be Gone in the Dark, as well as Rebecca Makkai's I Have Some Questions for You, take note."? — BookPage
"[A] terrific new page-turner . . . Matney was dogging this story from the beginning, raising questions about other deaths related to the powerful family. Nobody was in a better position to report on the murders when the occurred." — Atlanta Journal Constitution