Back to top
Coronation Year: A Novel (Hardcover)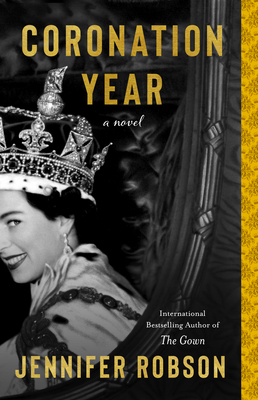 $30.00

Usually Ships in 1-5 Days
Description
---
The USA Today bestselling author of The Gown returns with another enthralling and royal historical novel— as the lives of three very different residents of London's historic Blue Lion hotel converge in a potentially explosive climax on the day of Queen Elizabeth's Coronation.
It is Coronation Year, 1953, and a new queen is about to be crowned. The people of London are in a mood to celebrate, none more so than the residents of the Blue Lion hotel.
Edie Howard, owner and operator of the floundering Blue Lion, has found the miracle she needs: on Coronation Day, Queen Elizabeth in her gold coach will pass by the hotel's front door, allowing Edie to charge a fortune for rooms and, barring disaster, save her beloved home from financial ruin. Edie's luck might just be turning, all thanks to a young queen about her own age. 
Stella Donati, a young Italian photographer and Holocaust survivor, has come to live at the Blue Lion while she takes up a coveted position at Picture Weekly magazine. London in celebration mode feels like a different world to her. As she learns the ins and outs of her new profession, Stella discovers a purpose and direction that honor her past and bring hope for her future.
James Geddes, a war hero and gifted artist, has struggled to make his mark in a world that disdains his Indian ancestry. At the Blue Lion, though, he is made to feel welcome and worthy. Yet even as his friendship with Edie deepens, he begins to suspect that something is badly amiss at his new home.
When anonymous threats focused on Coronation Day, the Blue Lion, and even the queen herself disrupt their mood of happy optimism, Edie and her friends must race to uncover the truth, save their home, and expose those who seek to erase the joy and promise of Coronation Year.
About the Author
---
Jennifer Robson is the Globe & Mail and Toronto Star number-one bestselling author of six novels, among them The Gown and Somewhere in France. She holds a doctorate in British history from the University of Oxford and lives in Toronto, Canada, with her husband and children.
Praise For…
---
Jennifer Robson's crowning achievement! A sensitive, introspective examination of post-war Britain and the way its damaged citizens piece their lives together: a harried hotelier struggling to save her family home, a half-Indian war hero turned artist, a Jewish photographer and Holocaust survivor haunted by past losses. All three find hope and opportunity in the imminent crowning of their new queen, whose coronation will change their lives forever. CORONATION YEAR shimmers on every page.
— Kate Quinn, New York Times Bestselling Author of The Diamond Eye
Set during the time of Queen Elizabeth's coronation, Coronation Year blends mystery with incredible research and unforgettable characters. Jennifer Robson has such an exquisite gift for bringing history to life and truly shines in this compelling read!

— Madeline Martin, New York Times Bestselling Author of THE LIBRARIAN SPY
Jennifer Robson brilliantly captures the impact of historical events on the community as well as the essence of friendship, loyalty and love in her latest novel. Coronation Day is a page-turner as we follow the intriguing lives of three people brought together at the Blue Lion Hotel as they face opposition and triumph over adversity. A spark of mystery, an alluring legend, and relatable characters, Robson has penned a winning story that will seize the hearts of readers everywhere.
— Eliza Knight, USA Today bestselling author of STARRING ADELE ASTAIRE
"For fans of The Crown, looking for history served up as intimate drama, and those seeking another angle on royal lives, The Gown seems likely to dazzle and delight." — Washington Post
"Jennifer Robson embroiders life, friendship, and hope into the somber gray world of post-war London... The Gown is marvelous and moving, a vivid portrait of female self-reliance in a world racked by the cost of war." — Kate Quinn, New York Times bestselling author
"Jennifer Robson delivers a satisfying multigenerational epic linked by the intricate embroidery used on Princess Elizabeth's wedding gown. Robson's meticulous attention to historical details—notably the intricacies of the embroidery work—is a wonderful complement to the memorable stories of Ann and Milly, making for a winning, heartwarming tale." — Publishers Weekly (starred review) on The Gown
"Robson deftly weaves issues of class, trauma, romance, and female friendship with satisfying details of Ann and Miriam's craft. This unique take on the royal wedding will be an easy sell to fans of Netflix's The Crown and a sure bet for readers of women-centered historical fiction." — Booklist (starred review) on The Gown
"Robson shines with this stellar WWII story. The brutal reality and atrocities of war are on full view with devastating clarity. Expert characterizations and perfect pacing are rounded out by lyrical prose … This will break readers' hearts." — Publishers Weekly (starred review) on Our Darkest Night
"Heartbreaking and heartfelt, Jennifer Robson's new novel is her best yet. With powerful prose and vivid characters, this unflinching novel shows not only the horrors of war, but the unshakeable power of love against hate. A must read." — Bryn Turnbull, author of The Woman Before Wallis
"Jennifer Robson pens a tale of devastating simplicity and poignant sweetness, superbly grounded in the horrors of fascist Italy. A Jewish medical student escapes deportation by trading her native Venice for rural farm life, posing as the Catholic wife of a priest-in-training turned resistance fighter--but at what cost to her faith, her unwitting new family, and the man she is coming to love? Our Darkest Night is tense and touching, sure to delight Robson's many fans and new readers alike." — Kate Quinn, New York Times bestselling author of The Huntress
"Equal parts romantic and devastating, violent and tender, Robson's latest held me in thrall from the first pages. Nico and Nina's story movingly portrays our deepest humanity and darkest nightmares, and the world-changing power of the families we chose." — Kerri Maher, author of The Kennedy Debutante and The Girl in White Gloves
Our Darkest Night is a rich, atmospheric Italian journey of survival from an ancient city to the rustic countryside to the concentration camps. With poignant precision, Robson tugs at the heartstrings, demonstrating that the strength of family bonds goes well beyond blood in this beautiful tale of love, survival, and triumph."  — Stephanie Dray, New York Times bestselling author of America's First Daughter

Our Darkest Night by Jennifer Robson is a profoundly moving story of ordinary people who show extraordinary courage in their fight against the evil and devastation of World War II Italy. With nuanced characters and beautiful, evocative prose, Robson weaves a compelling tale of bravery, perseverance, and the immeasurable power of love in the face of adversity. Haunting and inspiring, heartbreaking and hopeful, this novel is unforgettable" — Kristin Beck, author of Courage, My Love
"This novel is set during a brutal time in history, but Jennifer Robson's superb storytelling balances heartrending events with hope and humanity for a moving story of courage, integrity, and love amidst danger. Impossible to put down, this is her best book yet." — Janie Chang, author of The Library of Legends
"An engrossing and memorable story, Our Darkest Night is a reminder that even in the darkest of times, we must open the door to courage and hope. Jennifer Robson is a master storyteller who will sweep you away with this wartime tale of the importance of family and above all, the enduring power of love." — Stephanie Marie Thornton, USA Today bestselling author of And They Called It Camelot
"With stunningly intense and intimate prose, Jennifer Robson shines a light on the lesser-known fate of Italian Jews during World War II. By weaving the stories of those who were persecuted with those who tried to save them, Robson has penned an extraordinary tale of family sacrifice, resilience, and love."   — Lynda Cohen Loigman, National bestelling author of The Two-Family House and The Wartime Sisters

"A powerful, emotional, and unflinching story of love, sacrifice, and resilience during one of history's darkest moments, Jennifer Robson's Our Darkest Night is historical fiction at its finest. Robson's beautiful prose evokes a visceral reaction as she creates memorable, extraordinary characters in a richly detailed setting that comes alive for the reader."  — Chanel Cleeton, New York Times bestselling author 
Jennifer Robson weaves a rich, compelling story of danger, sacrifice and steadfast love in her sixth novel, Our Darkest Night...Although Robson's readers know the broad outcome of the war, Nina's story contains multiple twists that will keep readers guessing as to how things will turn out for her. Powerful, heartbreaking and full of wise, compassionate characters, Our Darkest Night is the story of a woman learning to fight for what--and whom--she loves in the face of great evil." — Shelf Awareness