Back to top
Tiny Humans, Big Emotions: How to Navigate Tantrums, Meltdowns, and Defiance to Raise Emotionally Intelligent Children (Hardcover)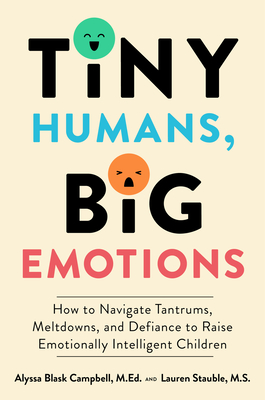 $28.99

Usually Ships in 1-5 Days
Description
---
The Future is Emotionally Intelligent
From two early childhood experts, an essential guidebook that empowers parents to help their little ones navigate their big feelings—including tantrums, outbursts, and separation anxiety—while laying the groundwork for a lifetime of emotional intelligence.
We're in the midst of a parenting revolution that is radically changing the way we raise our kids. Gone are the days of minimizing emotions: Don't Cry. You're Fine. Don't Make a Scene. As our understanding of developing brains has increased, today's parents are looking for a new way to help their children understand their feelings and learn to process them.
Emotional development experts Alyssa Blask Campbell, M.Ed. and Lauren Stauble M.S. are at the forefront of a movement to foster little ones' emotional intelligence. Their revolutionary Collaborative Emotion Processing (CEP) method has been a game changer for parents and educators, and now they are sharing it with readers in this indispensable guide.
 Tiny Humans, Big Emotions provides the tools to tackle every sort of stressful child-rearing situation, including:
• What to do when your child throws a tantrum (it's not what you think!)
• Helpful scripts to handle any challenging moment like school refusal and bedtime resistance
• How to react when your child hits, punches, or bites
• Easy tips that help regulate your child's nervous system
• How to anticipate and end meltdowns before they even begin
Designed for all humans—tiny and big—this book shows caregivers of children how to handle their children's outbursts while empowering them to recognize and manage difficult feelings like anger, sadness, and shame, along with anxiety. All caregivers will find valuable insights and guidance in this book, especially those caring for children from infancy to age eight. Tiny Humans, Big Emotions equips adults with tools for emotional intelligence so they can respond with intention. This innovative, research-based approach teaches children self-regulation and empathy, even as it strengthens the parent-child relationship, setting the groundwork for a lifetime of emotional resilience and wellbeing. 
This book is an essential, empathetic guide that will teach parents to notice their own habits and hold space for their tiny human's big emotions.
About the Author
---
Alyssa Blask Campbell has a master's degree in early childhood education, is the CEO of Seed and Sew, and an established podcaster and influencer. She has also been featured as an emotional development expert in numerous national publications. She lives in Burlington, VT.
Lauren Stauble is partner of Engage: feel.think.connect. and a professor of early childhood education. She taught and cared for young children for 16 years before moving into administration and higher education where she is currently on faculty at Bunker Hill Community College. She lives in Holyoke, MA.
Praise For…
---
"Tiny Humans, Big Emotions provides a roadmap of understandable and relatable tools to help transform the emotional resilience of generations to come. Alyssa Campbell and Lauren Stauble are compassionate guides who offer practical support in creating a safe environment for our children's emotional expression and wellness." — Dr. Nicole LePera, #1 New York Times Bestselling Author
"Generous. Practical. Insightful. Tiny Humans, Big Emotions is a must-have parenting book." — Britt Hawthorne, New York Times bestselling Author of Raising Antiracist Children: A Practical Parenting Guide
"A must-read for parents who want to raise children with tools for vulnerability & empathy! The key to cultivating a generation of kids who get to be their authentic selves and who know in their bones that they are enough." — Justin Baldoni, Actor, Director, and New York Times bestselling author of Boys Will Be Human
"An essential, empathetic guide to turn the most frustrating parenting moments into opportunities for connection and growth." — Dr. Shefali, New York Times bestselling author of The Conscious Parent
"Few parenting books show us exactly HOW to compassionately and effectively navigate our children's difficult emotions. Alyssa and Lauren's CEP Method is the answer to every parent's emotionally-dysregulated prayer—it goes beyond the traditional parenting guidance of 'reflect their feelings' and helps parents and educators create a deep authentic connection with their child." — Dr. Lynyetta Willis, Psychologist, Speaker, Author, & Founder of Triggered To Transformed
"If you've ever wondered why your kids behave the way they do, this book is for you! Tiny Humans, Big Emotions is like taking a peek inside your child's mind. It helps parents like me navigate the difficult terrain of little people's big emotions with ease. This should be required reading for all parents and caregivers of children!" — Dr. Aditi Nerurkar, MD, MPH, Physician, Harvard Medical School 
"Exceptional. The perfect book for our times. Not only is it a simple, practical guide to 'mindfully' navigating the potential minefield of emotions, it ultimately creates a path to enjoying richer, more emotionally fulfilled lives. What I love most is that it's not just an incredible resource for parents and their kids (little people), but equally relevant for adults. Highly recommend."   — Mark Bunn, Founder of Dharmic Living & best-selling author of Ancient Wisdom for Modern Health