Back to top
Coach Prime: Deion Sanders and the Making of Men (Hardcover)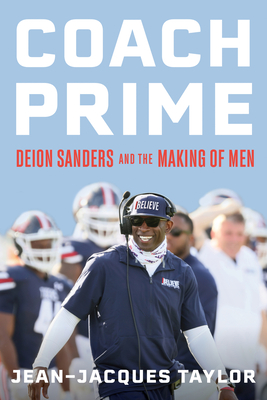 $28.99

Usually Ships in 1-5 Days
Description
---
An exclusive insider account with unprecedented access to Deion Sanders, his staff, and players, who are changing the culture of college football.
"A highly readable portrait of one of the most exciting coaches in college football." – San Deigo Union-Tribune
"You won't find a more competitive person than Coach Prime. At Jackson State, he wanted to dominate and win.... Nothing has changed but the address. He wants to dominate and win a national championship at Colorado." (from Coach Prime)
Known for decades as one of the NFL's most iconic and spectacular playmakers, Deion Sanders remains college football's most intriguing newsmaker. In just three years, he has become the most talked about coach by recruiting elite players to moribund programs and reviving the spirit and pride of forgotten fanbases by winning. Along the way, he's changing how we think about college sports while rejuvenating whole communities with the national attention that follows him and the fresh commerce a winning culture ignites.
First at Jackson State and now at Colorado, Sanders has displayed a knack for leading miraculous turnarounds of once-storied-but-long-irrelevant programs. Television cameras turn up for national broadcasts, gameday attendance skyrockets, economic impact reaches the tens of millions, and NFL scouts take renewed interest.
Meanwhile, off the field, Sanders displays an uncanny ability to connect with his players. Weekly chat sessions about life and love are the norm. His unyielding commitment to guiding his players to become exceptional men raises the bar on what parents and athletes expect from college coaches.
Now, with access no other reporter has been granted, veteran sports journalist Jean-Jacques Taylor takes readers inside one season with Deion Sanders to show the heart, mind, and culture of America's most innovative football coach and his team of would-be champions.
About the Author
---
Jean-Jacques Taylor is an award-winning journalist and president of JJT Media Group. He is a frequent contributor to ESPN, where he covers HBCU football and is a frequent guest on their airwaves and podcast verticals. Prior to that, he was a sports columnist at the Dallas Morning-News. He has covered 25 Super Bowls, two World Series, two NBA Finals, a Stanley Cup Finals, the 2010 Vancouver Olympics, and a host of special moments, such as Emmitt Smith breaking the all-time NFL rushing record.
Praise For…
---
"Journalist Jean-Jacques Taylor has covered Sanders for 30 years and was given unlimited and unprecedented access to the coach during his time at Jackson State University. The result is a highly readable portrait of one of the most exciting coaches in college football." — San Diego Union-Tribune