Back to top
Opinions: A Decade of Arguments, Criticism, and Minding Other People's Business (Hardcover)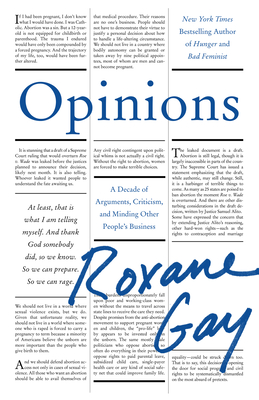 $30.00

Usually Ships in 1-5 Days
Description
---
From beloved and bestselling author Roxane Gay, "a strikingly fresh cultural critic" (Washington Post) comes an exhilarating collection of her essays on culture, politics, and everything in between.
Since the publication of the groundbreaking Bad Feminist and Hunger, Roxane Gay has continued to tackle big issues embroiling society—state-sponsored violence and mass shootings, women's rights post-Dobbs, online disinformation, and the limits of empathy—alongside more individually personalized matters: can I tell my co-worker her perfume makes me sneeze? Is it acceptable to schedule a daily 8 am meeting? In her role as a New York Times opinion section contributor and the publication's "Work Friend" columnist, she reaches millions of readers with her wise voice and sharp insights.
Opinions is a collection of Roxane Gay's best nonfiction pieces from the past ten years. Covering a wide range of topics—politics, feminism, the culture wars, civil rights, and much more—with an all-new introduction in which she reflects on the past decade in America, this sharp, thought-provoking anthology will delight Roxane Gay's devotees and draw new readers to this inimitable talent.
About the Author
---
Roxane Gay is the author of the essay collection Bad Feminist, which was a New York Times bestseller; the novel An Untamed State, a finalist for the Dayton Peace Prize; the memoir Hunger, which was a New York Times bestseller and received a National Book Critics Circle citation; and the short story collections Difficult Women and Ayiti. A contributing opinion writer to the New York Times, she has also written for Time, McSweeney's, the Virginia Quarterly Review, the Los Angeles Times, The Nation, The Rumpus, Bookforum, and Salon. Her fiction has also been selected for The Best American Short Stories 2012, The Best American Mystery Stories 2014, and other anthologies. She is the author of World of Wakanda for Marvel. She lives in Lafayette, Indiana, and sometimes Los Angeles.
Praise For…
---
"Insightful, witty and accessible prose. . . . Gay has an ability to blend the personal and political in a way that feels simultaneously gentle and brutal. . . . For 1,400 or so words you look at a cultural moment through Gay's eyes and, by the end, you see the world differently." — The Guardian
"A true star in the literary world known for her uncompromising opinions, timely takes on modern American culture, and in-depth profiles." — Shondaland
"Her opinions are not just indictments of the suffering people went through, but intimate conversations capable of uplifting the reader during any phase of their life." — The Harvard Crimson
 "Gay's essays are brilliant and incisive. . . . Each piece on its own is worthy of attention. Taken collectively, this title is not to be missed."  — Library Journal (starred review)
"This is a must-read for not only fans of Gay's work, but for everyone interested in reading intellectual, accessible, and important takes on timely topics." — Booklist (Starred Review)
"Essays, op-eds, and pop-culture pieces from the acclaimed novelist and memoirist. . . . [Gay] has a gift for clean, well-ordered prose, and strong feelings on matters of race, gender, and sexuality. Most important, she possesses a fearlessness essential to doing the job right; though she can observe an issue from various angles, she never wrings her hands or delivers milquetoast commentaries. . . . she comes to her opinions more out of empathy than ideology. . . . Fierce and informed riffs on current events and enduring challenges." — Kirkus Reviews