Back to top
A Stroke of the Pen: The Lost Stories (Hardcover)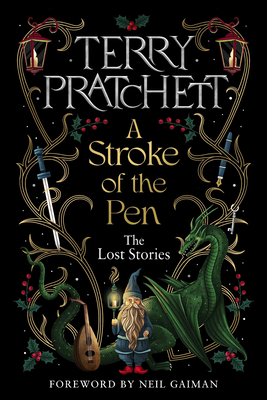 $26.99

Usually Ships in 1-5 Days
Description
---
A delightfully funny, fantastically inventive collection of twenty newly unearthed short stories by Sir Terry Pratchett, the award-winning and bestselling author of the phenomenally successful Discworld fantasy series. This special trove—featuring charming woodcut illustrations—is a must-have for Pratchett fans of all ages and includes a foreword by Neil Gaiman.
These rediscovered tales were written by Terry Pratchett under a pseudonym for British newspapers during the 1970s and 1980s. The stories have never been attributed to him until now, and might never have been found—were it not for the efforts of a few dedicated fans. 
As Neil Gaiman writes in his introduction, "through all of these stories we watch young Terry Pratchett becoming Terry Pratchett." Though none of the short works are set in the Discworld, all are infused with Pratchett's trademark wit, satirical wisdom, and brilliant imagination, hinting at the magical universe he would go on to create.
Meet Og the inventor, the first caveman to cultivate fire, as he discovers the highs and lows of progress; haunt the Ministry of Nuisances with the defiant evicted ghosts of Pilgarlic Towers; visit Blackbury, a small market town with weird weather and an otherworldly visitor; and embark on a dangerous quest through time and space with hero Kron, which begins in the ancient city of Morpork . . .
Irresistibly entertaining, A Stroke of the Pen is an essential collection from the great Sir Terry Pratchett, a "master storyteller" (A. S. Byatt) who "defies categorization" (The Times); a writer whose "novels have always been among the most serious of comedies, the most relevant and real of fantasies" (Independent UK).
About the Author
---
Terry Pratchett was the acclaimed author of the global bestselling Discworld series, the first of which, The Color of Magic, was published in 1983. In all, he was the author of more than fifty bestselling books which have sold more than 100 million copies worldwide. His novels have been widely adapted for stage and screen, and he was the winner of multiple prizes, including the Carnegie Medal for his young adult novel The Amazing Maurice and His Educated Rodents. He was awarded a knighthood by Queen Elizabeth II for his services to literature in 2009, although he always wryly maintained that his greatest services to literature was to avoid writing any. He lived in England and died in 2015 at the age of sixty-six.
Praise For…
---
"With a foreword by Neil Gaiman and an introduction by Colin Smythe, Terry Pratchett's A Stroke of the Pen: The Lost Stories contains the last pieces of fiction we are likely to see from the comic genius who created Discworld. . . . If you read just one of Pratchett's books, you'll want to read everything he wrote. That now includes A Stroke of the Pen." — Washington Post
"A collection of 20 excellent, often laugh-out-loud early works. . . . Pratchett devotees will be moved and gratified by this unexpected gift and even casual readers will be utterly charmed. There isn't a bad story in the bunch."  — Publishers Weekly (starred review)
"These early stories show Pratchett's remarkable ability to poke fun at the absurdity of the real world through fantasy full of irreverent wordplay, silly authority figures, and subverted endings. . . . Pratchett's legion of fans will relish the view through this almost-overlooked window into the author's evolution, finding much to love in these clever, funny, and tightly written tales." — Booklist (starred review)
"Comic fantastical fragments riffing on everything from cave people to Father Christmas." — The Guardian
"A short and slightly bittersweet portrait of Pratchett as a young writer, as seen through this collection of long-lost and forgotten short stories. . . . They reflect an author in search of his craft, but there are hints of the Discworld to come. . . particularly in the standout story in the collection, 'The Quest for the Keys' . . . . The earliest seeds of what later became Discworld are there for readers who still miss his inimitable style." — Library Journal
"A collection of lost stories from early in Pratchett's career. . . . Several stories set in the fictional town of Blackbury have a genial, tall-tale feel, and the "proto-Discworld" in 'The Quest for the Keys' is a true treat."  — Kirkus Reviews
"Delightful. . . . The comedic fantasies that shape this book make for a fun read. The wit, wisdom and intelligence are interspersed with a lively dose of naivete, with entertaining results." — Independent (London)
"You always feel the push of the inimitable Pratchett behind them — funny, sharp, warm, wise and always so, so readable." — Daily Mail (UK)
"The inventiveness and whimsicality that made the author's Discworld books and other offerings so popular are present here . . . . Pratchett aficionados will find A Stroke of the Pen a treasure trove glittering with lost gems." — Financial Times
"There's much here to delight the open-minded, the fantasy aficionado and the Pratchett completist—including hints of the Hogfather and an early glimpse of Morpork. The long legacy of fantasy short fiction is well-served." — The Observer (London)
"An unexpected, heartfelt gift to Terry Pratchett fans. . . . His voice here is unmistakable. . . . And hearing it again is something I expect most of us had assumed we'd never get the chance to do."   — Paste Magazine
"There are so many little quips and turns of phrase that foreshadow the author that Pratchett will become. These moments make A Stroke of the Pen a fascinating and satisfying read. . . . If you have a Pratchett fan in your life, you're absolutely going to want to pick this book up for them. The festive nature of the lot of the stories means it's the perfect gift for the Holiday season." — GeekDad.com
"We could certainly use more of Pratchett's humor and wisdom just now. How apropos that, due to a typographical error, the motto of the major Discworld newspaper is "The Truth Will Make You Fret." Of course, it's another universally acknowledged truth that if you read just one of Pratchett's books, you'll want to read everything he wrote. That now includes "A Stroke of the Pen." — Michael Dirda, The Washington Post