Back to top
Our Posthuman Future: Consequences of the Biotechnology Revolution (Paperback)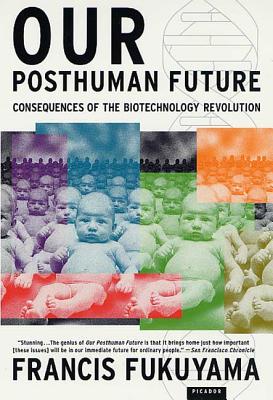 $19.00
Email or call for price.
Description
---
A decade after his now-famous pronouncement of "the end of history," Francis Fukuyama argues that as a result of biomedical advances, we are facing the possibility of a future in which our humanity itself will be altered beyond recognition. Fukuyama sketches a brief history of man's changing understanding of human nature: from Plato and Aristotle to the modernity's utopians and dictators who sought to remake mankind for ideological ends. Fukuyama argues that the ability to manipulate the DNA of all of one person's descendants will have profound, and potentially terrible, consequences for our political order, even if undertaken with the best of intentions. In Our Posthuman Future, one of our greatest social philosophers begins to describe the potential effects of genetic exploration on the foundation of liberal democracy: the belief that human beings are equal by nature.
About the Author
---
Francis Fukuyama is the Olivier Nomellini Senior Fellow at Stanford University's Freeman Spogli Institute for International Studies. He has previously taught at the Paul H. Nitze School of Advanced International Studies of Johns Hopkins University and at the George Mason University School of Public Policy. He was a researcher at the RAND Corporation and served as the deputy director in the State Department's policy planning staff. He is the author of The End of History and the Last Man, Trust, and America at the Crossroads: Democracy, Power, and the Neoconservative Legacy. He lives with his wife in California.
Praise For…
---
"Stunning...The genius of Our Posthuman Future is that it brings home just how important [these issues] will be in our immediate future for ordinary people." —San Francisco Chronicle

"Invaluable...Rarely has someone entering the policy arena so eloquently and precisely laid out the case for political control of emerging technology." —Los Angeles Times Book Review

"A timely, thoughtful and well-argued contribution to an important subject." —The New York Times Book Review

"A provocative argument that raises the nature-versus-nurture debate and questions about the role biology plays in human nature." —Chicago Tribune

"A lucid overview of the biotechnology revolution and its discontents...For anyone seeking an ideal entry into the biotechnology debate, Fukuyama's book is it." —National Review

"This groundbreaking inquiry...provides a remarkably sensible and human vision of what is at stake and what needs to be done." —Foreign Affairs

"[A] comprehensive guidebook for policymakers." —Dow Jones

"A cogent and important argument against the technocrats and 'casual academic Darwinians' who have so enthusiastically attempted to reduce our humanity to an increasingly implausible and culturally neutral calculus." —Times Literary Supplement

"In Our Posthuman Future, he has looked past the end of history and described the end of mankind...[An] informative survey of contemporary bioscience and its political implications [and] an effort to lay ethical foundations for policy judgments." —The American Prospect