Back to top
Maxine Hong Kingston: A Critical Companion (Critical Companions to Popular Contemporary Writers) (Hardcover)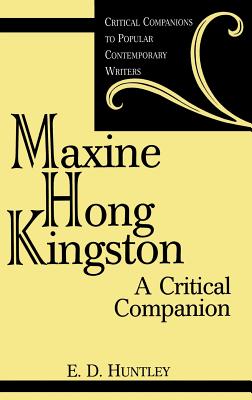 $62.40

Usually Ships in 1-5 Days
Description
---
Maxine Hong Kingston's first book, Woman Warrior gained instant popularity and critical success, winning top national literary awards as well as a place on the best seller list. Readers recognized in China Men, a follow up memoir, and Tripmaster Monkey, a genre-defying novel, the same beguiling narrative voice and panoramic prose. This critical study provides an introduction to Kingston's works with in-depth literary analysis of her three long narratives. It helps students understand the important thematic concerns, such as the immigrant acculturalization process and the literary innovations such as the talk story narrative mode introduced by Kingston. Taking readers beyond these works, this volume offers a guided tour through the Asian immigrant experience, and the history of Asian American Literature. This study examines the tremendous cross-over appeal of Kingston's works with readers of all ages, genders, ethnic and national backgrounds.
Readers are introduced to Maxine Hong Kingston with a fascinating biographical chapter. A literary heritage chapter examines not only how Kingston fits into the Asian American literary tradition, but also how her exuberant books helped shape and redefine this important area of literature. A full chapter is devoted to each work, covering all literary components; plot and narrative construction, character development, symbolism, historical context and themes. An alternate critical approach is also given for each work. An extensive bibliography covers works by and about Kingston.
About the Author
---
E. D. HUNTLEY is Associate Dean for Graduate Studies at Appalachian State University in Boone, North Carolina. She is author of two previous volumes in the series, V.C. Andrews: A Critical Companion (Greenwood, 1996) and Amy Tan: A Critical Companion (Greenwood, 1998). Huntley has begun working on a study of gastronomy and detective fiction.