Back to top
Resurrection Walk (Hardcover)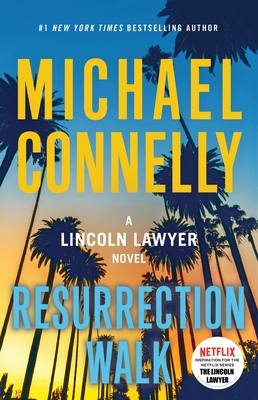 List Price: $30.00
Our Price: $24.00
(Save: $6.00 20%)
Usually Ships in 1-5 Days
Description
---
INSPIRATION FOR THE ORIGINAL SERIES THE LINCOLN LAWYER – THE #1 TV SHOW ON NETFLIX

From #1 New York Times bestselling author Michael Connelly: Lincoln Lawyer Mickey Haller enlists the help of his half-brother, Harry Bosch, to prove the innocence of a woman convicted of killing her husband.
Defense attorney Mickey Haller is back, taking the long shot cases, where the chances of winning are one in a million. After getting a wrongfully convicted man out of prison, he is inundated with pleas from incarcerated people claiming innocence. He enlists his half brother, retired LAPD Detective Harry Bosch, to weed through the letters, knowing most claims will be false.  
Bosch pulls a needle from the haystack: a woman in prison for killing her husband, a sheriff's deputy, but who still maintains her innocence. Bosch reviews the case and sees elements that don't add up, and a sheriff's department intent on bringing quick justice in the killing of one of its own.  
Now Haller has an uphill battle in court, a David fighting Goliaths to vindicate his client. The path for both lawyer and investigator is fraught with danger from those who don't want the case reopened and will stop at nothing to keep the Haller-Bosch dream team from finding the truth. Packed with intrigue and courtroom drama,
Resurrection Walk
shows once again that Michael Connelly is "the most consistently superior living crime fiction author" (
South Florida Sun Sentinel).
About the Author
---
Michael Connelly is the author of thirty-eight previous novels, including #1 New York Times bestsellers Desert Star, The Dark Hours, and The Law of Innocence. His books, which include the Harry Bosch series, the Lincoln Lawyer series, and the Renée Ballard series, have sold more than eighty-five million copies worldwide. Connelly is a former newspaper reporter who has won numerous awards for his journalism and his novels. He is the executive producer of three television series: Bosch, Bosch: Legacy, and The Lincoln Lawyer. He spends his time in California and Florida.
Praise For…
---
"From the streets to the courtroom, Connelly's 38th novel hits all the right notes for fans of the well-developed characters and intelligent plotlines in the Bosch universe."—Becky Meloan, Washington Post

"Michael Connelly keeps getting better with Resurrection Walk . . . it easily ranks among his best."—Curt Schleier, Minneapolis Star-Tribune

"A tightly coiled novel . . . Connelly's superb plot maintains high suspense until the final page, a hallmark of this author's reputation."—Oline Cogdill, South Florida Sun Sentinel

"The most richly accomplished of the brothers' pairings to date—and given Connelly's high standards, that's saying a lot."—Kirkus Reviews (starred)

"A stunning combination of police and legal procedural. . . As always, Connelly makes the tedious work of investigation fascinating as he shuttles between Mickey's and Harry's hard-bitten points of view."—Booklist (starred)

"Another solid series installment from Connelly. This Lincoln Lawyer/Harry Bosch crossover is sure to keep readers on the edge of their seats as Mickey absorbs each legal setback. A brief appearance by Renee Ballard, as well as a few other familiar faces from the Harry Bosch universe, will delight fans."
 
 —Library Journal