Back to top
The Defector: A Novel (The Apollo Murders Series #2) (Hardcover)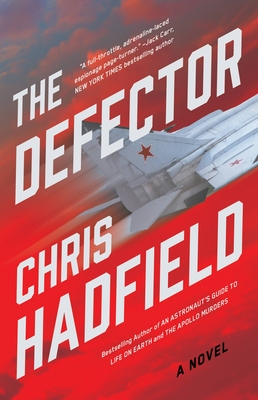 $29.00

Usually Ships in 1-5 Days
Other Books in Series
This is book number 2 in the The Apollo Murders Series series.
Description
---
From a New York Times bestselling author, astronaut, and fighter pilot comes a "full-throttle, adrenaline-laced espionage page-turner" (Jack Carr, New York Times bestselling author) and Cold War thriller perfect for fans of Top Gun and The Hunt for Red October.
Israel, October 1973.
As the Yom Kippur War flares into life, a state-of-the-art Soviet MiG fighter plane plummets to an unexpected landing. NASA Flight Controller and former US test pilot Kaz Zemeckis watches from the ground—unaware that its arrival will pull him into a high-stakes game of spies, lies, and secrets that hold the key to Cold War air and space supremacy.
For within that plane is a Soviet pilot pleading to defect, offering a prize beyond value: the workings of the Soviets' mythical "Foxbat" MiG-25, the fastest, highest-flying fighter plane in the world. But trusting him is risky, and Kaz must tread a careful line. As Kaz accompanies the defector into the United States, to the military's most secret test site, he must hope that, with skill and cunning, the game plays out his way. 
Rich with insider detail and political intrigue drawn from real events,
The Defector
is a propulsive thriller from a growing master of the genre, filled with the nerve-shredding rush of aerial combat as it could only be told by one of the world's best fighter pilots.  
"Wondering what to do until Top Gun 3 arrives?  Don't worry, Hadfield's got it covered." —Rowland White"Brimming with detail and realism and full of pulse-pounding action." —Mark Greaney

"Hadfield's writing is superb. Fans of The Apollo Murders will seek out this one, but newcomers will also thoroughly enjoy it." —BooklistPraise for The Apollo Murders
"A Cold War thriller packed with cosmic action." —New York Times"An exciting journey into an alternate past." —Andy Weir, author of The Martian"Propulsive . . . a space race thrill ride." —Newsweek
"An intelligent and surprising nail-biter that Tom Clancy fans will relish." —Publishers Weekly (starred review)
About the Author
---
Colonel Chris Hadfield is one of the most seasoned and accomplished astronauts in the world. A multiple New York Times bestselling author, his books An Astronaut's Guide to Life on Earth, You Are Here, The Darkest Dark and The Apollo Murders have sold over a million copies worldwide. 

As well as his time as a Cold War pilot, Chris is a veteran of three spaceflights. He crewed the US Space Shuttle twice, piloted the Russian Soyuz, helped build space station Mir, conducted two space walks, and served as Commander of the International Space Station. He was also NASA's Director of Operations in Russia. 

Chris is the co-creator and host of the BBC series Astronauts: Do You Have What It Takes? and helped create and host, along with actor Will Smith, the National Geographic series One Strange Rock. His zero-gravity version of David Bowie's 'Space Oddity' has received more than 50 million views, and his TED talk on fear over 10 million. 

He advises SpaceX, Virgin Galactic and other space companies, chairs the board of the Open Lunar Foundation, leads the CDL-Space international tech incubator, and teacher a MasterClass on space operations.
Praise For…
---
"A Cold War thriller unlike anything you have ever read! From fighter pilot and astronaut Chris Hadfield, The Defector is a full throttle, adrenaline-laced espionage page-turner spiked with history and intrigue that will leave you wondering if what you just read could have really happened. Get ready to blast off and enjoy the ride!"—Jack Carr, former Navy SEAL Sniper and #1 New York Times bestselling author of the James Reece Terminal List series

"The Defector is an extraordinary novel that is sure to keep readers enthralled. Brimming with detail and realism and full of pulse-pounding action, it's a well-crafted thriller that I just couldn't put down!"—Mark Greaney, New York Times bestselling author of Burner, a Gray Man novel, as well as co-author of seven Tom Clancy novels

"Wondering what to do until Top Gun 3 arrives? Don't worry, Chris Hadfield's got it covered. And who better?"—Rowland White, author of Harrier 809

"Continuous action, Mach-speed mayhem, sharp intrigue, and well rounded characters—what more could you want from a thriller? Oh, the author is a former astronaut who knows what he's talking about and a lot of what's in the story actually happened. Perfect."
 —Steve Berry, New York Times bestselling author

"A complex and potentially deadly Cold War drama . . . Before Hadfield was an astronaut, he was a test pilot, and this novel draws heavily on his experiences. The characters are based on real people, and the technology is historically accurate. Hadfield's writing is superb. He is a gifted storyteller, able to take his real-world experiences and turn them into a gripping and intensely realistic fictional story. Fans of The Apollo Murders will seek out this one, but because it works as a stand-alone, newcomers will also thoroughly enjoy it."
 —Booklist

"Nail-bitingly exciting . . . Hadfield is clearly destined to inherit the late Tom Clancy's mantle as master of the techno-thriller genre."—Irish Independent

"Packed with the kind of insider knowledge you simply don't get in thrillers these days, The Defector is not just an intelligent book, it's an exciting book. Expertly paced with breathtaking set pieces, I raced through it in a couple of sittings. It reminded me of Frederick Forsyth in his pomp—highly recommended."—M. W. Craven, author of Fearless

"Hadfield keeps the suspense steady before delivering a knockout air battle that brings everything to a white-knuckle close. Kaz's adventures continue to electrify."—Publishers Weekly

"Tom Clancy-style fighter jets and a sprinkling of reality from Hadfield's time as a test pilot . . . It is a thriller in every sense."—New Scientist

"Hadfield uses his experiences to great effect in this thrilling story . . . The Defector moves at great speed and contains mesmerizing descriptions of flying under supreme pressure."—Literary Review (UK)