Back to top
Blackouts: A Novel (Hardcover)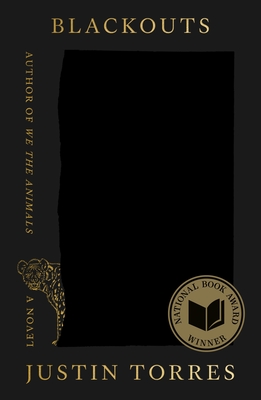 Description
---
Winner of the National Book Award for Fiction

A Best Book of the Year: The New York Times Book Review, NPR, The Washington Post, Time, BookPage, The New York Public Library, Powell's

A Must-Read: The New York Times, Time, Los Angeles Times, Chicago Tribune, The Guardian, Boston Herald, Literary Hub, The Rumpus, The Bay Area Reporter, Datebook, Electric Literature, The Stacks, Them, Publishers Weekly

"Sweeping, ingenious . . . A kiss to build a dream on." —Maureen Corrigan, NPR's Fresh Air

From the bestselling author of We the Animals, Blackouts mines lost histories—personal and collective.

Out in the desert in a place called the Palace, a young man tends to a dying soul, someone he once knew briefly but who has haunted the edges of his life: Juan Gay. Playful raconteur, child lost and found and lost, guardian of the institutionalized, Juan has a project to pass along, one built around a true artifact of a book—Sex Variants: A Study of Homosexual Patterns—and its devastating history. This book contains accounts collected in the early twentieth century from queer subjects by a queer researcher, Jan Gay, whose groundbreaking work was then co-opted by a committee, her name buried. The voices of these subjects have been filtered, muted, but it is possible to hear them from within and beyond the text, which, in Juan's tattered volumes, has been redacted with black marker on nearly every page. As Juan waits for his end, he and the narrator recount for each other moments of joy and oblivion; they resurrect loves, lives, mothers, fathers, minor heroes. In telling their own stories and the story of the book, they resist the ravages of memory and time. The past is with us, beside us, ahead of us; what are we to create from its gaps and erasures?

A book about storytelling—its legacies, dangers, delights, and potential for change—and a bold exploration of form, art, and love, Justin Torres's Blackouts uses fiction to see through the inventions of history and narrative. A marvel of creative imagination, it draws on testimony, photographs, illustrations, and a range of influences as it insists that we look long and steadily at what we have inherited and what we have made—a world full of ghostly shadows and flashing moments of truth. A reclamation of ransacked history, a celebration of defiance, and a transformative encounter, Blackouts mines the stories that have been kept from us and brings them into the light.
About the Author
---
Justin Torres is the author of We the Animals, which won the VCU Cabell First Novelist Award, was translated into fifteen languages, and was adapted into a feature film. He was named a National Book Foundation "5 Under 35," a Wallace Stegner Fellow at Stanford University, a fellow at the Radcliffe Institute for Advanced Study at Harvard University, and a Cullman Center Fellow at the New York Public Library. His short fiction has appeared in The New Yorker, Harper's, Granta, Tin House, and The Washington Post. He lives in Los Angeles, and teaches at UCLA.
Praise For…
---
"I haven't been able to stop thinking about [Blackouts] . . . it is like no book I have ever read."
—Ari Shapiro, NPR's All Things Considered

"Torres swings for the bleachers in Blackouts, a transfixing collage of gorgeous prose and manipulated illustrations, with themes of cultural erasure and the effervescence of lust and love . . . It's easily 2023's sexiest novel . . . A tour de force. Run, don't walk, to buy it."
—Hamilton Cain, Star Tribune

"A transfixing and emotional examination of history . . . [Blackouts] illuminates the ways in which the lives and experiences of marginalized people have long been omitted from written records."
—Megan McCluskey, Time

"The supreme pleasure of [Blackouts] is its slow obliteration of any firm idea of reality—a perfect metaphor for the delirious disorientation that comes with learning queer history as an adult . . . Torres haunts this book full of ghosts like a ghost himself, and with this novel, he has passed the haunting on, creating the next link in a queer chain from Jan to Juan to nene to you."
—Hugh Ryan, The New York Times Book Review

"Shimmering, fable-like . . . An ingenious assemblage of research, vignette, image and conceit . . . Playful and mysterious, there's much in it to admire."
—Charles Arrowsmith, The Washington Post

"Artfully blur[s] history, autobiography and fiction . . . Beautiful."
—Sam Sacks, The Wall Street Journal

"An experimental journey into the annals of queer history that is equal parts intergenerational love letter and homoerotic fever dream."
—Jeremy Childs, Los Angeles Times

"A dreamy novel that unfurls among mixed media and Socratic dialogues, moving freely between fact and fiction as it proposes and complicates questions about how history is made."
—Joshua Barone, The New York Times

"Dazzling . . . Torres has created his own queer history story through the eyes of the narrator learning from Juan through art, poetry, and more. The result is prismatic and beautiful."
—Sarah Neilson, Shondaland

"Torres has the ferocious heart of a poet . . . [Blackouts] is exquisite."
—John Manuel Arias, Pittsburgh Post-Gazette

"Intimate, playful . . . a rich, poetic reclamation of cultural inheritance."
—The Guardian

"Brilliant . . . Torres proves himself a bonafide magician whose elaborate tricks are more felt than observed but intended to strike with a singular awe . . . A book to get your hands on any way you look at it."
—Tim Pfaff, The Bay Area Reporter

"Irresistible . . . [An] ambitious, unruly novel of ideas . . . [and] a deeply moving queer love story."
—Steven Pfau, Chicago Review of Books

"Marvelous . . . a book at once steadily, exuberantly ambitious and an unstinting pleasure to read . . . [Blackouts] cements Torres's status as one of our finest writers."
—Megan Milks, 4Columns

"As demanding and beautifully difficult as it is seductive, disarming, and important."
—Brontez Purnell, BOMB

"Blackouts soars . . . A rare masterpiece."
—Christopher Bollen, Interview

"[Justin] Torres is back with another book that stretches the boundaries of the idea of the novel . . . I was . . . surprised and enchanted by Blackouts . . . a strange dream-like, reality-like patchwork . . . This is a book about erasure and time, about storytelling and art and science, and also, if you'll forgive me, about love. I couldn't put it down."
—Emily Temple, Literary Hub

"Cinematic . . . Torres combats erasure, reclaims history, and demands personal stories to create exquisite testimony to dismissed, yet defiant, humanity. Torres's literary acrobatics . . . spectacularly displays his remarkable manipulations of fiction and reality."
—Terry Hong, Booklist (starred review)

"Fascinating, inventive . . . Torres's intricate web of narratives is gripping from beginning to end. His richly drawn characters are passionate, but painfully self-aware. Attempts to erase or pigeonhole these characters do not rob them of their compassion for each other and the author's compassion for them. There are echoes of Manuel Puig and of Lawrence Sterne's Tristram Shandy. Blackouts is a worthy successor to its classic antecedents."
—John Clum, New York Journal of Books

"[An] inventive and beguiling book about memory and desire and what is said and unsaid—both by ourselves and by those who tell our stories."
—Michelle Hart, Electric Literature

"Inquisitive, pensive, and delightfully puzzling . . . [Torres displays] immense literary talent and a knack for distinctive storytelling."
—Jim Piechota, The Bay Area Reporter

"A Nabokov-like puzzle about a dying man and erased queer history."
—Christopher Borrelli, Chicago Tribune

"[Blackouts examines] the way our reality is shaped by how we remember our history. It's a story that's deeply personal and universal all at once."
—Emily Martin, Them

"Playful, inventive, and at times kaleidoscopic . . . [Blackouts] shines and surprises."
—Kirkus Reviews

"Enticing . . . Deliciously queer."
—Publishers Weekly

"Blackouts is a historic feat of literature. I've never read a book so brilliantly inventive. 'Must-read' and 'masterpiece' don't do the book justice. A marvel of the human mind."
—Javier Zamora, author of Solito

"Blackouts gives me what I read fiction for, what I read for at all—the sense of a brilliant mind creating a puzzle in the air in front of me, all intelligence and surprises. Ambitious, disarming, full of a kind of daring that winks as it passes—as if David Wojnarowicz rewrote Nabokov's Pale Fire and then left it for years in an abandoned building, just for you."
—Alexander Chee, author of How to Write an Autobiographical Novel

"Blackouts is unequivocally brilliant, bold, and structurally inventive. Like its absorbing narrator, who tells stories to keep his friend alive, Justin Torres has written a shamelessly vital novel that reminds us all not to give up on ourselves, on one another, or on our stories."
—Angie Cruz, author of How Not to Drown in a Glass of Water

"Erotic and beguiling, Blackouts prowls the negative spaces that surround us, inviting us to think about erasure and collage not just as literary techniques, but as psychological processes, and even as radical acts of cultural and sexual reframing. An intelligent, loving, and genuinely subversive work."
—Eleanor Catton, author of Birnam Wood

"Blackouts is a manifesto and a masterwork—an enthralling, dazzling feat of literary bravura. Justin Torres is the real thing."
—Rabih Alameddine, author of The Wrong End of the Telescope

"Justin Torres is a master of the urgent, surprising sentence. Blackouts is a stunning achievement of re-creation, imagination, and tender, tender care."
—Angela Flournoy, author of The Turner House

"Enigmatic, spine-tingling, imbued with inky atmosphere and radiant disclosures—a book like a magic trick."
—Jeremy Atherton Lin, author of Gay Bar

"I'm crushed out on Justin Torres's writing: charming, sexy, soft, and full of truth. His words cut like Cupid's arrow."
—Brontez Purnell, author of 100 Boyfriends

"Blackouts is a beautiful collage of a novel. Justin Torres quenches a thirst one scene, one flashback, one image at a time."
—Alejandro Varela, author of The People Who Report More Stress