Back to top
Red Metal (Paperback)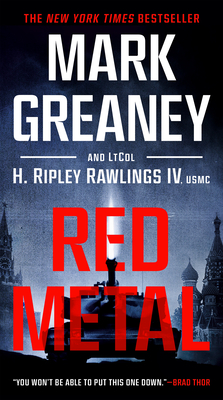 $9.99

Usually Ships in 1-5 Days
Description
---
A Russian military strike against Europe could change the balance of power in the West. A stunningly realistic view of modern warfare from a battlefield commander and the New York Times bestselling author of The Gray Man. 

The Russian bear has awakened. Their tanks race across Poland crushing all opposition on a headlong dash for the heart of Germany. Satellite killing missiles blind American forces while Spetznatz teams destroy Allied communications relays. It's all part of a master plan to confuse and defeat America and her allies.

Ranged against the Russian attack are a Marine lieutenant colonel pulled out of a cushy job at the Pentagon and thrown into the fray, a French Special Forces captain and his intelligence operative father, a young Polish female partisan fighter, an A-10 Warthog pilot, and the captain of an American tank platoon who, along with a German sergeant, struggle to keep a small group of American and German tanks in the fight.

Operation Red Metal is a nightmare scenario made real but could it just be the first move on the Russian chessboard?
About the Author
---
Mark Greaney has a degree in international relations and political science. In his research for the Gray Man novels, including Agent in Place, Gunmetal Gray, Back Blast, Dead Eye, Ballistic, On Target, and The Gray Man, he traveled to more than fifteen countries and trained alongside military and law enforcement in the use of firearms, battlefield medicine, and close-range combative tactics. He is also the author of the New York Times bestsellers Tom Clancy Support and Defend, Tom Clancy Full Force and Effect, Tom Clancy Commander in Chief, and Tom Clancy True Faith and Allegiance. With Tom Clancy, he coauthored Locked On, Threat Vector, and Command Authority.

Lt. Col. Hunter "Rip" Rawlings IV is an active duty Marine and a  veteran of combat in Afghanistan and Iraq. A former infantry battalion commander and light armored reconnaissance officer, he has served for more than twenty years. He is currently assigned to Quantico as the Warfighting Director for Marine Corps Command and Staff College. In his spare time, Lt. Col. Rawlings is an avid scuba diver, small-craft sailor, and microbrewer.
Praise For…
---
Praise for Red Metal
 
"Red Metal is red hot! Packed with action, intrigue and a plot ripped right from today's headlines—you won't be able to put this one down.  If you enjoy finely-crafted military thrillers, you will love Red Metal."—Brad Thor, #1 New York Times bestselling author of Backlash

Few write combat action the way it's described in Red Metal. You can hear machine gun rounds zipping by and smell the cordite. This amazing story will kick you right in the imagination."—Dale Dye, USMC

"A fast-paced thriller featuring nonstop action and a little something for everyone...Think Red Storm Rising but ten times faster, with more action and Greaney's familiar, smooth style...Red Metal is a once-in-a-generation type thriller that is not to be missed."—The Real Book Spy

"Mark Greaney's first standalone thriller hits you like a thunderbolt and truly lives up to the phrase 'can't put it down.'"—New York Journal of Books 
 
"All of Greaney's considerable talents are on display here, honed to an even sharper edge by the still-serving Rawlings' battlefield expertise. This is the modern-day equivalent of Red Storm Rising and not to be missed by those who like their pages gun-metal strong."—Providence Journal 

"As with all of Greaney's work, this is a fun read. If only all our wars were fiction."—Kirkus Reviews

"This is powerful material, required reading for anyone interested in modern warfare."—Publishers Weekly (starred review)

"A must, naturally, for Clancy fans."—Booklist

"A fast-paced, riveting story about heart and courage taking a stand against impossible odds."—Shelf Awareness

Praise for Mark Greaney

"Mark Greaney reigns as one of the recognized masters of action and adventure."—Steve Barry, New York Times and #1 international bestselling author

"Nobody is on a hotter streak right now than Mark Greaney."—The Real Book Spy 

"[A] high-energy thriller...Clancy fans will have a blast"—Kirkus Reviews 

"Fast-paced [and] tightly written...A great ride."—Larry Bond, New York Times bestselling author

"Bourne for the new millennium."—James Rollins, #1 New York Times bestselling author