Back to top
Police Officer Exam for Dummies (Paperback)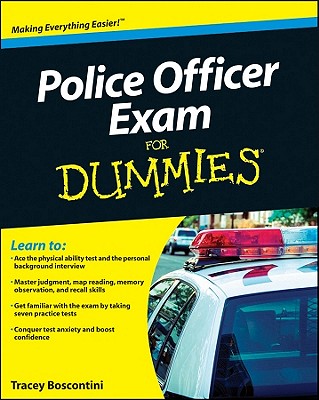 $17.99
Usually Ships in 1-5 Days
Description
---
Your ticket to a higher score on the police officer exam
Police exams are becoming increasingly difficult to pass, as law enforcement agencies are looking for the most capable officers from the candidate application pool. To help select the most qualified candidate, more than half of the departments and agencies throughout the country are following the current trend of using the National Police Officer Selection Test (POST also referred to as NPOST). Police Officer Exam For Dummies features three POST exams based on the official test, plus one New York City (NYC) exam.
If you're a prospective police officer who needs to take the written exam, Police Officer Exam For Dummies gives you all the essential test preparation you need to succeed. Packed with study advice and test-taking tips, you'll get targeted instruction on everything you can expect on the actual exam.
Targeted review in judgment, map reading, memory observation, and recall skills
Coverage of all key subject areas
4 full-length practice officer exams with answers and detailed explanations
Whether you're taking the local, county, state, or federal agency exam, this guide contains everything you need to score your highest on the exam and realize your dream of becoming a police officer.
About the Author
---
Raymond E. Foster, BA was a sworn member of the Los Angeles Police Department for 24 years, during which he received more than 200 commendations for outstanding performance. Tracey Vasil Biscontini is the founder, president, and CEO of Northeast Editing, Inc., a company specializing in the creation of test-preparation products.