Back to top
The Cartiers: The Untold Story of the Family Behind the Jewelry Empire (Paperback)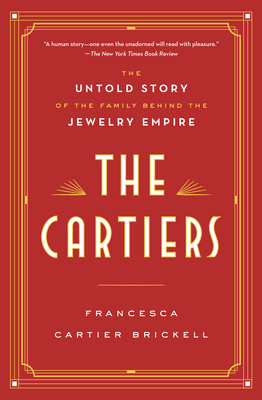 $22.00

Usually Ships in 1-5 Days
Description
---
"A dynamic group biography studded with design history and high-society dash . . . [This] elegantly wrought narrative bears the Cartier hallmark."—The Economist

The "astounding" (André Leon Talley) story of the family behind the Cartier empire and the three brothers who turned their grandfather's humble Parisian jewelry store into a global luxury icon—as told by a great-granddaughter with exclusive access to long-lost family archives

"Ms. Cartier Brickell has done her grandfather proud."—The Wall Street Journal

The Cartiers is the revealing tale of a jewelry dynasty—four generations, from revolutionary France to the 1970s. At its heart are the three Cartier brothers whose motto was "Never copy, only create" and who made their family firm internationally famous in the early days of the twentieth century, thanks to their unique and complementary talents: Louis, the visionary designer who created the first men's wristwatch to help an aviator friend tell the time without taking his hands off the controls of his flying machine; Pierre, the master dealmaker who bought the New York headquarters on Fifth Avenue for a double-stranded natural pearl necklace; and Jacques, the globe-trotting gemstone expert whose travels to India gave Cartier access to the world's best rubies, emeralds, and sapphires, inspiring the celebrated Tutti Frutti jewelry.

Francesca Cartier Brickell, whose great-grandfather was the youngest of the brothers, has traveled the world researching her family's history, tracking down those connected with her ancestors and discovering long-lost pieces of the puzzle along the way. Now she reveals never-before-told dramas, romances, intrigues, betrayals, and more.

The Cartiers also offers a behind-the-scenes look at the firm's most iconic jewelry—the notoriously cursed Hope Diamond, the Romanov emeralds, the classic panther pieces—and the long line of stars from the worlds of fashion, film, and royalty who wore them, from Indian maharajas and Russian grand duchesses to Wallis Simpson, Coco Chanel, and Elizabeth Taylor.

Published in the two-hundredth anniversary year of the birth of the dynasty's founder, Louis-François Cartier, this book is a magnificent, definitive, epic social history shown through the deeply personal lens of one legendary family.
About the Author
---
A graduate in English literature from Oxford University, Francesca Cartier Brickell is a direct descendant of the Cartier family. Her great-great-great grandfather founded Cartier in 1847. Her late grandfather, Jean-Jacques Cartier, was the last of the family to manage and own a branch of the world-famous jewelry firm. Leaving behind a career in finance to focus on independently researching her family history, Francesca has spent over a decade travelling the world in search of the real story behind the Cartiers. She is an accredited GIA jewelry professional and lectures internationally and online on Cartier's illustrious history. She lives with her husband and children in London and the South of France.
Praise For…
---
"A human story—one even the unadorned will read with pleasure."—The New York Times

"Extraordinary."—The Spectator

"Dramatic."—The Economist

"Gripping."—Hodinkee

"Astounding."—André Leon Talley

"Mesmerising."—Town & Country

"Fascinating."—Tatler

"Glorious."—The Mail on Sunday

"Francesca Cartier Brickell's art of weaving the [personal and historical] together . . . show her mastery as a born storyteller with quite a tale to tell."—Forbes
 
"An incredible monograph."—New York Journal of Books

"The Cartier family had, for four generations, a ringside view of events that shaped the world as we know it."—GQ

"Artfully documented . . . The story of the Cartier family is the story of wealth creation in the 19th and 20th centuries as it moved in waves from country to country."—Bloomberg

"A must-read for any jewelry professional."—JCK

"An engrossing study of jewelry history and of high society at its flashiest, studded with entertaining anecdotes."—Publishers Weekly (starred review)

"An enthralling book because it is the work of a true historian, because it is a phenomenal story and because it is told from the inside, with as much heart and humor as intelligence."—Michèle Bimbenet-Privat, Curator Objets d'art, Musée du Louvre

"Taking a fresh approach to the story of Cartier, Brickell . . . has created a history at once expansive and intimate."—Beth Carver Wees, The Metropolitan Museum of Art

"A fascinating read, engagingly written, with much new information."—Martin Chapman, Fine Arts Museums of San Francisco, author of Cartier and America

"Masterly and compelling."—Richard Edgcumbe, Victoria and Albert Museum

"Deeply researched and highly energetic . . . The Cartiers shows how the family firm not only created a time and place in history, but how they also helped shape the modern world of luxury."—Bill Dedman, bestselling author of Empty Mansions

"A telling social history . . . While the diamonds, emeralds and sapphires are indeed stunning, it is the Cartier family characters who steal the show in this gem of a book."—Sonia Purnell, New York Times bestselling author of A Woman of No Importance

"Through long-lost letters, Cartier Brickell tells the intimate story of how her family's business conquered the world of luxury in the face of revolution, wars, and global depression. The Cartiers is an enchanting jewel of a book."—Douglas Smith, author of Former People: The Final Days of the Russian Aristocracy