Back to top
Let the Children March (Hardcover)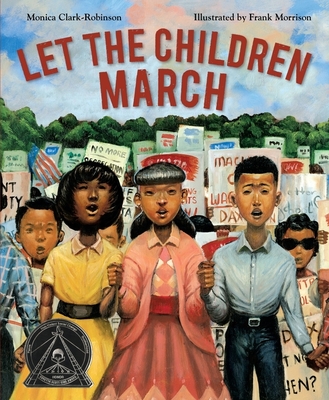 $17.99

Usually Ships in 1-5 Days
Description
---
This powerful picture book introduces young readers to a key event in the struggle for Civil Rights. Winner, Coretta Scott King Honor Award.
In 1963 Birmingham, Alabama, thousands of African American children volunteered to march for their rights after hearing Dr. Martin Luther King Jr. speak. They protested the laws that kept black people separate from white people. Facing fear, hate, and danger, these children used their voices to change the world.
Frank Morrison's emotive oil-on-canvas paintings bring this historical event to life, while Monica Clark-Robinson's moving and poetic words document this remarkable time.
I couldn't play on the same playground as the white kids. 
I couldn't go to their schools.  
I couldn't drink from their water fountains.  
There were so many things I couldn't do.
About the Author
---
Monica Clark-Robinson is passionate about stories--writing them, acting them out on stage, and reading them. She believes that the stories of our past can help us create the story for our future. She lives in Arkansas with her family. 
 

Growing up in New  Jersey, Frank Morrison began developing his own style through 'R.I.P' art scenes that brought him considerable street recognition and local acclaim. But it wasn't until he visited the Louvre Museum in Paris with his dancing group that he realized painting was his true creative path. His talent and hard work paid off with over 20 illustrated children's books, including the Coretta Scott King/John Steptoe Award winner, Jazzy Miz Mozetta and the Coretta Scott King Illustrator Honor book, Little Melba and her Big Trombone. Frank lives in Georgia with his family.
Praise For…
---
Coretta Scott King Honor Award for Illustration2019 Kirkus' Best Picture Books of 2018 Chicago Public Library's Best of 2018 The Children's Book Review Best of nonfiction 2018 ? "A powerful retrospective glimpse at a key event." —Kirkus, starred review ? "Much of the text will provoke questions and important conversations between children and adult readers. The experiences of segregation are sensitively depicted...A highly readable historical account which deserves a place on picture book and nonfiction shelves alike.–School Library Journal, starred review "This remarkable story remains relevant today as young readers think about their roles in the ongoing struggle for justice. Teachers who use this book might scaffold it with additional resources that teach about the intensive planning and organization that went into this and other activist campaigns." — Booklist "The art throughout is a vibrant representation of the determination and courage of the civil rights movement. A nuanced account that could inspire the youngest readers to make a big difference." — Horn Book "Clark-Robinson's stirring debut unfolds through the resolute voice of a (fictional) African-American girl participating in the 1963 Children's Crusade...The narrator's conclusion, "Our march made the difference," serves as a powerful reminder for today's readers about their own ability to fight for justice and equality." — Publisher's Weekly "The text is taut and clear, making its greatest impact through its simple, even understated, specifics."--BCCB "The book's message is clear and bracing: King understood that it's children who will lead the way, and the man's faith in the future is reassuring even now." --The New York Times Book Review —