Back to top
A Snicker of Magic (CD-Audio)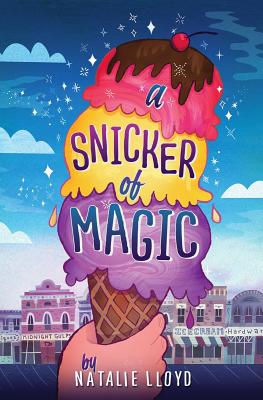 $34.99
Email or call for price.
Description
---
Introducing an extraordinary debut that will make your skin tingle, your eyes glisten . . .and your heart sing.NARRATOR: Cassandra MorrisFORMAT: 7 CDs, UnabridgedMidnight Gulch used to be a magical place, a town where people could sing up thunderstorms and dance up sunflowers. But that was long ago, before a curse drove the magic away. Twelve-year-old Felicity knows all about things like that; her nomadic mother is cursed with a wandering heart.But when she arrives in Midnight Gulch, Felicity thinks her luck's about to change. A "word collector," Felicity sees words everywhere---shining above strangers, tucked into church eves, and tangled up her dog's floppy ears---but Midnight Gulch is the first place she's ever seen the word "home." And then there's Jonah, a mysterious, spiky-haired do-gooder who shimmers with words Felicity's never seen before, words that make Felicity's heart beat a little faster.
About the Author
---
Natalie Lloyd lives in Chattanooga, Tennessee. She collects old books, listens to bluegrass music, and loves exploring quirky mountain towns with her dog, Biscuit. She is the author of A Snicker of Magic and The Key to Extraordinary.
Cassandra Morris lives in Los Angeles and has received critical acclaim for her voice-over work from Publishers Weekly and AudioFile magazine, and was the narrator on the 2015 Odyssey Honor title and Audie Award finalist A Snicker of Magic. To date, she has narrated over a hundred audiobooks.
Praise For…
---
Praise for A Snicker of Magic:
* "This tale offers all the other earmarks of fine storytelling, including colorful, eccentric characters, an original, highly likable narrator and a mighty 'spindiddly' plot." -Kirkus, starred review
* "From every angle, Lloyd's first novel sparkles and radiates warmth . . . a reassuring, homespun story about self-expression and the magic that resides in one's mind and heart." -Publishers Weekly, starred review
* "A delightful and inspiring debut . . . As Felicity loves to say, 'Yes . . . yes . . . yes!'" -School Library Journal, starred review
"Scrabble lovers, Boggle big leaguers and word people of the world - hang on for the ride! Felicity Pickle will take you places, and that, fellow logophiles, is spindiddly, indeed." -The New York Times Book Review
"First-time novelist Lloyd has produced a 'spindiddly' product that will hearten word and poetry lovers and encourage those who have almost lost hope for a happy ending." -Booklist
"Warm-hearted Felicity Juniper Pickle probably couldn't ignore her vital organ even if she wanted to, given how often it bangs, pounds, kicks and speaks to her in this folksy, Southern-fried debut novel." -Wall Street Journal
Praise for A Snicker of Magic:
* "This tale offers all the other earmarks of fine storytelling, including colorful, eccentric characters, an original, highly likable narrator and a mighty 'spindiddly' plot." -Kirkus, starred review
* "From every angle, Lloyd's first novel sparkles and radiates warmth . . . a reassuring, homespun story about self-expression and the magic that resides in one's mind and heart." -Publishers Weekly, starred review
* "A delightful and inspiring debut . . . As Felicity loves to say, 'Yes . . . yes . . . yes!'" -School Library Journal, starred review
"Scrabble lovers, Boggle big leaguers and word people of the world - hang on for the ride! Felicity Pickle will take you places, and that, fellow logophiles, is spindiddly, indeed." -The New York Times Book Review
"First-time novelist Lloyd has produced a 'spindiddly' product that will hearten word and poetry lovers and encourage those who have almost lost hope for a happy ending." -Booklist
"Warm-hearted Felicity Juniper Pickle probably couldn't ignore her vital organ even if she wanted to, given how often it bangs, pounds, kicks and speaks to her in this folksy, Southern-fried debut novel." -Wall Street Journal