Back to top
The Little Prince (Paperback)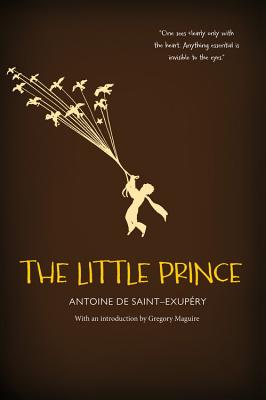 Description
---
Available for the first time in an edition for young adults, Antoine de Saint-Exupéry's classic story, The Little Prince, beloved by readers of all ages, comes to life in a format perfect for teen readers.
"I'm glad I was asked to be the ambassador for this book. I suspect you may find that something of the starry magic of this story stays with you, as it has with me." — Gregory Maguire
"A lovely story…which covers a poetic, yearning philosophy—not the sort of fable that can be tacked down neatly at its four corners but rather reflections on what are real matters of consequence." — New York Times Book Review
At first glance, Antoine de Saint-Exupéry's 1943 classic The Little Prince—with its winsome illustrations of a boy prince and his tiny planet—appears to be a children's fairy tale. It doesn't take long, however, to discover that it speaks to readers of all ages. This pocket-sized edition, perfect for teens, features Saint-Exupéry's original full-color illustrations and the unabridged text, a reader's guide, and a introduction by Gregory Maguire. Rediscover—or share—the magic!
This title has been selected as a Common Core Text Exemplar (Grades 4-5, Stories).
About the Author
---
ANTOINE DE SAINT-EXUPÉRY, the "Winged Poet," was born in Lyon, France, in 1900. A pilot at twenty-six, he was a pioneer of commercial aviation and flew in the Spanish Civil War and World War II. His writings include The Little Prince, Wind, Sand and Stars, Night Flight, Southern Mail, and Airman's Odyssey. In 1944, while flying a reconnaissance mission for his French air squadron, he disappeared over the Mediterranean.
Richard Howard is the author of eleven books of poetry, including Untitled Subjects, which won the Pulitzer Prize in 1970, and Trappings. He is the translator of more than 150 works from the French and lives in New York City.