Back to top
This House of Grief: The Story of a Murder Trial (Hardcover)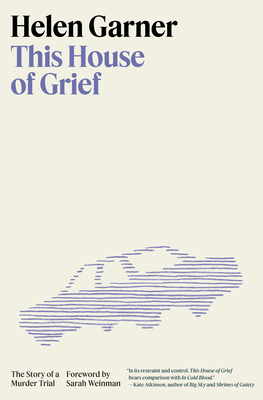 $27.00

Usually Ships in 1-5 Days
Description
---
The New York Times Book Review Editors' Choice • The engrossing true-crime classic from one of Australia's most acclaimed writers, that follows a man and his broken life, a community wracked by tragedy, and the long and torturous road to closure •"This House of Grief, in its restraint and control, bears comparison with In Cold Blood."—Kate Atkinson, author of Big Sky and Shrines of Gaiety

On the evening of Father's Day, 2005, separated husband Robert Farquharson was driving his three young sons back to their mom's house when the car veered off the road and plunged into a dam. Farquharson survived the crash, but his boys drowned. Was this a tragic accident, or an act of revenge? The court case that followed became a national obsession—a macabre parade of witnesses, family members, and the defendant himself, each forced to relive the unthinkable for an audience of millions.

In This House of Grief, celebrated writer Helen Garner tells the definitive and deeply absorbing story of it all, from crash to final verdict. Through a panoply of perspectives, including her own as a member of the public, Garner captures the exacting procedure and brutal spectacle of Australia's criminal justice system. The result is a richly textured portrait—of a man and his broken life, of a community wracked by tragedy, and of the long and torturous road to closure.

Considered a literary institution in Australia, Helen Garner's incisive nonfiction evokes the keen eye of the New Journalists. Brisk, candid, and never dismissive of its flawed subjects, This House of Grief is a masterwork of literary journalism.
About the Author
---
HELEN GARNER writes novels, stories, screenplays, and works of non-fiction. In 2006 she received the inaugural Melbourne Prize for Literature, and in 2016 she won the prestigious Windham–Campbell Literature Prize for Non-fiction. In 2019 she was honoured with the Australia Council Award for Lifetime Achievement in Literature. Her books include Monkey Grip, The Children's Bach, Cosmo Cosmolino, The Spare Room, The First Stone, This House of Grief, Everywhere I Look, and her diaries Yellow Notebook, One Day I'll Remember This, and How to End a Story.
Praise For…
---
"Helen Garner is a prodigiously gifted writer, one with many quivers in her bow." —New York Times Book Review

"Garner knows the feeling of testing the outer limits...especially in her true-crime work. If there's one impulse that connects all her work — the true-crime books and those that earned her grief for airing uncomfortable truths — it is the recognition of the humanity of villains and victims alike." —Los Angeles Times

"Garner's book is superbly alive to the narrative dynamics of the case . . . what consumes her are the difficult questions that seem to lie beyond the reach of formal narration: the deepest assumptions of class and gender and power; the problem of how well we ever understand someone else's motives."—James Wood, The New Yorker

"[This House of Grief] grabbed me by the throat in the same way that the podcast series Serial did. Ms. Garner brilliantly and compassionately recounts the harrowing, real-life trial of Robert Farquharson."—Gillian Anderson, The Wall Street Journal

"This House of Grief has all the trademark Helen Garner touches: harrowing scenes recorded without restraint or censorship; touching observations of characters' weaknesses; wry moments of humour. And also customary with Garner's work, her words, and the boys' fate, will haunt us long after we've turned the last page."—The Guardian

"A stark account of the harrowing aftermath of a horrific crime. Garner captures the breathless suspense during the wait for the jury to return; the blow of the decision and sentencing; and her own unsettled response to the shattering experience of contemplating an unthinkable crime." —Kirkus Reviews

"This House of Grief, in its restraint and control, bears comparison with In Cold Blood."—Kate Atkinson, author of Big Sky and Shrines of Gaiety