Back to top
Red Metal (Large Print / Paperback)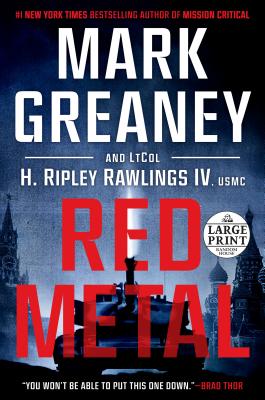 $29.00
Email or call for price.
Description
---
From the New York Times bestselling author of the Gray Man series comes a startlingly realistic novel of World War III.

A desperate Kremlin takes advantage of a military crisis in Asia to simultaneously strike into Western Europe and invade east Africa in a bid to occupy three Rare Earth mineral mines that will give Russia unprecedented control for generations over the world's hi-tech sector.

Pitted against the Russians are a Marine lieutenant colonel pulled out of a cushy job at the Pentagon and thrown into the fray in Africa, a French Special Forces captain and his intelligence operative father, a young Polish female partisan fighter, an A-10 Warthog pilot, and the captain of an American tank platoon who, along with a German sergeant, fight from behind enemy lines in Germany all the way into Russia.

From a daring MiG attack on American satellites, through land and air battles in all theaters, naval battles in the Arabian sea, and small unit fighting down to the hand-to-hand level in the jungle, Russia's forces battle to either take the mines or detonate a nuclear device to prevent the West from exploiting them.
About the Author
---
MARK GREANEY has a degree in international relations and political science. In his research for the Gray Man novels, including Agent in Place, Gunmetal Gray, Back Blast, Dead Eye, Ballistic, On Target, and The Gray Man, he traveled to more than fifteen countries and trained alongside military and law enforcement in the use of firearms, battlefield medicine, and close-range combative tactics. He is also the author of the New York Times bestsellers Tom Clancy Support and Defend, Tom Clancy Full Force and Effect, Tom Clancy Commander in Chief, and Tom Clancy True Faith and Allegiance. With Tom Clancy, he coauthored Locked On, Threat Vector, and Command Authority.

LT. COL. HUNTER "RIP" RAWLINGS IV is an active duty Marine and a veteran of combat in Afghanistan and Iraq. A former infantry battalion commander and light armored reconnaissance officer, he has served for more than twenty years. He is currently assigned to Quantico as the Warfighting Director for Marine Corps Command and Staff College. In his spare time, Lt. Col. Rawlings is an avid scuba diver, small-craft sailor, and microbrewer.