Back to top
On Java Road: A Novel (Hardcover)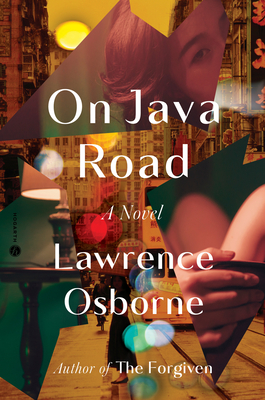 $27.00

Usually Ships in 1-5 Days
Description
---
NEW YORK TIMES EDITORS' CHOICE • A veteran journalist in Hong Kong is caught in a shadowy web of truth and betrayal as he investigates the disappearance of a student protester in this menacing, atmospheric novel written with "shades of Graham Greene and Patricia Highsmith" (Sunday Times) from the celebrated author of The Forgiven—now a major motion picture starring Jessica Chastain and Ralph Fiennes.
 
"Osborne is a startlingly good observer of privilege, noting the rites and rituals of the upper classes with unerring precision and an undercurrent of malice."—Katie Kitamura, The New York Times Book Review, on Beautiful Animals
 
ONE OF THE MOST ANTICIPATED BOOKS OF 2022—CrimeReads, Fodors

After two decades as a journalist in Hong Kong, ex-pat Englishman Adrian Gyle has very little to show for it. Evenings are whiled away with soup dumplings and tea at Fung Shing, the restaurant downstairs from his home on Java Road, watching the city—once overflowing with wine dinners and private members' clubs—erupt in violence as pro-democracy demonstrations hit ever closer to home. 

Watching from the skyrises is Adrian's old friend Jimmy Tang, the scion of one of Hong Kong's wealthiest families. Just as Gyle prepares to turn his back on Hong Kong, he finds one last intrigue: the mysterious Rebecca, a student involved in the protests, and the latest of Jimmy's reckless dalliances. But when Rebecca goes missing and Jimmy hides, Gyle feels that old familiar urge to investigate. 

Piecing together Rebecca's final days and hours, Gyle must tread carefully through a volatile world of friendship and betrayal where personal loyalties vanish like the city he once knew so well. On Java Road tells the story of a man between the fault lines of old worlds and new orders in pursuit of the truth.
About the Author
---
Lawrence Osborne is the author of seven critically acclaimed novels, including The Forgiven (now a major motion picture starring Ralph Fiennes and Jessica Chastain), The Glass Kingdom, a New York Times Notable Book, and Only to Sleep: A Philip Marlowe Novel, which was nominated for an Edgar Award and named as a best book of the year by The New York Times Book Review, as well as six books of nonfiction, including Bangkok Days. He has led a nomadic life, living in Paris, New York, Mexico, and Istanbul, and he currently resides in Bangkok.
Praise For…
---
"To open a new Lawrence Osborne book is to enter a maze of thrills from which there is no exit other than to finish the book in one sitting."—Molly Young, The New York Times

"Shades of Graham Greene and Patricia Highsmith fall across [Osborne's] colorful pages. Like both, he has a nomadic imagination strongly responsive to the lure of the foreign and enthralled by duplicity, mistrust, and betrayal. Like Greene, he favors down-at-heel figures who have a kind of shabby integrity. Like Highsmith, he is fascinated by glamorously amoral sociopaths. . . . His most compulsive [novel] yet."—Sunday Times (London)
 
"[Osborne writes] sensual, provocative, and riveting portraits of lives and places in flux. . . . [His] recurring focus on expats and foreign landscapes has drawn comparisons to Graham Greene and Paul Bowles, but Osborne's subject is not the postwar period; it's the globalized, post-9/11 present."—The Washington Post

"Osborne is the bard of modern-day expat noir, and in On Java Road he's outdone himself, packing the usual preoccupations (estrangement, existential ennui, spiritual restlessness) in unceasingly compelling surroundings: Hong Kong in tumult . . . [bringing] together a story of privilege, wealth, passion, and loyalty, while also providing incisive cultural insights and full-blooded characters. Osborne's prose is as precise and observant as ever, and On Java Road is a novel that will leave readers shaken long after they've finished reading."—CrimeReads

"This winning mystery from Osborne . . . makes a city beset by unrest, countered by harsh repression, feel palpable, and the dynamic between two college friends of different socioeconomic backgrounds will remind many of Brideshead Revisited. Those patient enough to wait for the mystery plotline to kick in will be rewarded."—Publishers Weekly

"An atmospheric thriller set in a Hong Kong convulsed by student protests . . . The book is like a whodunit turned inside out. . . . Hong Kong comes fiercely alive on the page, and Osborne's command of complex history, geography, and politics (and poetry) is nuanced and sure-handed. . . . Moody and compelling."—Kirkus Reviews

"Osborne is an ambitious novelist, and this is more than just a story about courage in Hong Kong. . . . Democracy and freedom of the press require courage. Does Adrian have that courage? Do we? Osborne is too clever a writer to reach a conclusion, but the overall effect of this timely, elegantly written novel is unsettling and concerning."—The Spectator (UK)

"Sure to be dripping with an eerie atmosphere and peculiar twists." —Fodors