Back to top
The Cookie That Changed My Life: And More Than 100 Other Classic Cakes, Cookies, Muffins, and Pies That Will Change Yours: A Cookbook (Hardcover)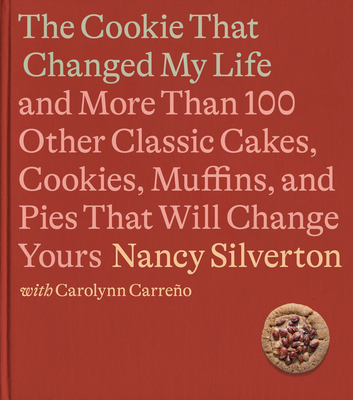 Description
---
NEW YORK TIMES BESTSELLER • The eagerly anticipated baking bible from America's most respected authority: 100+ recipes for cookies, cakes, breads, breakfast pastries, and much more.

"Nancy Silverton baked a brioche so perfect that it brought Julia Child to tears...Nancy showed us how to strip away the extras and spotlight the essentials. She's still doing that and we're all still learning from her." —Dorie Greenspan, author of Dorie's Cookies

Nancy Silverton made her reputation as the original pastry chef for Wolfgang Puck's restaurant Spago. Biting into a particularly delicious peanut butter cookie one day, she and had an epiphany: every single thing we bake should taste this good. And so she decided to return to her roots, and set to work perfecting the rest of the American baking canon.

From Lattice-Topped Apple Pie to Carrot Cake with Brown Butter Cream Cheese Frosting (the secret? Carrot puree) to Cornbread (is it too much to ask that it actually taste like corn?), she shares recipes for the platonic ideals of our most beloved baked goods.

Alongside the classics—Lemon Bars, Key Lime Pie, Layered Buttermilk Biscuits—Silverton includes a handful of her own inventions: Double-Decker Chocolate Cookies (double the fun!), Iced Raisin Bars (a better fig newton), and Chocolate Brandy Cake (chocolate and brandy!)—all sure to become future classics. With more than a hundred perfected recipes, The Cookie That Changed My Life is a veritable encyclopedia of the very best things to bake.
About the Author
---
NANCY SILVERTON is the co-owner of Osteria Mozza, Pizzeria Mozza, Chi Spacca, and Mozza2Go, in Los Angeles and Newport Beach, California. She is the founder of the La Brea Bakery and the only chef ever to be awarded both the Outstanding Chef and Outstanding Pastry Chef awards from the James Beard Foundation. CAROLYNN CARREÑO is a James Beard Award-winning journalist, the author of Bowls of Plenty, and the coauthor of many other cookbooks.
Praise For…
---
"Nancy Silverton is a force of nature, bringing maximum imagination and exacting technique to anything she cooks or bakes. A simple peanut butter cookie becomes not only the supreme example of a peanut butter cookie (moist, chewy, crackled on top and perfectly rounded at the edges) but something that tastes more of itself — hers has a spoonful of peanut butter in the center, into which she nestles a pile of roasted and salted Spanish peanuts. It's the life-changing cookie that sparked the idea for her latest cookbook. With The Cookie That Changed My Life, Silverton takes classic American baked goods — banana bread, scones, twice-baked croissants, granola, cinnamon rolls — and makes the best possible version in the universe." —Betty Hallock, Los Angeles Times (The best cookbooks of 2023)

"Every baker needs this book. The recipes sound so enticing and look so appealing you will want to make them all. And Nancy's directions are so foolproof you will be happy that you did." —Ruth Reichl; author of Save Me the Plums

"Whenever Nancy bakes or cooks she wins over even the most discerning palette! When it comes to the home or professional baker this book is a MUST!" —Wolfgang Puck

"Nancy Silverton baked a brioche so perfect that it brought Julia Child to tears. She baked bread so remarkable that it brought thousands to her door hoping to learn from her. She baked from her heart, and she baked from her soul. She baked frpom curiosity and from passion. And she led the way for all of us to try to do the same. Today, it's easy to take artisan breads, simple cakes and unfussy desserts with full flavors for granted, but that's because Nancy showed us how to strip away the extras and spotlight the essentials. She's still doing that and we're all still learning from her." —Dorie Greenspan; author of Dorie's Cookies

"This book should be an American staple in every household. Having eaten one of Nancy's cookies, I need to rest after my sugar high - and dream of tomorrow's cookie that will change my life." — Dominique Crenn; restaurateur/chef Atelier Crenn

"Nancy is such a talented author and an accomplished baker, and in her new book she perfected and personalized many familiar recipes of pies, cookies, and cakes. It is always refreshing and motivating to see a new book that pays homage to the classics. And everyone should know that Nancy will always add a personal and delicious twist." —Daniel Boulud; Chef & Restaurateur

"Nancy is a curious chef and baker. She wants to try things to understand if they are as good as they are supposed to be or not, or even better than expected . I am not as curious as she. Nancy Is taking classic desserts, baked treats, and asking, 'I know this is the classic recipe but can we do it better? Make it more delicious?' If I were ever to make a peanut butter cookie, do you know where I am going to look for the recipe? Right here in this cookbook. Because I know that Nancy wouldn't let me down. Not when it is so important to her to get it right.That is why we all need this book." —Massimo Bottura; restaurateur and chef patron Osteria Francescana

"I am always excited by a new Nancy Silverton cookbook. But I was not prepared to be gobsmacked! This is truly a cookie, cake, savory and bakery tome. Nancy has chosen classical and new bakery recipes from her friends, colleagues and mentors. Nancy has remastered these recipes in a way only she can. The resulting cookbook includes new takes on corn bread, banana bread, snickerdoodles and peanut butter cookies, all delivered with tour de force. Nancy has that unique ability to extract every last bit of flavor from the most ordinary of ingredients. Nancy transforms bakery classics into ethereal treats. You will not be able to put this cookbook down!" —Jonathan Waxman; Chef & Restaurateur; author of The Barbuto Cookbook

"When chef Nancy Silverton opened La Brea Bakery in Los Angeles in 1989, there were very few places in the city dedicated to making artisan bread. The bakery immediately drew lines around the block, and it has inspired bakers and pastry chefs everywhere, including myself. I devoured her previous books—and this one did not disappoint. The Cookie That Changed My Life is a collection of recipes that, Silverton says, are "the absolute best version of themselves." . . . The ultimate chocolate cookie calls for two kinds of cocoa powder, cacao nibs, and a fudgy topping of walnuts, resulting in a cookie that tastes like a nut-studded brownie. Even better are the peanut butter cookies, the cookies referred to in the book's title. . . Silverton's version is dolloped with peanut butter and crowned with toasted peanuts for additional texture and nutty flavor. Creamy, crunchy, chewy, and salty-sweet, it's worth purchasing silverton's book for this recipe alone." —Genevieve Yam, Bon Appétit

"L.A.-based culinary icon Silverton . . . tinkered with pastry during the pandemic, and the result was this collection of over 100 recipes, tinged with her wisdom as a veteran professional baker. Classics fill the pages, from banana bread and peanut butter cookies to Bundt cake, bread pudding and devil's food cake with fudge frosting. More inventive takes dot the collection, like marzipan cake, black sesame white chocolate cookies, pecorino and parmesan scones, and raisin brown butter tart, though Silverton's focus is on what's craveable and not simply on what's trending. . . . This is a nice reminder to the amateur baker that everyone can use a culinary refresh on occasion." —Jessica S. Levy, Booklist

"Does anyone really need another recipe for banana bread, lemon bars, or carrot cake? The answer is yes, if those recipes come from James Beard Award–winning baking doyenne Silverton (Chi Spacca). In her latest impeccably crafted cookbook. . . the Californian restaurateur and baker gathers together more than 100 of her ingenious takes on classic cakes, cookies, muffins, and pies, along with a few offerings provided by culinary friends. The recipes included here require no special culinary techniques or skills, but Silverton does take her baking seriously, and she expects readers to do so too. Fortunately for novice bakers, every recipe is broken down into detailed steps that ensure success if faithfully followed. The book delightfully illuminates Silverton's delicious philosophy of baking. . . home bakers trying to up their dessert game will find that Silverton's superbly written guide hits the sweet spot." —John Charles, Library Journal (starred review)

"It all started with a peanut butter cookie." This simple line opens acclaimed chef Nancy Silverton's latest cookbook and underscores the profound epiphany it elicited: everything should taste this good. It spurred her to create a collection of 100+plus recipes that read like the platonic ideal of classic American baked goods like Lemon Bars, Carrot Cake with Brown Butter Cream Cheese Frosting and Lattice-Topped Apple Pie. We're especially smitten by the inventive recipes showcasing Silverton's creativity, like Iced Raisin Bars that eat like a better fig newton and Double-Decker Chocolate Cookies (because double chocolate equals double deliciousness). Whether you're seeking out new baked goods to add to your repertoire or want to perfect the classics, this baking book just might change your life.—Layla Khoury-Hanold, Food Network (Best Baking Cookbooks of 2023)

"Nancy Silverton's newest offering, The Cookie That Changed My Life, is a journey into the transformative power of desserts. Silverton believes in the magic of flavors, in the transcendental experience a mere cookie can impart, forever altering one's culinary compass. This cookbook is a testament to her baking prowess, teeming with timeless recipes that promise to enchant and inspire. With so many classic recipes, this cookbook has some of the best baking recipes you can find, and it may even be the last one you'll ever need on your shelf." —Dani Zoeller, Tasting Table

"The Cookie That Changed My Life is a heart-warming cookbook full of delicious and easy-to-make recipes; the whole family can make them at home, and they will love it. Nancy's passion and love for her craft really shines through in this cookbook—and rubs off!" —René Redzepi; chef of Noma

"Let there be dancing in the streets… Nancy Silverton is sharing her sweet magic with us, once again!  Her genius riffs on our most beloved and nostalgic recipes are nothing short of perfection.  For the last 30 years, from her first book Desserts to The Cookie That Changed My Life, Nancy has, in fact, changed my life and been my baking hero and greatest source of inspiration!" —Claudia Fleming; Executive Culinary Director of Daily Provisions

"It's been over 20 years since Nancy Silverton published a cookbook dedicated to baking. The last was Pastries from the La Brea Bakery, a classic I have dog-eared from cover to cover. I know this because I've been waiting and waiting for the next book. Finally! The Cookie That Changed My Life comes out in November and I've already pre-ordered it. Nancy Silverton is a pastry chef that changed my life. Though I never got the chance to work in any of her kitchens, I was inspired by her to pursue baking as a career. I cannot wait to add this cookbook to my arsenal." —Myo Quinn, Simply Recipes