Back to top
Family Meal: A Novel (Hardcover)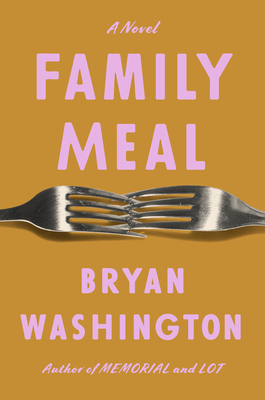 $28.00

Usually Ships in 1-5 Days
October 2023 Indie Next List
---
"Family Meal is a heartbreaking story of love, loss, and grief. Cam returns to Houston after the love of his life, Kai, dies. He and his estranged best friend, TJ, try to work through their grief and past hurts. A painful, gorgeous read."
— Kristen Beverly, Half Price Books, Dallas, TX
Description
---
"Tender and poignant, Washington's latest hits the spot." – PEOPLE Magazine

From the bestselling, award-winning author of Memorial and Lot, an irresistible, intimate novel about two young men, once best friends, whose lives collide again after a loss.

Cam is living in Los Angeles and falling apart after the love of his life has died. Kai's ghost won't leave Cam alone; his spectral visits wild, tender, and unexpected. When Cam returns to his hometown of Houston, he crashes back into the orbit of his former best friend, TJ, and TJ's family bakery. TJ's not sure how to navigate this changed Cam, impenetrably cool and self-destructing, or their charged estrangement. Can they find a way past all that has been said - and left unsaid - to save each other? Could they find a way back to being okay again, or maybe for the first time?

When secrets and wounds become so insurmountable that they devour us from within, hope and sustenance and friendship can come from the most unlikely source. Spanning Los Angeles, Houston, and Osaka, Family Meal is a story about how the people who know us the longest can hurt us the most, but how they also set the standard for love. With his signature generosity and eye for food, sex, love, and the moments that make us the most human, Bryan Washington returns with a brilliant new novel.
About the Author
---
Bryan Washington is the author of the story collection Lot and the bestselling novel Memorial. He is also the winner of a National Book Foundation 5 Under 35 Award, a New York Public Library Young Lions Award, an Ernest J. Gaines Award for Literary Excellence, an International Dylan Thomas Prize, a Lambda Literary Award, and an O. Henry Prize, and was a finalist for the James Tait Black Prize, the Joyce Carol Oates Prize, a PEN/Robert W. Bingham prize finalist, and a National Book Critics Circle Award for Fiction. He is a columnist for The New York Times Magazine and his fiction has appeared in The New Yorker and The Best American Short Stories. He divides his time between Houston and Osaka.
Praise For…
---
Praise for Family Meal

Publishers Weekly Top 10 Books of Fall

NAMED A MUST READ FOR THE FALL BY TIME ● LOS ANGELES TIMES ● SAN FRANCISCO CHRONICLE ● TOWN & COUNTRY ● LITHUB ● KIRKUS

"Tender and poignant, Washington's latest hits the spot." —People

"What makes Washington's writing about family so refreshing and complex is how he shows the ways people attempt to demonstrate the emotions they otherwise have trouble expressing to the ones they hold dear.... Family Meal juggles a lot — Cam and TJ are both dealing with their present situations and with the phantoms of opportunities ignored and hard choices enacted — but Washington lays it all out with the control and artistry of a ballet choreographer. Each story line gives the other strength." —New York Times Book Review

"[A]n achingly and beautifully etched ensemble of young Americans learning to navigate a more universal and human struggle: grief. …Washington is a generous and gentle writer, with a profound capacity to face the cruelty and pain of contemporary American life while simultaneously offering his characters — and readers – an expansive space for self-forgiveness, hopeand nourishment." —Washington Post

"For anyone who's read Washington's multiple-award-winning first novel, Memorial, you know he has a knack for measured storytelling that builds momentum and gradually fills in holes before culminating in a finale that washes over you like a giant torrent of meaning and consequences that leave you gasping for air (in a good way).... Washington's other gift is creating viscerally vulnerable characters and allowing their refreshingly open conversations to flow, showing just how hard — but ultimately rewarding — facing difficult issues head-on can be.... Ultimately, the power of Family Meal is that it shows us how to hold space for each other, through life's highest highs and lowest lows." —San Francisco Chronicle

"[T]enderly traces the tangled relationship between grief, desire, and hunger. Each meal in the book, whether a burnt biscuit or a platter of smothered chicken, has so much heft and significance." —Bon Appetit

"Visceral and heartbreaking, Bryan Washington's Family Meal delves into loss and long friendships,exploring how we can reconnect with the people we need most." —Real
Simple

"Heartbreaking, haunting, and harrowing one moment, Family Meal just as effortlessly showcases love, joy and passion the next. Like any good meal, this novel left me well fed and with plenty to chew on. I can't wait to see what Washington cooks up next." —Boston Globe

"Bryan Washington is already high on the list of our most exciting young authors, and with his latest release Family Meal he once again shows why our anticipation is well-deserved. … Family Meal travels the world to settings including LA, Houston, and Osaka, but Washington never loses sight of the prevailing sense of intimacy and vulnerability that makes this novel truly great." —Chicago Review of Books

"Family Meal is filled with love—for the sensual pleasure of life, the places that we call home, the beauty of the people around us. This novel will break your heart twice over, with sadness, sure, but more unexpectedly, with joy. It takes a generous writer to show us the world in this way, and Bryan Washington is one of our best."
—Rumaan Alam, author of Leave the World Behind
 
"The way Bryan Washington renders his characters, even in private moments of spectacular, sabotaging abandon, is vivid, unflinching and deeply compassionate. Brimming with food, sex, joy, intimacy, hella specific jokes, and the broken tools that we inherit to save our lives, Family Meal is nourishment. An absolutely gorgeous book."
—Mary H.K. Choi, author of Yolk

"A poignant story about how grief and food make family of us all." —Esquire

"One of the most evocative writers in fiction — especially when it comes to food. Washington has demonstrated an exceptional ability to write about cooking and eating in a way that always feels natural and hunger-inducing, even in the most emotionally devastating scenes. That's especially true in his latest, Family Meal." —Eater

"In a tale of food, sex, love and connection, Family Meal is a delicious dissection of the moments that make us the most human." —W Magazine

"Washington offers a heart-shaking, scorchingly honest study of the damage we do ourselves, the lure of addictive behavior, and the courage it takes to face one's anguish.... A group portrait that strikingly captures both pain and healing; highly recommended." —Library Journal (STARRED REVIEW)

"Food, family, and sex drive this intimate novel about the difficult search for true connections.... Washington brilliantly commits to his style and preoccupations in a novel about the often winding journey to family." —Kirkus (STARRED REVIEW)

"Washington's tender, melancholic latest (following Memorial) explores the complicated nature of grief and love.... Washington brings his tough but fragile characters to life with quietly powerful prose." —Publishers Weekly (STARRED REVIEW)

"Shifting between points of view, Washington shows us characters at their most vulnerable, using food culture to explore conflict, desire, pleasure and passion. The meals his characters enjoy together through it all—from congee to collards to croissants—remind us of the many ways that love, like food, sustains us." —Bookpage (STARRED REVIEW)


Praise for Memorial

"Wryly funny, gently devastating … Washington's hand is effortless—smooth dialogue, a love for good food, and his vibrant, sprawling, gradually gentrifying hometown—in inviting you into a nuanced love story that sticks to you like the Texas heat." —Entertainment Weekly

"Memorial is a wonderful unconventional rom-com [and]. . . a radiant exploration of love's permutations." –O, The Oprah Magazine

"A fresh, vibrant love story that interweaves race, queerness, nationality, family, and intimacy with narrative ease." —Vogue

"Implicit in a book about changing relationships and titled "Memorial" is the question of what is being preserved. The book preserves Houston and Osaka. It preserves the feeling of being young and lost. It preserves the food that gives us comfort and nourishment and purpose." —The New York Times

"Profoundly sensitive. . . . [and] unspool[s] as spontaneously and clearly as late-night conversation. . . . Memorial is a testament to the permanence of filial connections, a clear-eyed acknowledgment that our relatives don't always behave nicely, but they're with us for life." —The Washington Post

"Memorial isn't just every bit as brilliant as its predecessor. It's somehow even better.... The dialogue in the novel is pitch-perfect, but it's in the spaces between the talking — the awkward silences, the questions left unanswered — that the characters reveal themselves. It's a difficult tactic to pull off, but Washington does it masterfully... Washington is an enormously gifted author, and his writing — spare, unadorned, but beautiful — reads like the work of a writer who's been working for decades, not one who has yet to turn 30. Just like Lot, Memorial is a quietly stunning book, a masterpiece that asks us to reflect on what we owe to the people who enter our lives." —NPR

"Memorial is a true page-turner. I was entranced, picking this book up every chance I got. Bryan Washington is a great writer and I love the story he tells here. Intriguing. Each character stays with me." —Jacqueline Woodson, author of Red At the Bone and Another Brooklyn

"Memorial dares to insist on the mundane, thoroughly lived life as a site of perennial hope, joy, and abundance. It casts a fresh take on the American family that becomes truer because of its disparate origins, the queerness of its genesis, and the buoyed wonder it finds in surviving grief and loss towards the rare and forgiving ground of difficult, hard-won love. All of this done in sentences clean and clear as cut glass. This book, in what feels like a new vision for the 21st century novel, made me happy." 
—Ocean Vuong, author of On Earth We're Briefly Gorgeous