Back to top
Lucky Me: A Memoir of Changing the Odds (Hardcover)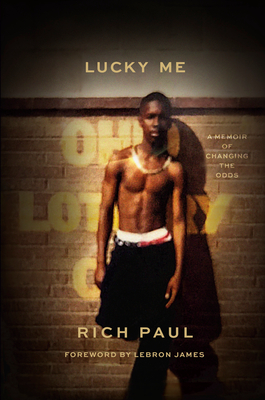 $28.00

Usually Ships in 1-5 Days
Description
---
NEW YORK TIMES BESTSELLER • A memoir of will, success, and the luck we make—from the founder and CEO of Klutch Sports Group and one of the most influential figures in the multibillion-dollar sports industry

"One of the greatest stories of growing up in America's ghettos and overcoming adversity."—Jay-Z
 
"The minute I met Rich, I knew he was different."—LeBron James, from the Foreword

There's a story about Rich Paul that everyone knows: A twenty-one-year-old kid from Cleveland who sells sports jerseys out of his car meets a high school basketball phenom named LeBron James at an airport—the two become friends and forge a decades-long partnership that reinvents the business of sports. That random meeting might seem like the lucky break that changed Paul's life. But a moment of good fortune means nothing without the struggle that gets you there. And the truth is, Paul had always been lucky.

Rich Paul became a gambler at an early age—his fast mind and gift for finding an edge made him a devastating dice roller who could hold his own with grown men, win big, and walk away alive. Shooting dice wasn't just a pastime; it was a way to earn money for his family as his mother struggled under the weight of drug addiction. He learned the secret science of dice in the same place he found all the lessons of his young life: the corner store his father operated, the center of the neighborhood's frantic action. Paul's father had another family but kept his son close working at the store. Paul dreamed of becoming a star athlete, but the streets were where he thrived, building a lucrative enterprise on shaky ground. When he found himself at a dangerous crossroads, he summoned the teachings of his past to create a different future.

Readers will follow the riveting journey of a young Rich Paul narrated by the Paul of today, who looks back with wit and insight, drawing out the lessons he learned at every stage—about business, people, and the values that lead to success. It's the inspiring story of the luck that's all around us, if we know where to look.
About the Author
---
Rich Paul is the CEO and founder of Klutch Sports Group, the powerhouse agency representing some of the biggest athletes across all major professional sports.
Praise For…
---
Praise for Rich Paul and Lucky Me

"The minute I met Rich, I knew he was different. . . . [He] helped me find my strength. Rich's superpower is understanding what people truly need. So when you flip these pages and witness the kind of pain we felt growing up, don't flinch. Hard truths make us stronger."—LeBron James, from the Foreword

"This book is an American tale of 'against all odds'—and I believe young people in similar environments will see themselves in Lucky Me, one of the greatest stories of growing up in America's ghettos and overcoming adversity."—Jay-Z

"Rich Paul spells out why businesses need to recognize that elite talent can take the most unlikely paths. By treating people the right way, demanding excellence at every turn, and utilizing the lessons he learned from his father, Paul turned his opportunity into one of the great, modern-day success stories in sports."—Jimmy Pitaro, ESPN Chairman