Back to top
Every Man for Himself and God Against All: A Memoir (Hardcover)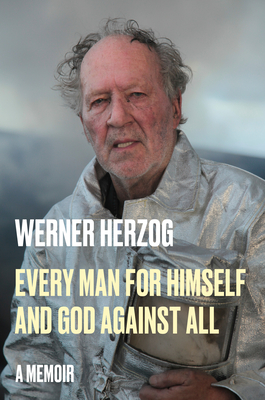 $30.00

Usually Ships in 1-5 Days
Description
---
Legendary filmmaker and celebrated author Werner Herzog tells in his inimitable voice the story of his epic artistic career in a long-awaited memoir that is as inventive and daring as anything he has done before

Werner Herzog was born in September 1942 in Munich, Germany, at a turning point in the Second World War. Soon Germany would be defeated and a new world would have to be made out the rubble and horrors of the war. Fleeing the Allied bombing raids, Herzog's mother took him and his older brother to a remote, rustic part of Bavaria where he would spend much of his childhood hungry, without running water, in deep poverty. It was there, as the new postwar order was emerging, that one of the most visionary filmmakers of the next seven decades was formed.

Until age 11, Herzog did not even know of the existence of cinema. His interest in films began at age 15, but since no one was willing to finance them, he worked the night shift as a welder in a steel factory. He started to travel on foot. He made his first phone call at age 17, and his first film in 1961 at age 19. The wildly productive working life that followed—spanning the seven continents and encompassing both documentary and fiction—was an adventure as grand and otherworldly as any depicted in his many classic films.

Every Man for Himself and God Against All is at once a personal record of one of the great and self-invented lives of our time, and a singular literary masterpiece that will enthrall fans old and new alike. In a hypnotic swirl of memory, Herzog untangles and relives his most important experiences and inspirations, telling his story for the first and only time.
About the Author
---
Werner Herzog was born in Munich on September 5, 1942. He made his first film in 1961 at the age of nineteen. Since then he has produced, written, and directed more than sixty feature and documentary films, including Aguirre, Nosferatu, Fitzcarraldo, Little Dieter Needs to Fly, My Best Fiend, Grizzly Man, Encounters at the End of the World, and Cave of Forgotten Dreams. Herzog has published more than a dozen books of poetry and prose, most recently The Twilight World, and directed as many operas. He has appeared as an actor in Jack Reacher, The Mandalorian, and The Simpsons, and exhibited an art installation, Hearsay of the Soul, at the 2012 Whitney Biennale and the Getty Museum. He also founded his own Rogue Film School as a counterpoint to what is taught in most film schools around the world. He lives in Munich and Los Angeles.

Michael Hofmann is a German-born poet who writes in English. He has translated the works of Bertolt Brecht, Franz Kafka, Hans Fallada, and Joseph Roth, and teaches at the University of Florida in Gainesville.
Praise For…
---
"The book is nonlinear and exuberantly free-associative, less a narrative than an extravagant demonstration of sensibility . . . Like so many of his films, his memoir is not at home in its ostensible genre. A very thin thread of autobiography runs through an otherwise vibrant tapestry of anecdotes and adventures . . . His melancholic, meditative and theatrically nostalgic way of being is as irrepressible in his writing as it is in his films . . . I feel the same sense of awe when I contemplate the phenomenon of Werner Herzog as I do when I contemplate the pyramids. Amazing, that this fabulous impracticality exists." —Becca Rothfeld, The Washington Post

"Written in that rich, dramatic speaking style . . . Every Man for Himself and God Against All is packed with memorable vignettes and tidbits of information . . . God also makes two appearances . . . But what He's wearing is something only Herzog could dream up. So is every word in this entertaining and informative book." —Odie Henderson, The Boston Globe

"Like his films (Fitzcarraldo, say, or Aguirre, the Wrath of God), Herzog's memoir is a decidedly nontraditional piece of storytelling . . . The book is written in a literary voice that is outspoken and conversational . . . (The translation by Hofmann, who has also translated books by Wim Wenders and Franz Kafka, is delightful.) A fascinating portrait of an inventive and idiosyncratic filmmaker." —Booklist

"Herzog in all his extravagant, perspicacious glory . . . witty and captivating as he recollects all kinds of odd, curious, and outlandish events, people, and injuries . . . Fans and neophytes alike will relish the opportunity to delve deeply into Herzog's fascinating mind." —Kirkus (starred review)

International Praise

"Every Man for Himself and God Against All is a literary event unto itself, and the fact that it mirrors Werner Herzog's life through his own eyes makes it all the more powerful. In particular the end of the book, which is a true a sensation . . . a must-read!" —Freunde der Künste
 
"A book to marvel at—until the very last line." —WDR
 
"His prose is infused with poetry and full of lyrical passages" —Deutsche Welle
 
"An event" —Süddeutsche Zeitung
 
"Of greatest significance, however, are the memoirs that Werner Herzog has now published under the title of one of his films: Every Man for Himself and God Against All. Herzog is a magnificent, seductive narrator. He allows himself to be steered by his own associative thinking without a second of boredom." —SWR
 
"Herzog's book depicts in cool, sparse, poetic language, the primitiveness and magic of the archaic rural conditions in which he spent his early childhood years" —Spiegel