Back to top
This Exquisite Loneliness: What Loners, Outcasts, and the Misunderstood Can Teach Us About Creativity (Hardcover)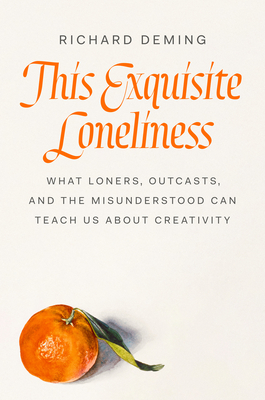 $29.00

Usually Ships in 1-5 Days
Description
---

"...Rich and sensitive." —The Wall Street Journal

"Loneliness is everywhere these days. But this book will chase some of it away, and maybe replace it with connection." —Patton Oswalt, Emmy and Grammy winning comic

A examination of the life and work of six brilliant minds of the twentieth century, intent on answering the question "What can be done not despite but because of loneliness?"

At an unprecedented rate, loneliness is moving around the globe—from self-isolating technology and political division to community decay and social fragmentation—and yet it is not a feeling to which we readily admit. It is stigmatized, freighted with shame and fear, and easy to dismiss as mere emotional neediness. But what if instead of shying away from loneliness, we embraced it as something we can learn from and as something that will draw us closer to one another?

In This Exquisite Loneliness, Richard Deming turns an eye toward that unwelcome feeling, both in his own experiences and the lives of six groundbreaking figures, to find the context of loneliness and to see what some people have done to navigate this profound sense of discomfort. Within the back stories to Melanie Klein's contributions to psychoanalysis, Zora Neale Hurston's literary and ethnographic writing, the philosophical essays of Walter Benjamin, Walker Evans's photography of urban alienation, Egon Schiele's revolutionary artwork and Rod Serling's uncanny narratives in The Twilight Zone, Deming explores how loneliness has served as fuel for an intense creative desire that has forged some of the most original and innovative art and writing of the twentieth century.

This singular meditation on loneliness reveals how we might transform the pain of emotional isolation and become more connected to others and more at home with our often unquiet selves.
About the Author
---
Richard Deming is an award-winning poet and critic, whose work explores the intersections of literature, philosophy, and visual culture. He is the author of five books, including Day for Night and Art of the Ordinary. He teaches at Yale University, where he is the director of Creative Writing.
Praise For…
---
One of The Next Big Idea Club's top psychology books of 2023

"...Rich and sensitive...[Deming's] ability to limn loneliness and isolation, and trace the ways in which his six subjects explored them, is one that Mr. Deming comes by honestly." —The Wall Street Journal

"Insightful in its reflections, keen readers will find much to contemplate." —Booklist

"A message in a bottle to the tristes and isolatos and lonelyhearts of the world. [Deming] is trying to write himself out of isolation, and in doing so, he is offering readers the gift of connection…Brave and intelligent." —The American Scholar

". . . inspired meditations . . . The lucid prose is matched by the depth of insight . . . Profound and often achingly beautiful, this makes for great company." —Publishers Weekly

"This is an uplifting book that provides a blueprint on how to manage such a common yet challenging emotion, and Deming's personal experiences adds necessary heft to the text. The author charts a navigable course for embracing one of the most painful and universal human emotions." —Kirkus Reviews

"It is easy to make loneliness poignant and moving now. What is striking about Richard Deming's remarkable book is that he has managed to make loneliness interesting, something that we might now begin to have real conversations about. The powerful and devastating personal experiences recounted here, woven into the lives of figures like Walter Benjamin, Melanie Klein, and Zora Neale Hurston, among others, make This Exquisite Loneliness an essential contemporary book."—Adam Phillips, author of On Getting Better

"Loneliness is everywhere these days. But this book will chase some of it away, and maybe replace it with connection." – Patton Oswalt, Award-winning comedian, writer, actor

"Beyond biography and cultural study, This Exquisite Loneliness is a book that gives rich voice to both the agony and occasional joy of a unique facet of the human experience. Insightful in its reflections, keen readers will find much to contemplate." -- Booklist

"This Exquisite Loneliness is a beautifully written, informative, intimate, and insightful meditation about working with loneliness, a central and intrinsic feature of human existence, and not through it." -- Psychology Today

"This Exquisite Loneliness is a transformative book for understanding this moment of collective isolation. Through his sharp-edged personal reflections, Deming interrogates powerfully and openly his own sense of aloneness as he weaves his discoveries with fellow writers, artists, and thinkers from Walter Benjamin to Zora Neale Hurston. What can be a harrowing condition of disconnection becomes an opportunity for blazing revelations, an invitation to bring our interior and exterior landscapes together through acts of courage, large and small, that define our humanity. Through Deming's brave and searing prose, This Exquisite Loneliness builds an eloquent case for staying with the discomfort as darkness becomes the passageway toward illumination."—Terry Tempest Williams, author of The Moon Is Behind Us

"In This Exquisite Loneliness, Richard Deming explores his life and major influences, and finds a vocabulary for aestheticizing loneliness, ultimately finding beauty, meaning, and transcendence in the inherent solitude of the human experience." - Gregory Crewdson, artist

"Richard Deming's mesmerizing exploration of loneliness in its full range of forms—from torment to solace to inspiration, as manifested in the lives of variously brilliant people—is so nuanced, so insightful, so gorgeously written that I found myself underlining passages on nearly every page.  It's unlike any other book I've read, which is high praise indeed." – Michael Cunningham, Pulitzer-Prize winning author of The Hours