Back to top
Raising Hell, Living Well: Freedom from Influence in a World Where Everyone Wants Something from You (including me) (Hardcover)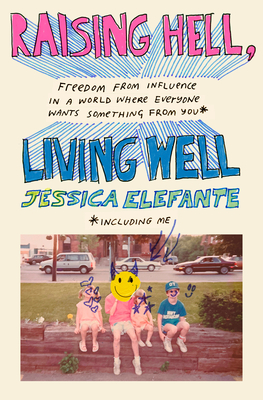 $28.00

Usually Ships in 1-5 Days
Description
---
Part cultural criticism, part rueful confessional, a reformed brand strategist brings to light the impact of influence on us and our society and offers an escape in this ironically persuasive case for not being so easily influenced anymore.
 
"A weirdly practical approach to some ancient questions that have become trickier lately."—Jaron Lanier, bestselling author of Ten Arguments for Deleting Your Social Media Accounts Right Now

We live in a world that is under the influence. 

Our lives are being choreographed by forces that want something from us. Everything from ingrained family values to mind-altering algorithms create our foundations, warp how we see the world, manipulate our decisions, and dictate our beliefs. Yet rarely do we question these everyday influences of our modern times even as we go further down the path of unwell, unhappy, and unhinged. 

A high-spirited exploration through the troublesome influences of our world, Raising Hell, Living Well, Jessica Elefante's eye-opening debut, follows one bullshit artist's journey, from small-time salesperson to award-winning corporate strategist to founder of the digital wellbeing movement Folk Rebellion, in coming to terms with how she was wielding influence—and the forces she was under herself.  

With whip-smart writing and wry humor, Elefante's collection of essays is a head-trip through her misadventures. From explaining productivity as a symptom of the influence of capitalism to how the wellness industry makes us feel more unwell or our unquestioning participation in oversharing, optimization, and instant gratification, she invites us to reexamine our world, our pasts, and ourselves through the lens of influence. Now a reformed brand strategist, Elefante lays bare her own culpability, sharing what she learned—and what she got wrong. She offers a new take on intentional living and provides a simple practice to deconstruct how the powers-that-be are attempting to modify our behaviors. Before you know it, you'll be questioning everything from how you take your coffee to how our social institutions are structured. And you'll learn how to live free from the influences around us—including Elefante herself. 

The much-needed subversive voice to demystify these times, Elefante will make you angry, make you laugh, and make you think about how you're really living. Unpretentious, sharply observed, and devil-hearted, Raising Hell, Living Well holds out a hand to help you climb out from under the influence.
About the Author
---
Jessica Elefante is a writer who has spent the last few decades examining what it means to be human in our modern world. Her essays have appeared in The Guardian, The Huffington Post, and more. As the founder of acclaimed Folk Rebellion and a critic of today's culture, Elefante's award-winning talks, films, and work have been featured by Vogue, the Los Angeles Times, The Observer, Paper magazine, Wired, and elsewhere. In her previous life as a brand strategist, she was recognized as one of Brand Innovators' 40 Under 40 and has been a guest lecturer at Columbia Business School and New York University. She's influenced by the social, cultural, and technological circumstances of her life but mostly by her desire to lead a colorful one. Raised in Upstate New York, she now lives in Brooklyn with her family. She is no longer bullshitting.
Praise For…
---
"Jessica Elefante practices what she preaches by rising above complaints to confront modern, twisted problems right in the face. How do you know when you are yourself and not just a punching bag for algorithms and come-ons? Will you still be loved if you don't do what you're being told to do? Here is a weirdly practical approach to some ancient questions that have become trickier lately."—Jaron Lanier, bestselling author of Ten Arguments for Deleting Your Social Media Accounts Right Now

"Eye-opening, illuminating, rebellious. This is for anyone who seeks to understand persuasive technology and pervasive marketing. Elefante helps us modify our behaviors to live the lives we deserve. Her fresh perspective pierces through the noise so that we can make decisions that are true to ourselves."—Nir Eyal, bestselling author of Indistractable

"Jessica Elefante knows how the sausage is made. With insider's acumen and a hearty acknowledgment of her own complicity in the dynamics she's hard at work unpacking, she details exactly how the sky is falling, walking us through experiences that resonate with familiarity until we, too, are urgently pointing skyward."—Margo Steines, author of Brutalities

"They say it takes a thief to catch a thief. Jess was a time thief, money thief, and meaning-of-life thief. She learned how to steal from people without their noticing. Then she realized she was stealing from herself. It shook her to the core. Then she changed her life. This book is ready to shake and change you, too. Buckle up."—Lenore Skenazy, president of Let Grow, author of Free-Range Kids

"You are what you consume. Consume this book. Then, question everything else."—Cait Flanders, bestselling author of The Year of Less and Adventures in Opting Out

"Cultural critic Elefante advocates 'living free from influence' in her passionate debut. . . . Elefante clearly identifies insidious influences that sometimes fly beneath the radar. . . . This will give even today's most trend-conscious food for thought."—Publishers Weekly