Back to top
Blood Memory: The Tragic Decline and Improbable Resurrection of the American Buffalo (Hardcover)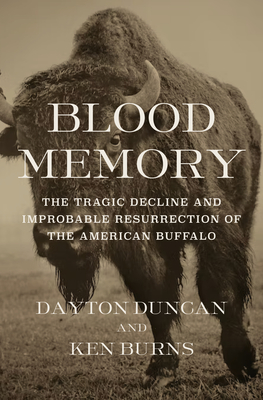 $40.00

Usually Ships in 1-5 Days
Description
---
The epic story of the buffalo in America, from prehistoric times to today—a moving and beautifully illustrated work of natural history inspired by the PBS series "American Buffalo"

The American buffalo—our nation's official mammal—is an improbable, shaggy beast that has found itself at the center of many of our most mythic and sometimes heartbreaking tales. The largest land animals in the Western Hemisphere, they are survivors of a mass extinction that erased ancient species that were even larger. For nearly 10,000 years, they evolved alongside Native people who weaved them into every aspect of daily life; relied on them for food, clothing, and shelter; and revered them as equals.

Newcomers to the continent found the buffalo fascinating at first, but in time they came to consider them a hindrance to a young nation's expansion. And in the space of only a decade, they were slaughtered by the millions for their hides, with their carcasses left to rot on the prairies. Then, teetering on the brink of disappearing from the face of the earth, they would be rescued by a motley collection of Americans, each of them driven by different—and sometimes competing—impulses. This is the rich and complicated story of a young republic's heedless rush to conquer a continent, but also of the dawn of the conservation era—a story of America at its very best and worst.
About the Author
---
DAYTON DUNCAN is the author of thirteen other books, including Out West: An American Journey Along the Lewis and Clark Trail. He has worked with Ken Burns as a writer and producer of documentary films for more than thirty years and has won numerous awards, including two Emmy Awards for his work on The National Parks: America's Best Idea. He lives in Rindge, New Hampshire, and Savannah, Georgia.

KEN BURNS, the producer and director of numerous film series, including Vietnam, The Roosevelts, and The War, founded his own documentary film company, Florentine Films, in 1976. His landmark film The Civil War was the highest-rated series in the history of American public television, and his work has won numerous prizes, including the Emmy and Peabody Awards, and two Academy Award nominations. He lives in Walpole, New Hampshire.
Praise For…
---
"Duncan and...Burns present an elegiac complement to their PBS series, The American Buffalo...This will bring readers to tears, then fill them with hope."
—Publishers Weekly, Starred Review

"Duncan and Burns use firsthand accounts, interviews and marvelous visual images to carry readers briskly from the rise of the bison in the species' ideal ecosystem, through their crucial role in Native American culture, their swift destruction by white Euro-Americans and their current modest recovery."
—Anne Bartlett, BookPage

"[A] panoramic volume rich in images, insights, and extended interviews and history...Writing with his signature lucidity and particular passion, Duncan illuminates the wondrous nature of the bison and details the species' complex role in Native American lives, then turns inexorably to the arrival of whites and the catastrophic slaughter of millions of buffalo in a frenzy of indiscriminate killing industrialized by new high powered guns and the railroads....Fortunately, this tale of conquest, bloodshed, and environmental disaster is also a story of resilience and resistance."
—Booklist American Library Association

"A fitting tribute to the buffalo, telling a compelling story from the time of the Lewis & Clark Expedition to the animal's near-extinction and almost-impossible recovery."
—Leslie Gaines, Outside Bozeman