Back to top
Robert B. Parker's Broken Trust (Spenser #51) (Hardcover)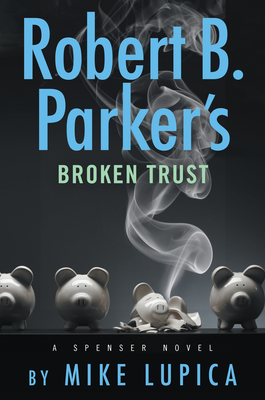 $29.00

Usually Ships in 1-5 Days
Description
---
Spenser investigates the past secrets of an elusive tech billionaire in this latest installment of Robert B. Parker's beloved series, and the first written by celebrated writer Mike Lupica.

Andrew Crain has it all: a brilliant scientist and astute businessman, his groundbreaking work with lithium has made him one of the world's richest men. He is universally adored and admired; that is, until Crain's beautiful wife, Laura, comes to Spenser hoping that he can find out what skeletons lurk in her husband's closet. Though Crain is a generous philanthropist and loving family man, she is concerned—he has recently become secretive, bordering on paranoid, and prone to violent outbursts. This is the opposite of the man she knew, and not only does his behavior put their marriage at risk, but also a lucrative company merger that would be life-changing for the Crains, their business partner, and everyone associated. Laura wants Spenser to find out what has gotten into her husband, before it's too late.

As Spenser digs into the billionaire's past, he realizes that the man may have done terrible things on his rise to the top—but he also may have had good reason to. There are no clear answers here, and quickly enough, what Spenser discovers will cause him to question his own views on morality—and place him in grave danger.
About the Author
---
Robert B. Parker was the author of seventy books, including the legendary Spenser detective series, the novels featuring Police Chief Jesse Stone, and the acclaimed Virgil Cole-Everett Hitch Westerns, as well as the Sunny Randall novels. Winner of the Mystery Writers of America Grand Master Award and long considered the undisputed dean of American crime fiction, he died in January 2010.

Mike Lupica is a prominent sports journalist and the New York Times-bestselling author of more than forty works of fiction and nonfiction. A longtime friend to Robert B. Parker, he was selected by the Parker estate to continue the Spenser and Jesse Stone series.