Back to top
Hitchcock's Blondes: The Unforgettable Women Behind the Legendary Director's Dark Obsession (Hardcover)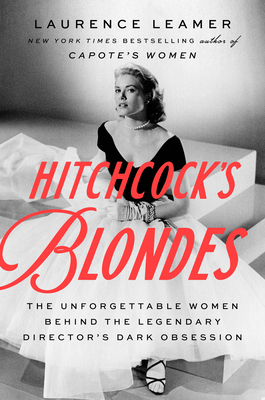 $29.00

Usually Ships in 1-5 Days
Description
---
Bestselling author of Capote's Women Laurence Leamer shares an engrossing account of the enigmatic director Alfred Hitchcock that finally puts the dazzling actresses he cast in his legendary movies at the center of the story.

Alfred Hitchcock was fixated—not just on the dark, twisty stories that became his hallmark, but also by the blond actresses who starred in many of his iconic movies. The director of North by Northwest, Rear Window, and other classic films didn't much care if they wore wigs, got their hair coloring out of a bottle, or were the rarest human specimen—a natural blonde—as long as they shone with a golden veneer on camera. The lengths he went to in order to showcase (and often manipulate) these women would become the stuff of movie legend. But the women themselves have rarely been at the center of the story, until now.

In Hitchcock's Blondes, bestselling biographer Laurence Leamer offers an intimate journey into the lives of eight legendary actresses whose stories helped chart the course of the troubled, talented director's career—from his early days in the British film industry, to his triumphant American debut, to his Hollywood heyday and beyond. Through the stories of June Howard-Tripp, Madeleine Carroll, Ingrid Bergman, Grace Kelly, Janet Leigh, Kim Novak, Eva Marie Saint, and Tippi Hedren—who starred in fourteen of Hitchcock's most notable films and who bore the brunt of his fondness and sometimes fixation—we can finally start to see the enigmatic man himself. After all, "his" blondes (as he thought of them) knew the truths of his art, his obsessions and desires, as well as anyone.

From the acclaimed author of Capote's Women comes an intimate, revealing, and thoroughly modern look at both the enduring art created by a man obsessed…and the private toll that fixation took on the women in his orbit.
About the Author
---
New York Times bestselling author Laurence Leamer is a leading biographer of the rich and powerful, including Capote's Women, Madness Under the Royal Palms and The Kennedy Women, among many other books. He lives in Washington, D.C., and Palm Beach, Florida.
Praise For…
---
One of Entertainment Weekly's 41 New Fall Books We're Most Excited to Read
One of CrimeReads' Most Anticipated Crime Reads of Fall 2023
One of PureWow's 9 Books We Can't Wait to Read in October

"An important and enthralling story that will change not only the way we experience Hitch's movies but the way we view ourselves. It is a tale more disturbing than any Hitchcock film. Read it with all the lights on." —Sam Kashner, coauthor of The Fabulous Bouvier Sisters: The Tragic and Glamorous Lives of Jackie and Lee

"Fascinating and comprehensive." —Boston Herald

"Through their work and place as the prism for Hitchcock's obsessions and desires, we come to understand the inner workings of his mind—and how these women were key to constructing a legend of his own devising" —Entertainment Weekly

"Laurence Leamer subverts the cliche of the "Hitchcock blonde" who was putty in the hands of a sado-masochistic director. His impressive book reveals a garden of polychromatic blondes, who are human beings as well as fine actresses, and whose disparate backstories and complicated relationships with Hitchcock, on and off the set, made for some of his greatest films." —Patrick McGilligan, author of Alfred Hitchcock: A Life in Darkness and Light

"In Hitchcock's Blondes, Laurence Leamer brings to life the remarkable golden goddesses of Hitchcock's films and shows how they often paid a price for his inability to charm and captivate them in real life. A guilty pleasure." —Jon Krampner, author of Ernest Lehman: The Sweet Smell of Success

"Prolific author Leamer provides ample biographical background regarding each actor to buttress his revelations concerning Hitchcock's Machiavellian modus operandi and enhances his premise with just enough titillating behind-the-scenes details to entice devoted movie buffs." —Booklist

"Leamer excels at dissecting Hitchcock's filmic genius and odd proclivities." —Kirkus Reviews

"Leamer serves up a breezy and gossip-filled group biography of Alfred Hitchcock's blonde leading ladies...[F]ilm buffs will come away from this page-turner with a better understanding of Hitchcock and the stars that populate his films." —Publishers Weekly

"Vaunted best-selling nonfiction and biography author Laurence Leamer has penned a gem with Hitchcock's Blondes…If you love movies, Hitchcock's Blondes is essential reading." —BookTrib

"A readable and fascinating examination of Hitchcock's secret life…Leamer subtly shows Hitchcock's genius and his shadowy psyche, his ability to push emotions away, using irony as his shield." —Book Reporter

"From the author of Capote's Women comes a book about Hitchcock's longtime fixation on a highly specific interpretation of womanhood and femininity. Essential reading for anyone interested in the great director and how his tastes were instrumental in creating the dense thriller and noir aesthetic we see today." —CrimeReads

"Laurence Leamer peels away the glamour of Hollywood to detail the director's troubling relationships with eight high-profile blonds who starred in his movies. Readers unfamiliar with Alfred Hitchcock's methods will learn about his obsession with these women and, explicitly, how he controlled every aspect of their lives." —Washington City Paper

"The bestselling author of Capote's Women turns his focus to Alfred Hitchcock in his latest…In Hitchcock's Blondes, Leamer offers an intimate look into the lives of eight legendary actresses—including Ingrid Bergman and Tippi Hedren—whose stories helped propel the troubled, talented director's career forward, from Janet Leigh's first marriage (when she was 14 years old) to forcing The 39 Steps star Madeline Carroll to rehearse while handcuffed and soaking wet." —PureWow

"Leamer is the first biographer to shift the focus from Hitchcock in the foreground to zoom in on the women with whom the director achieved some of his greatest works." —The Orange County Register

"Through Laurence Leamer's expertly crafted, multi-layered prose, we powerfully understand just how challenging it was to be a Hitchcock leading lady, how spirited Hitchcock's heroines were, and how inspiring their stories continue to be today, especially when viewed in tandem through a single lens. A riveting read." —Christina Lane, author of Phantom Lady: Hollywood Producer Joan Harrison, the Woman Behind Hitchcock

"As riveting as any thriller by 'The Master of Suspense,' Hitchcock's Blondes illuminates how the director's fascination with his extraordinary assemblage of leading ladies often bordered on obsession. The iconic stars who captivated Hitchcock and audiences alike are brought vividly to life by Laurence Leamer. If you thought the high drama and intrigue that Hitch's 'golden-haired girls' encountered on screen was something, wait till you discover what went on behind the scenes." —Mark Griffin, author of All That Heaven Allows: A Biography of Rock Hudson