Back to top
Cheap Old Houses: An Unconventional Guide to Loving and Restoring a Forgotten Home (Hardcover)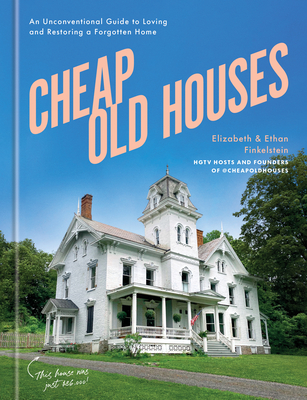 $35.00

Usually Ships in 1-5 Days
Description
---
From the founders of the HGTV show and Instagram Cheap Old Houses comes a stunning collection of beautiful, affordable homes and inspiration for buying and restoring an historic house.

Welcome to the magical world of Cheap Old Houses, where the new American dream comes with zero mortgage and an affordable lifestyle fit for a storybook. Ethan and Elizabeth Finkelstein have scoured the country to find homes in desperate need of saving—including a $45,000 Victorian in Mississippi, a $25,000 mansion in Indiana, an $82,000 recreational camp in Maine, and more. Cheap Old Houses features the stories of how these homes were acquired and lovingly restored.

Within these pages, you'll discover sprawling Victorian mansions, Italianate-style farmhouses, off-the-beaten-path cabins, and even old churches turned into residences. You'll meet a couple who camped out on their back porch while they made their 6,000-square foot manor livable, and homeowners who found a free bungalow and moved it seventy miles to their property. Additionally, Elizabeth, a historical preservationist, gives information on the details to preserve in historic houses, from pocket doors that might be hiding in the walls to badly cracked plaster walls that are worth repairing and butler's pantries that are once again more desirable for storing dishes and small appliances.

With hundreds of beautiful photographs capturing these homes in all their glory, you'll be inspired to find "the one"—a fixer upper to rescue that will rescue you right back.
About the Author
---
Ethan and Elizabeth Finkelstein started the Instagram account Cheap Old Houses in 2016 to uncover the hidden gems across America for under $100,000. They've garnered millions of followers and grown their brand into a HGTV show and a newsletter. They've been featured widely in such publications as New York magazine, Architectural Digest, The Financial Times, Forbes, Daily Mail, and Business Insider.