Back to top
More Is More: Get Loose in the Kitchen: A Cookbook (Hardcover)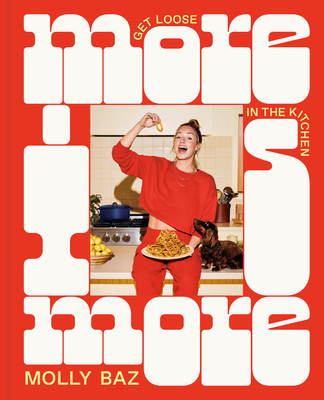 $35.00

Usually Ships in 1-5 Days
Description
---
NEW YORK TIMES BESTSELLER • Learn to cook with confidence and unbridled joy in 100 big, bold, flavorful recipes from Molly Baz

A BEST COOKBOOK OF THE YEAR: NPR, Good Housekeeping, New York Post, Publishers Weekly

It's time to crank up the heat and lose the measuring spoons because the secret to cooking is hiding in one simple motto: MORE IS MORE. In her bestselling debut cookbook, Cook This Book, Molly Baz taught the cooking essentials and put her love for mortadella and dill on blast. In More Is More, she's teaching cooks how to level up their cooking, loosen up in front of that ripping hot pan, and seek deliciousness at all costs. (And yes, there will be more mortadella.) More Is More is a philosophy that encourages more risk-taking, better intuition, fewer exact measurements, and a "don't stop 'til it tastes delicious" mentality. 

The recipes in More Is More are fit for any day of the week and for cooks of all skill levels. Each recipe will teach a technique or flavor combination that takes Molly's maximalist, "leave no flavor on the cutting board" approach. So crank your ovens! Grab a fat pinch of salt! And if you're going to use an ingredient, truly use it. Just one lonely clove of garlic? Not in this cookbook! 

Start your morning with a Crispy Rice Egg-in-a-Hole, throw together a Chicken Salad with Coconut Crunch for lunch, look forward to Drunken Cacio e Pepe for dinner, and save room for a fat slice of Ooey Gooey Carrot Cake for dessert. The Only Meatloaf that Matters will teach you the power of re-frying, while Miso-Braised Chicken and Leeks will ensure you never throw away the green tops of the leeks again. 

Throughout, you'll encounter dozens of QR codes to step-by-step audio tutorials for a hands-free cook-along experience guided by Molly, plus recipe videos to help illuminate some of the trickier skills and recipes. 

With intoxicatingly delicious recipes, vivid photographs, and Molly's one-of-a-kind playful guidance and whimsy, More Is More will inspire cooks to embrace a fearless mindset to level up their cooking—for life.
About the Author
---
Molly Baz is a New York Times bestselling cookbook author, recipe developer and video host whose number one goal in life is to convince the world that cooking is fun, and not that hard to do if you're properly set up. When she's not writing books, Molly hosts a subscription digital recipe club, The Club, where she drops weekly new recipes for her fans. When she's not doing that, you can find her at home sipping on a glass of Drink This Wine, (that's her natural wine company!) in her butter-colored kitchen filming her hit Youtube series "Hit The Kitch," a casual, never-too-serious, but always educational cooking show. Molly lives in Los Angeles with her husband, Ben, and their teeny-tiny weenie dog, Tuna.