Back to top
This Is So Awkward: Modern Puberty Explained (Hardcover)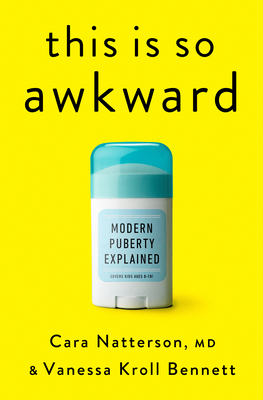 $28.00

Usually Ships in 1-5 Days
Description
---
NATIONAL BESTSELLER • The ultimate guide for adults helping tweens and teens navigate the rollercoaster of puberty.

"An accessible, enjoyable, and detailed road map for addressing even the most delicate topics with confidence and compassion."—Lisa Damour, PhD, author of Untangled, Under Pressure, and The Emotional Lives of Teenagers

Almost everything about puberty has changed since today's adults went through it. It starts, on average, two years earlier and stretches through high school . . . and for some, beyond. Gens Z and Alpha are also contending with a whole host of thorny issues that parents didn't experience in their own youth but nonetheless need to understand: everything from social media and easy-access pornography to gender identities and new or newly-potent drugs. Talking about any of this is like puberty itself: Awkward! But it's also critical for the health, happiness, and safety of today's kids.

Bewildered adults have begged for reliable and relatable information about the modern adolescent experience. This Is So Awkward answers their call. Written by a pediatrician and a puberty educator—together the hosts of a lively and popular podcast on puberty, and moms to six teens between them—this is the handbook everyone has been searching for, and includes:

• Pointed advice about how to talk to kids about almost anything: acne, body odor, growth spurts, eating disorders, mood swings, sexuality, and more.
• Science-based explanations for all of puberty's physical, emotional, and social changes, including the many ways hormones affect kids both above and below the neck.
• What adults needs to know about today's teen culture: their mental health drivers, the un-gendering of body image issues, the ways they think about sexual orientation, and more. 
• Invaluable commentary straight from young adults just out the other side of adolescence that highlights what they wish the adults in their lives had known or done differently.

Eye-opening and reassuring, This Is So Awkward will help adults understand the turbulent pubescent decade and become confident guides for today's kids.
About the Author
---
Cara Natterson, MD, is a pediatrician and the New York Times bestselling author of The Care and Keeping of You series (more than seven million copies in print), Guy Stuff, and Decoding Boys. A graduate of Harvard College and Johns Hopkins Medical School, Dr. Natterson founded Order of Magnitude, a company dedicated to flipping puberty positive. She co-hosts The Puberty Podcast, co-authors The Awkward Roller Coaster Newsletter (both with Vanessa Kroll-Bennett), and founded Worry Proof, MD. Cara lives in Los Angeles with her husband and their two teenagers.

Vanessa Kroll Bennett is the founder of Dynamo Girl, a company focused on building kids' self-esteem through sports, puberty education, and parent workshops. She runs all media at Order of Magnitude, a company dedicated to flipping puberty positive. She co-hosts The Puberty Podcast (with Cara Natterson, MD), hosts Conversations on Parenting and Beyond at the JCC Manhattan, and writes the Uncertain Parenting Newsletter about the messy process of raising tweens and teens. A graduate of Wellesley College, Vanessa holds an MA from the Jewish Theological Seminary. She lives in Northern Westchester with her husband and four teens.
Praise For…
---
"[This book] does for teenagers what Our Bodies, Ourselves did for women in the 1970s. It's the definitive coming-of-age guide that we need right now."—Kara Baskin, The Boston Globe

"Think back to your own experience of puberty, and then multiply the confusion and awkwardness by ten—being an emerging adult today is hard! And yet this is also true: these tumultuous years offer so much opportunity for connection, empowerment, and knowledge-building. This is So Awkward will equip you with expert wisdom, deep compassion, and lots of laughs, and will enable you to show up as that parent—the one kids can turn to."—Dr. Becky Kennedy, New York Times bestselling author of Good Inside

"How are loving adults supposed to guide tweens and teens when everything—even puberty—has changed so much since their own adolescence? Cara Natterson and Vanessa Bennett have the answer! This Is So Awkward is an accessible, enjoyable, and detailed road map for addressing even the most delicate topics with confidence and compassion."—Lisa Damour, PhD, author of Untangled, Under Pressure, and The Emotional Lives of Teenagers

"What's more awkward than kids going through puberty? Parents trying to navigate it all! Fortunately, Cara Natterson and Vanessa Kroll Bennett have written This is So Awkward. Always authentic, informative, and practical, they use science and humor to walk us through which conversations to have and how and when to have them. This is the must-read guide you've been waiting for."—Tina Payne Bryson, LCSW, Ph.D., New York Times bestselling co-author of The Whole-Brain Child and No Drama Discipline

"Parenting through puberty can be a minefield. We all want to say the right thing, but it's easy to be paralyzed by discomfort, lack of knowledge, and the fact that things may have changed a lot since we were kids. This book is nothing less than a path through that minefield. It is a must read."—Emily Oster, New York Times bestselling author of Cribsheet and The Family Firm

"Puberty is inevitable, but Cara Natterson and Vanessa Kroll Bennett can help spare you and your child the confusion and embarrassment that stops so many of us in our tracks. Indeed, This is So Awkward is the book every household needs if there is someone aged 8-18 living in it. No more winging it, this guide has you covered!"—Aliza Pressman, host of the Raising Good Humans podcast