Back to top
How to Build a Habitable Planet: The Story of Earth from the Big Bang to Humankind - Revised and Expanded Edition (Hardcover)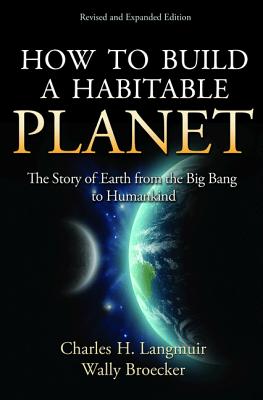 $57.54
Usually Ships in 1-5 Days
Description
---
A classic introduction to the story of Earth's origin and evolution--revised and expanded for the twenty-first century
Since its first publication more than twenty-five years ago,
How to Build a Habitable Planet
has established a legendary reputation as an accessible yet scientifically impeccable introduction to the origin and evolution of Earth, from the Big Bang through the rise of human civilization. This classic account of how our habitable planet was assembled from the stuff of stars introduced readers to planetary, Earth, and climate science by way of a fascinating narrative. Now this great book has been made even better. Harvard geochemist Charles Langmuir has worked closely with the original author, Wally Broecker, one of the world's leading Earth scientists, to revise and expand the book for a new generation of readers for whom active planetary stewardship is becoming imperative. Interweaving physics, astronomy, chemistry, geology, and biology, this sweeping account tells Earth's complete story, from the synthesis of chemical elements in stars, to the formation of the Solar System, to the evolution of a habitable climate on Earth, to the origin of life and humankind. The book also addresses the search for other habitable worlds in the Milky Way and contemplates whether Earth will remain habitable as our influence on global climate grows. It concludes by considering the ways in which humankind can sustain Earth's habitability and perhaps even participate in further planetary evolution. Like no other book,
How to Build a Habitable Planet
provides an understanding of Earth in its broadest context, as well as a greater appreciation of its possibly rare ability to sustain life over geologic time. Leading schools that have ordered, recommended for reading, or adopted this book for course use:
Arizona State University

Brooklyn College CUNY

Columbia University

Cornell University

ETH Zurich

Georgia Institute of Technology

Harvard University

Johns Hopkins University

Luther College

Northwestern University

Ohio State University

Oxford Brookes University

Pan American University

Rutgers University

State University of New York at Binghamton

Texas A&M University

Trinity College Dublin

University of Bristol

University of California-Los Angeles

University of Cambridge

University Of Chicago

University of Colorado at Boulder

University of Glasgow

University of Leicester

University of Maine, Farmington

University of Michigan

University of North Carolina at Chapel Hill

University of North Georgia

University of Nottingham

University of Oregon

University of Oxford

University of Portsmouth

University of Southampton

University of Ulster

University of Victoria

University of Wyoming

Western Kentucky University

Yale University

About the Author
---
Charles H. Langmuir is the Higgins Professor of Geochemistry at Harvard University. Wally Broecker is the Newberry Professor of Earth and Environmental Sciences at Columbia University and the author of Fixing Climate and The Great Ocean Conveyor (Princeton), among other books. Both are members of the National Academy of Sciences.