Back to top
Baby Don't Sh!t Your Pants (Hardcover)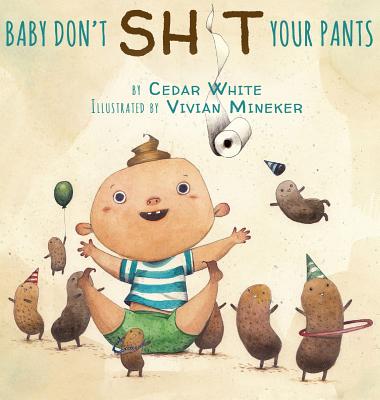 $14.99
Usually Ships in 1-5 Days
(This item is non-returnable.)
Description
---
Baby Don't Shit Your Pants is a children's book, but it's not for children. It's for their parents. The story is a poetic invocation for sanitary defecation where a toddler is implored by his parents to poo-poo in the porcelain. But the child resists.
To see why, we pour over the luscious artwork of Vivian Mineker alongside the book's verses. Through vivid images she shows that the child's struggle to let go of his friendly lumps of excrement, who play with him and fill his life with joy. Mineker weaves lucid imagery of magical figures and animals who always seem find a proper place to go potty. Our story comes full circle as the protagonist realizes his grandfather also defecates in his pants. Nothing lasts forever. Life is a circle, no need to hurry through it.
From the back cover:
As parents, you love your children. It's a biological fact, and you would do anything them. But when it comes to some things, eventually, enough is enough. This children's book is... not for children. It's for you, the unsung keepers of the low-slung dung. And we are done with dung, am I right? Here is a sealed letter to your little poopy people imploring them to poop the way God intended, into porcelain pots.
Vivian Mineker is an artist and an illustrator. For her, emotionally connecting with others through visual storytelling is her passion and joie de vivre. She is American, but lives abroad. This has given her an openness to life that shines through in her art. You can see it for yourself right now at: vivianmikeker.com or follow her @vivian.mineker to see what she does next.
Cedar White is an author living deep in the Oregon woods. His muses include his two little mud-covered boys, who defecate in their pants, on the kitchen floor, on the carpet, in the bathtub, in the sink, in their sandbox, and in their father's hands, Amen. When he is not writing he is often found avoiding his children by reading on the toilet.