Back to top
Cataloguing Culture: Legacies of Colonialism in Museum Documentation (Paperback)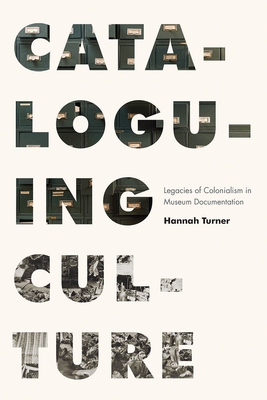 $43.14

Coming Soon - Available for Pre-Order Now
Description
---
How does material culture become data? Why does this matter, and for whom? As the cultures of indigenous peoples in North America were mined for scientific knowledge, years of organizing, classifying, and cataloging hardened into accepted categories, naming conventions, and tribal affiliations—much of it wrong.

Cataloguing Culture examines how colonialism operates in museum bureaucracies. Using the Smithsonian's National Museum of Natural History as her reference, Hannah Turner organizes her study by the technologies framing museum work over 200 years: field records, the ledger, the card catalog, the punch card, and eventually the database. She examines how categories were applied to ethnographic material culture and became routine throughout federal collecting institutions. As indigenous communities encounter the documentary traces of imperialism while attempting to reclaim what is theirs, this timely work shines a light on the ongoing colonization of this cultural heritage in the archive.
About the Author
---
Hannah Turner is an information and museum studies scholar, and is an assistant professor in the School of Information at the University of British Columbia. She has published in journals such as Museum Anthropology, Knowledge Organization, and Cataloging and Classification Quarterly. From 2018 to 2019 she was a lecturer in museum studies at the University of Leicester.
Praise For…
---
"This is by far one of the most exciting and original examinations of the history of ethnographic museums I have come across."—Jane Anderson, co-editor of The Routledge Companion to Cultural Property

"Cataloguing Culture is a significant reflection upon the colonial ideologies embedded in the classification processes of museums. Truly illuminating."—Alison K. Brown, University of Aberdeen

"Cataloguing Culture is much needed inspiration for museum professionals and information managers to reconsider the nomenclatures and lexicons applied to Indigenous material culture. It's a valuable resource for understanding how respectful, well-informed naming can be a meaningful step toward reconciliation. Words matter and must be chosen wisely."—Alissa Cherry, Museum of Anthropology at University of British Columbia

This is by far one of the most exciting and original examinations of the history of ethnographic museums I have come across.
— Jane Anderson, co-editor of The Routledge Companion to Cultural Property

Cataloguing Culture is a significant reflection upon the colonial ideologies embedded in the classification processes of museums. Truly illuminating.
— Alison K. Brown, University of Aberdeen

Cataloguing Culture is much needed inspiration for museum professionals and information managers to reconsider the nomenclatures and lexicons applied to Indigenous material culture. It's a valuable resource for understanding how respectful, well-informed naming can be a meaningful step toward reconciliation. Words matter and must be chosen wisely.
— Alissa Cherry, Museum of Anthropology at University of British Columbia

"Cataloguing Culture offers a tangible demonstration of how cataloging and classification system 'reinscribe colonial narratives into current practice' that 'continue to haunt collections practice today.' Turner's argument and account will undoubtedly have a significant impact on future researchers in galleries, libraries, archives, museums, and special collections."
— Cataloging and Classification Quarterly