Back to top
28: Stories of AIDS in Africa (Hardcover)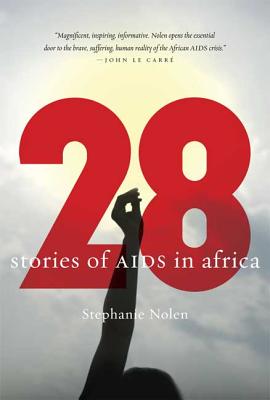 Description
---
For the past six years, Stephanie Nolen has traced AIDS across Africa, and 28 is the result: an unprecedented, uniquely human portrait of the continent in crisis. Through riveting, anecdotal stories, she brings to life men, women, and children involved in every AIDS arena, making them familiar. And she explores the effects of an epidemic that well exceeds the Black Plague in scope, and the reasons why we must care about what happens.
In every instance, Nolen has borne witness to the stories she relates, whether riding with truck driver Mohammed Ali on a journey across Kenya; following Tigist Haile Michael, a smart, shy fourteen-year-old Ethiopian orphan fending for herself and her baby brother on the slum streets of Addis Ababa; chronicling the efforts of Alice Kadzanja, an HIV-positive nurse in Malawi; or interviewing Nelson Mandela's family about coming to terms with his own son's death from AIDS. Nolen's stories reveal how the disease works and spreads; how it is inextricably tied to conflict and famine and to the diverse cultures it has ravaged; how treatment works, and how people who can't get treatment fight to stay alive with courage and dignity against huge odds.
Imagine the entire population of New York, Chicago, and Los Angeles combined infected with HIV, and its magnitude in Africa is clear. Writing with power and simplicity, Stephanie Nolen makes us listen, allows us to understand, and inspires us to care. Timely and transformative, 28: Stories of AIDS in Africa is essential reading for anyone concerned about the fate of humankind.
Click here to learn more about Stephanie Nolen and her book, 28: Stories of AIDS in Africa.
Click here to listen to an interview with author Stephanie Nolen, as she talks about some of the people she has met covering AIDS in Africa.
About the Author
---
Stephanie Nolen is the award-winning Africa bureau chief for Toronto's Globe and Mail, and one of only three journalists in the world wholly dedicated to the AIDS story. She has reported from more than forty countries around the world, and won Canada's National Newspaper Award for International Reporting two years in a row. Nolen was the recipient of the 2003 and 2004 Amnesty International Award for Human Rights Reporting, for reports from war zones in Uganda and Sudan, and also won the Markwell Award of the International Society of Political Psychology for her "creative brilliance, humanitarian compassion, personal courage, and relentless pursuit of truth." She is the author of Promised the Moon: The Untold Story of the First Women in the Space Race and Shakespeare's Face. She lives in Johannesburg, South Africa.
Praise For…
---
"This is a formidable book of record . . . from the tiny virus, via 28 individual human stories, to an entire continent. The stories will tear you apart before putting you back together, fully-armed and ready to go to war with a virus more dangerous than any W.M.D." —Bono
"Provocative stuff on a topic where most writing feels both distancing and not terribly profound." —Salon.com
"Nolen's stories give a human face to HIV/AIDS in Africa -- and enrich our understanding of the disease in intangible ways." —San Francisco Chronicle Book Review
"These stories offer astonishing glimpses of the people of a continent brought to its knees….graceful, often memorable portraits are chosen from among the lucky few who came back from the dead." —Los Angeles Times Book Review
"gives the epidemic a human face-more precisely, 28 human faces, one for each million Africans estimated to be infected with HIV….an informative and a powerful read, which will help Western readers connect personally with a crisis that too often seems remote." —Library Journal, starred review
"Magnificent, inspiring, informative. Nolen opens the essential door to the brave, suffering, human reality of the African AIDS crisis." —John le Carré
"If a war had killed 20 million soldiers, and left 28 million more dying of wounds, we'd call it the worst such tragedy since World War II. This is the scale of AIDS in Africa. Stephanie Nolen brings this story to life in a moving, deeply human way. Through these portraits--shrewdly chosen, varied, and sometimes startlingly unexpected--she artfully puts a series of human faces on the greatest health crisis of our time." —Adam Hochschild, author of King Leopold's Ghost and Bury the Chains
"The marvelous gift of Stephanie Nolen's 28 is that it allows the reader a chance to mingle, a chance to hob-nob, with fascinating and eloquent people from across sub-Saharan Africa. Professors and sex-workers, truckers and doctors, old ladies and orphaned children, celebrities and beggars, all raise their voices here. The music of these combined voices is intelligent and pained; it sings to us of suffering, stigma, compassion, courage, and heartrending love." —Melissa Fay Greene, author of There Is No Me Without You
"Everyone needs to read this book. It is essential reading in the Age of AIDS, never earnest, and, whilst often painful, full of humane and painstakingly researched detail." —Emma Thompson
"This book is magnificent. It's probably the best book ever written about AIDS, certainly the best I've ever read. I wept when I finished, not just because it's beautifully written, not just because the last chapter tears the heart out, not just because it's a work of such force and feeling and power, not just because it's so intensely and astonishingly human, not just because it covers the entire landscape of the virus, but because its impact could shape public opinion as never before." —Stephen Lewis, former UN Special Envoy HIV/AIDS in Africa
"A book of quiet yet overwhelming power, delivering a message of devastating moral authority. Moving, heartrending and uplifting, Stephanie Nolen's book bears impeccable witness to the 'unique and savage' phenomenon of AIDS in Africa." —William Boyd, author of Restless and Brazzaville Beach
"28 can soon be 48, 98 and more. And not just in Africa. And it does not have to be. Nolen shows that the struggle of one to live with dignity must be the struggle of all. Read. Weep. Rage. And above all else--like those people described in this brilliant book--find the courage to do." —Dr. James Orbinski, recipient of the Nobel Peace Prize on behalf of Médecins Sans Frontières