Back to top
The Secret of the Hidden Scrolls: Journey to Jericho, Book 4 (Paperback)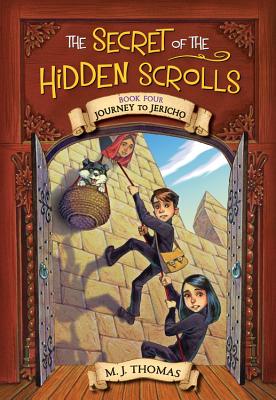 $6.99

Usually Ships in 1-5 Days
Description
---
The Hidden Scrolls send siblings Peter and Mary back to the Battle of Jericho in this fourth installment of the time-traveling chapter book series.

The Secret of the Hidden Scrolls series follows siblings Peter and Mary and their dog, Hank, as they discover ancient scrolls that transport them back to key moments in biblical history.

In this fourth adventure, the time-traveling trio journeys to an ancient desert and finds the Israelites preparing to enter the Promised Land. With limited time to solve the secret of the scroll, Peter and Mary join Israelite spies on a reconnaissance mission to Jericho; sneak Rahab to safety; and ultimately face the scheming man in black as the walls of the city begin to crumble. Fans of the series will love this whirlwind adventure that brings the Bible to life.
About the Author
---
Mike Thomas grew up in Florida playing sports and riding his bike to the library and an arcade named the Cosmic Cowboy. He graduated from Liberty University, earning a bachelor's degree in Bible Studies. When his son Peter was nine years old, Mike went searching for books that would teach Peter about the Bible in a fun, imaginative way. Finding none, he decided to write his own series. Mike Thomas lives in Murfreesboro, Tennessee, with his wife, Lori; sons Payton and Peter; and their dog, Hank.