Back to top
Equal Access for Students with Disabilities: The Guide for Health Science and Professional Education (Paperback)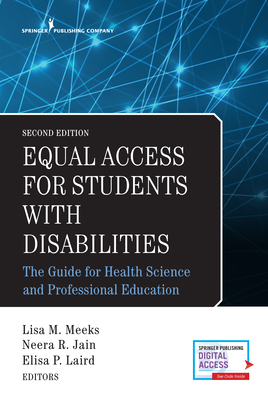 $70.00

Usually Ships in 1-5 Days
(This item is non-returnable and must be pre-paid.)
Description
---
Note to Readers: Publisher does not guarantee quality or access to any included digital components if book is purchased through a third-party seller.
A vital resource for ensuring students with disabilities have access to appropriate, legal, and necessary accommodations
Now in its second edition, this book on disability inclusion in the health sciences remains the most comprehensive, critically and legally informed guidance available to health science programs. Grounded in the ADA, case law, and OCR determinations, this seminal text delivers information that is translatable to daily practice. The second edition focuses on disability as a welcome form of diversity, with concomitant changes to language and approach that promote disability inclusion.
New chapters and updates on topics including technical standards; a new appendix to guide faculty communication; and revised advice throughout, provide faculty, student affairs and disability professionals with the most up-to-date practices. The text delivers updated legal guidance and case references, assistance in benchmarking office policies and practices, new case studies, and a review chapter for teaching and assessing learning. New examples impart the best decision-making practices, describe what to do when things go awry, and discuss how to avoid problems by implementing strong accessibility-focused policies. Written by noted educators and practitioners at prestigious health science schools, this text is backed by years of practice and expertise. It is written in an easy-to-read, engaging manner that makes disability inclusion and disability law accessible to all.
New to the Second Edition:
Focus on the importance of fully-inclusive education for health care practitionersReal-world informed case studies that demonstrate best practicesNew and updated advice highlighting recent legal decisionsNew chapter on technical standardsUpdated guidance to inform office policies and practicesChapter specific review questions for teaching and self-assessmentExpanded discussion of clinical accommodationsUpdated guides for high stakes exams, including new personal statement promptsCommunication guide for facultyAvailable in e-book format
Key Features:
Addresses all aspects of disability, including disability law, for students in health science settingsDelivers information directly applicable to practiceAccessibly written by esteemed and experienced practitioners and educatorsIncludes easy-to-follow flowchartsSupports professional development in an affordable format