Back to top
Cada Día En Su Presencia: 365 Devocionales (Hardcover)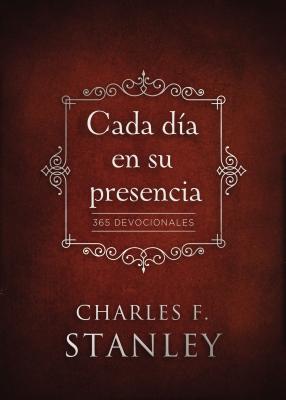 $16.99

Usually Ships in 1-5 Days
Description
---
Este devocional, invita a los lectores a entrar en la presencia de un Dios eterno les anima a encontrar en l serenidad y seguridad.
Permanece cada d a en la presencia del Se or nuestro. La vida en el mundo actual es un desaf o y al mismo tiempo es agotadora. La rapidez del ritmo de vida que llevamos, unida a las exigencias constantes para que hagamos m's, logremos m's y seamos m's, hacen que mantenernos quietos y viviendo en su presencia de una manera m's deliberada parezca algo inalcanzable. Pero Dios nos dice que, aunque los intereses de este mundo nos parezcan apremiantes ahora, no estamos solos, sino que tenemos en l una esperanza y una paz perdurables.
Este devocional totalmente nuevo, escrito por Charles Stanley, invita a los lectores a entrar en la presencia de un Dios eterno que los est invitando a encontrar en l serenidad y seguridad. Con temas referente a todos los caminos y todas las fases de la vida, cada una de sus trescientas sesenta y cinco devociones incluye un texto tomado de las Escrituras, una aplicaci n significativa, una breve oraci n y un texto titulado «En su presencia , destinado para meditaci n.
Este libro proporciona una maravillosa manera de experimentar su presencia y de mantenernos centrados en sus promesas todos los d as del a o.
Every Day in His Presence
Spend every day abiding in the presence of our Lord.
Living in today's world can be challenging as well as draining. Our fast pace of life, coupled with constant demands to do more, get more, and be more, makes being still and living more deliberately in His presence seem unattainable. But God tells us that, while the cares of the world seem pressing now, we are not alone--we have lasting hope and peace in Him.
This brand-new devotional by Charles Stanley invites readers to step into the presence of an eternal God who is bidding them to find serenity and security in Him. With topics addressing all walks and phases of life, 365 devotions include a scripture, a meaningful application, a short prayer, and an "In His Presence" takeaway for thought. This book provides a wonderful way to experience His presence and stay focused on His promises every day of the year.