Back to top
Emperor of Rome: Ruling the Ancient Roman World (Hardcover)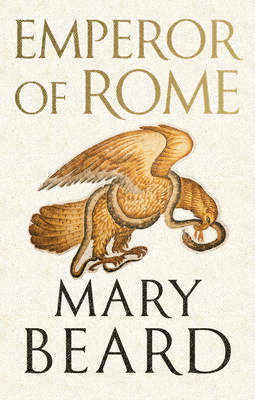 List Price: $39.99
Our Price: $31.99
(Save: $8.00 20%)
Usually Ships in 1-5 Days
Description
---
INSTANT NEW YORK TIMES BESTSELLER

Best Books of 2023: New Yorker, The Economist, Smithsonian

Most Anticipated Books of Fall: Washington Post, Los Angeles Times, TODAY, Literary Hub, and Publishers Weekly



"A vivid way to re-examine what we know, and don't, about life at the top.... Emperor of Rome is a masterly group portrait, an invitation to think skeptically but not contemptuously of a familiar civilization." —Kyle Harper, Wall Street Journal



A sweeping account of the social and political world of the Roman emperors by "the world's most famous classicist" (Guardian).
In her international bestseller SPQR, Mary Beard told the thousand-year story of ancient Rome, from its slightly shabby Iron Age origins to its reign as the undisputed hegemon of the Mediterranean. Now, drawing on more than thirty years of teaching and writing about Roman history, Beard turns to the emperors who ruled the Roman Empire, beginning with Julius Caesar (assassinated 44 BCE) and taking us through the nearly three centuries—and some thirty emperors—that separate him from the boy-king Alexander Severus (assassinated 235 CE).
Yet Emperor of Rome is not your typical chronological account of Roman rulers, one emperor after another: the mad Caligula, the monster Nero, the philosopher Marcus Aurelius. Instead, Beard asks different, often larger and more probing questions: What power did emperors actually have? Was the Roman palace really so bloodstained? What kind of jokes did Augustus tell? And for that matter, what really happened, for example, between the emperor Hadrian and his beloved Antinous? Effortlessly combining the epic with the quotidian, Beard tracks the emperor down at home, at the races, on his travels, even on his way to heaven.
Along the way, Beard explores Roman fictions of imperial power, overturning many of the assumptions that we hold as gospel, not the least of them the perception that emperors one and all were orchestrators of extreme brutality and cruelty. Here Beard introduces us to the emperor's wives and lovers, rivals and slaves, court jesters and soldiers, and the ordinary people who pressed begging letters into his hand—whose chamber pot disputes were adjudicated by Augustus, and whose budgets were approved by Vespasian, himself the son of a tax collector.
With its finely nuanced portrayal of sex, class, and politics, Emperor of Rome goes directly to the heart of Roman fantasies (and our own) about what it was to be Roman at its richest, most luxurious, most extreme, most powerful, and most deadly, offering an account of Roman history as it has never been presented before.
About the Author
---
Mary Beard is the author of the best-selling The Fires of Vesuvius and the National Book Critics Circle Award–nominated Confronting the Classics and SPQR. A popular blogger and television personality, Beard is a regular contributor to the New York Review of Books. She lives in England.
Praise For…
---
If social media is to be believed, men can't stop thinking about the Roman Empire, particularly its 'alpha male' elements. Anyone similarly obsessed would do well to pick up a copy of 'Emperor of Rome,' an erudite and entertaining new book by the redoubtable classics scholar and feminist Mary Beard... Beard, a consummate storyteller, finds 'ancient gossip' understandably hard to resist. Such stories also free her up to pursue her subject thematically instead chronologically, pointing not just to differences among the emperors but also similarities.... As a writer, Beard is so appealing and approachable that even the recalcitrant reader who previously gave not a single thought to the Roman Empire will warm to her subject... Beard leads by example, taking care to tell us what we can and cannot know — a kind of counterprogramming to the distortions of one-man rule.
— Jennifer Szalai - New York Times

Her gifts for putting serious scholarship into accessible terms, for bringing a critical eye to the study of classics without being a scold (while still making the study of the ancient world seem entertaining) has translated well to TV and a spate of books admired by specialists and the wider public alike.... Beard returns to subjects she has treated throughout her career (imperial portraiture, Roman triumphs, deification). Each of the themes offers a vivid way to re-examine what we know, and don't, about life at the top.... Beard punctuates her erudite but easy prose with striking turns of phrase and arresting observations.... Emperor of Rome is a masterly group portrait, an invitation to think skeptically but not contemptuously of a familiar civilization.

— Kyle Harper - Wall Street Journal

Throughout, it is clear that Beard — a decorated retired Cambridge professor (and blogger and TV presenter), who excels at making the ancient world accessible to nonspecialist audiences — is herself deeply intrigued by the Roman emperor.... Perhaps most interestingly, a study of the emperor illuminates the lives of the nonelite in surprising ways.... What ultimately emerges in these rigorously researched pages is an account that gives life to an often shadowy yet captivating figure. Beard uses the enduring fascination that the Roman emperor generates as a hook to get us to think more deeply about how the Romans articulated and exercised power, and how one-man rule reverberated through every level of society. Above all, she makes her readers rethink any simplistic notions they may have about what it meant to be the emperor of Rome.
— Stephanie McCarter - Washington Post

By the end of this thrilling book we are no nearer to looking the emperor in the eye. But we are much closer to understanding what he was for. Leaning into all the wild stories rather than disregarding them as so much distasteful waste, Beard does a wonderful job of taking us into the maelstrom of fantasy, desire and projection that swirled around the rulers of ancient Rome.
— Kathryn Hughes - The Guardian

[A] beautifully written product of a lifetime of deep scholarly learning . . . magisterial.
— Martin Wolf - Financial Times

Five stars... [S]uperb . . . an extraordinary investigation into the gulf between the experience and the narrative of Roman autocracy.
— Honor Cargill-Martin - Telegraph

The queen classicist . . . is back . . . Leave it to Ms. Beard to educate and dispel . . . [She] artfully walks the line between academic scholar and patient teacher . . . 'Emperor of Rome' was not built in a day. Readers can be grateful for Ms. Beard's rigorous, thoughtful work.
— Meredith Cummings - Pittsburgh Post-Gazette

Beard focuses on the details of how emperors lived, governed, traveled, dined, and amused themselves . . . Beard is deft in her exploration of imperial bureaucracy, showing how it dealt with an avalanche of paperwork from distant officials, cities, military leaders, and individuals in an era with no postal service. Emperors' deaths, natural or otherwise, led to fascinating consequences.
— Kirkus Reviews

Troll slayer.
— The New Yorker

Battling back her antagonists [Beard has become] something of a folk hero.
— New York Times

What she says is always powerful and interesting.
— Guardian

A Cambridge professor and a television lecturer of irresistible salty charm.
— New York Times Book Review

Beard informs and entertains without ever patronizing her readers. What she touches turns to light.
— Independent

An irrepressible enthusiast with a refreshing disregard for convention.
— Financial Times