Back to top
Playing with Reality: Denying, Manipulating, Converting, and Enhancing What Is There (Routledge Research in Cultural and Media Studies) (Hardcover)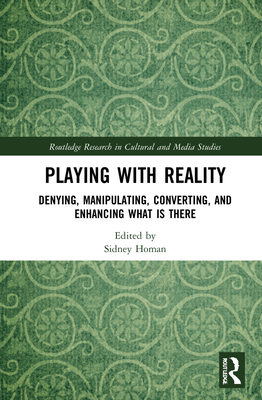 $204.00

Usually Ships in 1-5 Days
(This item is non-returnable and must be pre-paid.)
Description
---
This volume explores how and why we deny, or manipulate, or convert, or enhance reality. Finding it important to come to terms with reality, with what is there before us, and, with reality however defined, to live responsibly, this collection takes a truly multidisciplinary approach to examining the idea that history, the truth, facts, and the events of the present time can be refashioned as prismatic, theatrical, something we can play with for agendas either noble or ignoble.
An international team of contributors considers the issue of how and why, in dealing what is there before us, we play with reality by employing theatre, fiction, words, conspiracy theories, alternate realities, scenarios, and art itself. Chapters delve into issues of fake news, propaganda, virtual reality, theatre as real life, reality TV, and positive ways of refashioning and enhancing your own reality.
Drawing on examples from film studies to sociology, from the social sciences to medicine, this volume will appeal to scholars and upper-level students in the areas of communication and media studies, comparative literature, film studies, economics, English, international affairs, journalism, philosophy, psychology, sociology, and theatre.
About the Author
---
Sidney Homan is Professor of English at the University of Florida, USA, and is his university's Teacher/Scholar of the Year. The author of 12 books and editor of seven collections of essays on Shakespeare and the modern playwrights, he is also an actor and director in professional and university theatres. His most recent books are Comedy Acting for Theatre: The Art and Craft of Performing in Comedies (2018) with the New York director Brian Rhinehart and Why the Theatre (2020). He has also written the librettos for two operas, by composer Paul Richards, The Golem of Prague and Lady Mary's Cure.